Young basketball team rebuilds for new season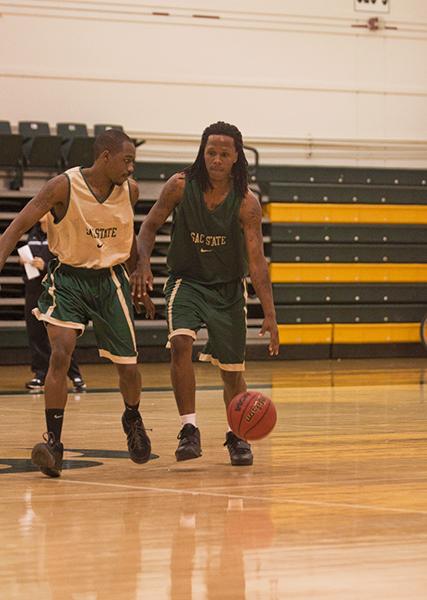 A new season for men's basketball brings four new faces. In fact, this is only the fourth time in school history four or more freshmen have been on the team.
The 1999-2000 and 2004-05 seasons included four freshmen and prior to these seasons the most freshmen Sacramento State has had on a roster was six, during the 1998-99 squad.
"It's the first time we've had four freshmen in a while and we are really excited about our freshman class," said head coach Brian Katz. "They all have very good potential."
Four players from four different parts of the world all arrived at Sac State this fall to pursue a college basketball career.
Guard Jackson Carbajal from Buchanan High School in Clovis, Calif., set a school record with 1,535 career points. He played all four years on the varsity squad and received two-time first team all-conference selection, including the Tri-River Athletic Conference MVP and first team all-Metro as a senior.
"It's going to be a tough and exciting season," Carbajal said. "We're going to be good."
A two-time first team all-conference choice and a four-year member of the varsity squad, guard Kendell Groom, from New Haven, Conn., led Hyde Leadership High School to an undefeated 27-0 season in 2009-10. That season, Groom averaged 14.1 points, 7.2 assists and 2.1 steals per game, and the team finished the year ranked third in the state.
From Nazareth, Israel, forward Magd Owayed, played for Nazareth Baptist High School and was one of 12 players selected to play for the Israeli under-18 national team in 2009. That season, he averaged 18.0 points, 10.1 rebounds and 2.0 blocked shots per game.
Center Pete Rakocevic came from Chicago, Ill., attended a one-year postgraduate private school, Wilbraham & Monson Academy in Wilbraham, Mass., after graduating from Saint Laurence High School in his hometown. At Saint Laurence, he was a first team all-area, all-Chicago Catholic League and team MVP after averaging 18.4 points, 9.1 rebounds and 2.5 blocked shots per game.
Although Sac State is ranked ninth in the Big Sky preseason standings, Katz has not looked at the preseason rankings and said he does not plan to look at the standings any time soon.
Katz said the five returning players, Sultan Toles-Bay, Duro Bjegovic, John Dickson, Walter Jackson and Alpha N'Diaye, will be great help to the young team.
Last season, the men improved their overall record to 9-21, after ending the 2008-09 season with an overall record of 2-27. Coach Katz said if the team can make the same incremental jump from winning seven more games, it would be a step in the right direction. Last season, seven of those losses came by only six points or less.
Sac State beat Oregon State University on Nov. 21, 2009, ending a 39-game road losing streak.
In addition to beating the Beavers, this was their first victory against a Pacific-10 Conference opponent since Dec. 17, 1953. With a win over Idaho State University, the men snapped a 27-game Big Sky road losing streak.
Katz enters his third year as head coach after coming into a major reconstruction project for the Sac State basketball program. The Sac State graduate continues to make changes in the program and said he can see significant improvement from his players in the offseason. Katz's 34-year career as a basketball coach includes NCAA Division I, junior college and high school levels.
"We want to have the best year we can," Toles-Bey said. "We have been working hard in the offseason."
Overall coach Katz said, the team is better in every area. The team is longer, more athletic, has a higher basketball IQ, shoots the ball better and has more depth.
Katz said, this season he is looking for them to continue improving.
The season home-opener approaches in a few weeks on Nov. 14, against CSU Bakersfield.
One of the biggest upcoming home games will include rival UC Davis on Nov. 23. The last two years, the team has been able to beat UC Davis and will look to continue its winning streak. Since the Causeway Cup's birth in 2005, Sac State's overall record against Davis is 4-2.
Coach Katz said he always looks forward to playing Davis, while Toles-Bey said he is excited to play against Davis on Sac State's home court.
"You never get ahead of yourself and look ahead," Katz said. "But playing Davis is a big deal. Everyone knows when Sac State and Davis play."
Toles-Bey has the seventh best single-season mark in school history after appearing in all 30 games, including 15 starts. He was the team's second leading scorer, finishing with 10.3 points per game and has a team-high 47 steals.
The team continues to practice five days a week, four of which are at 5:45 a.m. As the Hornets' prepare for their upcoming season, Toles-Bey said the team hopes to continue to make progress.
"We play hard and do the best we can," he said. "All I expect is for us to come out and give it all we got every game."
Alyssa Huskinson can be reached at [email protected]