Men's basketball comes up short 61-54 against Davis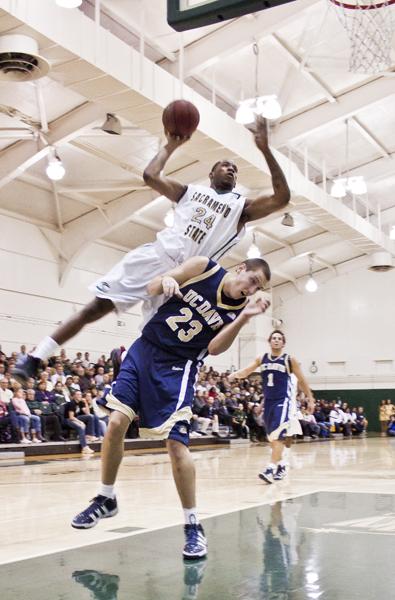 Tuesday evening marked the 106th Causeway Classic meeting between Sacramento State and UC Davis men's basketball. The rivalry continued from the slippery football field to the warm basketball court of the Hornets' Nest, with Davis walking away victorious 61-54.
Davis took the lead early in the non-conference game coming out with a 12-3 run during the first six minutes of the game and ended up leading for the majority of the game. Only once did Sac State take the lead, 26-25, with a pair of free throws made by freshman guard Jackson Carbajal just before the half.
The lead at the half did not prove to be to Sac State's advantage, as Davis went on a 7-0 run in the second half and ended up leading the rest of the game. Sac State cut the lead to 50-49 with 3:55 remaining but could not manage to continue to comeback even though Davis was in foul trouble.
Davis took their largest lead of the game, 61-50, in the second half with 1:32 remaining. Sac State responded with junior forward Zach Nelson scoring a field goal ending the almost double digit loss.
"We did not play our best, I know we can definitely do better," Carbajal said. "We need to work together and play harder."
Carbajal had seven points, five rebounds and a game-high three steals. Three teammates scored in the double digits, sophomore forward John Dickson had 10 points and four rebounds alongside senior forward Duro Biegovic who had 10 points and a game-high 11 rebounds. Junior guard Antonie Proctor chipped in with 10 points andthree rebounds.
"This was a rivalry game," Dickson said. "Although it is the Causeway game, it is no bigger than the next game. We still prepare the same for Davis than we would for Cal Poly."
With the victory, Davis is now 2-4 on the season after snapping a two-game losing streak, while Sac State drops to 1-4 overall. Davis' Ryan Sypkens scored a game-high 16 points, while Sac State posted season lows across the board, 54 points, 8 assists, 18 field goals made and a 32.7 field goal percentage.
"Davis was sharp tonight," said Sac State head coach Brian Katz. "Right now we have some adjustments to make, we looked like a team with seven new guys playing and we have to get better."
Sac State will host Cal Poly, San Luis Obispo on Saturday. Tip-off is at 7:05 p.m. The game preceedes a three-game road trip.
Alyssa Huskinson can be reached at ahuskinson@statehornet.com