Sac State men?s soccer aims for second straight NCAA tournament berth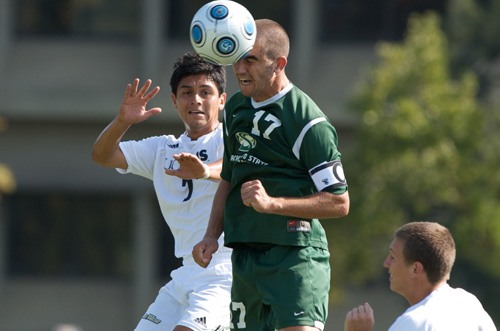 Last season proved to be a record-breaker for the Sacramento State men's soccer team.
The team went 6-0-1 in conference play; with this record they won the Mountain Pacific Soccer Federation conference and were named tournament champions, obtaining the second MPSF regular season title ever. The team finished with an overall record of 12-6-3, setting a single season record with 12 victories.
After the 2009 season, head coach Michael Linenberger was selected as MPSF Coach of the Year and midfielder Ernesto Carranza was named the 2009 MPSF Player of the Year.
Linenberger, entering his 22nd year as part of the men's soccer program, said he is optimistic about the upcoming season.
"Our goals are pretty consistent from year to year; we always want to finish with a winning record, try and win our conference championship and get a berth to the NCAA playoffs," Linenberger said. "Having said that, last year is the first time we accomplished our goals. So our goal this year is can we duplicate and repeat our title."
The team was ranked 28th in the College Soccer News preseason top-30, which is the highest it has ever ranked in the poll.
"It's nice to be recognized," Linenberger said. "This is a new team, a new season; we've been trying to tell our players you can't get too excited about any early press you're receiving. You've got to go out every single game and prove yourself. If we go out and drop the first four games, then that ranking doesn't really matter. We've got to back it up with our performance."
The team hopes to advance in the NCAA tournament even further than they did last season – last year it advanced to the second round of the tournament. This was the first time in Sac State history the team advanced in the tournament.
"First of all, soccer is a team sport. So one of my goals is to make it to the NCAA tournament and make it further so we have a chance to play at a top level," said senior midfielder Fernando Cabadas.
Even with newcomers, the team hopes this season will be victorious.
"We have a pretty big team. We feel one of the things we did this year with our recruiting class is we brought in better athletes – bigger, stronger, faster." Linenberger said. "We think we have good quality athletes."
Cabadas ranks third in school history with 14 career assists and is on his way to break the school record during his final season as a Hornet.
"A personal goal is that the coaches have been telling me to shoot more, so I can score and get my stats up – achieve five goals and coming off last season with 10 or more assists to maintain that level of play," Cabadas said.
Six of the team's seniors graduated last semester, including center David Von Stockhausen.
"We have a good returning group with probably two of the best pure soccer players we've ever had in the history of our soccer program," Linenberger said. "Fernando and Ernesto, both of whom are seniors; so we expect them to lead the team this year."
Although a few key players graduated last semester, Linenberger said he has many reasons to be optimistic about the team.
"We're still waiting to see who's going to step up, it's a little early but so far the guys that look good in the beginning of the season are: Erick Lariz, Chimdum Mez and Rory O'Day," Linenberger said. "We have two good freshman goalies, so we're still waiting to see who will step it up for starting goal keeper."
With a mixed group of seniors and freshmen, the team is finding leaders throughout the roster.
"My personal goals are to win a starting spot in goal. Hopefully if I can do that, then get 10 shutouts," said freshman goalie Federico Antonelli. "As a goal keeper I need to be a leader. Regardless of class, whether I'm a freshman or a senior, that's something I really need to focus on. Soccer, especially at this level, anything can happen, we have the talent to defend our title."
The team hopes to achieve its goals this season and Cabadas said defending its title will take commitment and perseverance.
"It's all about chemistry. We have the same midfield as last year, the back line has changed a little bit, and we've add a few forwards like Chris Bettencourt, he's a great addition to our attacking force," Cabadas said.
With established leaders the team embarks on a new season.
"We think we have a lot of creativity; central midfield is definitely the strength of our team. They're creative, good on the ball and it's fun to watch them play," Linenberger said. "They can break a game at any time. In the past, I think some teams have overlooked us and this year we're going to get everybody's best performance."
There is definitely a high level of commitment and effort from Cabadas and his teammates.
"In any college game you're not assured anything offensively. You might have some days where your team struggles to keep the ball or score, what is guaranteed is the effort," Cabadas said.
The Hornets are still looking to find the winning success the team had last season.
After coming up winless in the Duke Nike Classic over the weekend with losses to Duke University and North Carolina State, the Hornets fell to an 0-2-0 record for the season. The Hornets have yet to play a MPSF conference game this season.
The men's season continues as they face the UC Davis Aggies as part of the Causeway Cup battle on Friday.
Alyssa Huskinson can be reached at [email protected]