Ernesto Carranza earns MPSF preseason award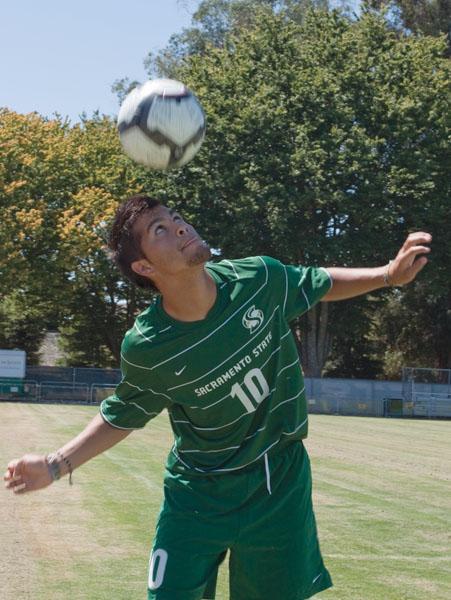 The 2009 Mountain Pacific Soccer Federation's Player of the Year is constantly improving. As the Sacramento State men's soccer team continues to strive for another record-breaking season, senior midfielder Ernesto Carranza has the national spotlight on him.
Last season, he racked up six goals and six assists, which helped lead the Hornets to the second round of the 2009 NCAA Tournament. He was awarded with a first team all-MPSF honor.
Carranza said he hopes the team will successfully integrate the upperclassmen with the freshman to achieve a successful season.
"My personal goals are to make it to the NCAA championships and to get further than the second round, as we did last year," Carranza said. "We have a good complement of young players and veterans and we have a lot of players which have different talents and will take us to achieving our goal this year."
Carranza also earned first team all-Far West Region honors, which is the first time any Sac State player has done so while playing in Division I. He led the Hornets with four goals and two assists throughout the 2009 conference matches.
"I try not to pay attention to these honors. I try and focus on the team," Carranza said.
Carranza was given Third-Team All-America honors from College Soccer News this preseason, which makes him the first player in school history to receive this accolade.
Over his three-year career, Carranza had 11 goals and 12 assists. With his assists total, he ranks fourth in Sac State's history.
"It's nice to have the recognition," Carranza said. "It only says that – I'm not going to go on the field and accomplish what I need to do just by those people saying that I'm good. I just need to keep working harder at this moment."
Head coach Michael Linenberger said he feels strongly that Carranza deserves the recognition he has been given.
"I'm very happy for him. He's been a very good player for three years and last year he had an outstanding year," Linenberger said. "For me, he's the type of player that I'd pay money to watch play. He's so exciting, different, creative, fantastic on the ball. He's not your generic cookie-cutter player."
Carranza only needs nine more points to break the top-five in total points.
"We've been talking to him that he can't get caught up in the early press. We know he'll be a marked man every game we play," Linenberger said. "He's going to have to work harder this year to have another good year, but if he can do that, I think he can have a very bright future playing at the next level."
With Carranza's level of commitment, teammates agree that they enjoy playing soccer with the midfielder.
"He's one of the best players I've ever played with," said freshman goalie Federico Antonelli. "I've seen a lot of players and he definitely has what it takes to go to the next level."
Senior midfielder Fernando Cabadas said he agrees Carranza deserves all the recognition he has been awarded.
"Ernie's one of those players that's one in a million," Cabadas said. "Even when we train on a daily basis, you appreciate it. You see things that other players or teams can't see because maybe that day he didn't have his best day and at practice, he does it day in and day out."
Alyssa Huskinson can be reached at ahuskinson@statehornet.com