City embraces new UFL team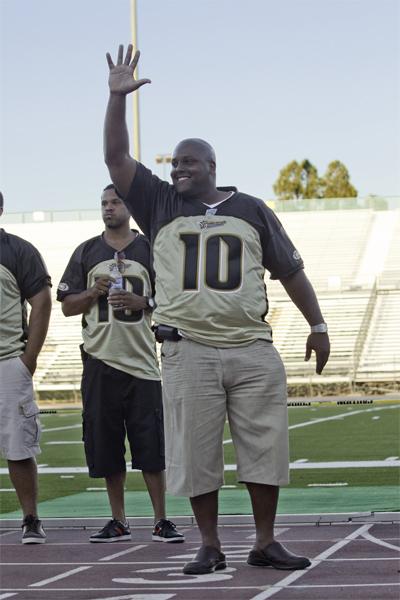 There are Mountain Lions taking over Sacramento and those same giant cats are taking over Hornet Stadium at Sacramento State.
This year the school will play home to Sacramento's professional football team. The up-and-coming professional football league, the United Football League, rooted its latest franchise in Sacramento and is bringing some well-known names to the campus including former NFL quarterback Daunte Culpepper.
The fans turned out in dozens to a meet-and-greet on Aug. 20, held at Hornet Stadium to buy their season tickets, buy Mountain Lions gear and meet the players and coach Dennis Green.
The UFL is an independent American league that started in October 2009. The UFL has five teams, and each team consists mostly of players who have been in the NFL at one point or another in their careers.
"They are going to non-NFL cities and building up fans," said Mountain Lions Fan Club President Andrew Skwara. "And for me I want to go out and watch my team play, and when the Hornets aren't playing here, guess what? I can watch the Mountain Lions."
One of the Sac State's greatest former football players, wide receiver Otis Amey, will come home for the season and play for the Mountain Lions. Amey made appearances with both the San Francisco 49ers and the Atlanta Falcons, as well as in the Canadian Football League, before joining the new league of football.
"It feels great to be back home, especially with last year being in Canada," Amey said.
The Mountain Lions will play their first home game at Hornet Stadium on Sept. 25 against the Florida Tuskers.
"On Saturdays when Sac State has an away game, we have a home game," Amey said. "So, it gives students the opportunity to come every Saturday and see some football. They are going to see a professional brand of football play at a high level with some big name players that they have seen before."
Culpepper will be leading the Mountain Lions, along with former NFL head coach Dennis Green.
"We look forward to it," Green said. "I think that Las Vegas plays at University of Las Vegas, Hartford plays at the University of Connecticut, so a lot of the colleges programs are having the pro teams. We are excited about it. We think the field is excellent, it's new. It's going to be good."
Green is encouraging students to come out and watch.
"I think (the students) will like to see some exciting football," Green said. "College football is exciting, but we are bringing a brand of excitement in pro football too. I think that we have the best quarterback around in Daunte Culpepper, and I think we'll play exciting football."
Contact Cassie Kolias at [email protected]