One of Sacramento State's best cross country runners is an athlete who didn't pick up the sport until five years ago as a sophomore in high school.
Gracie Albano, 20, has emerged as one of the key leaders for a fledgling Sac State women's cross country team — most recently finishing in third place at the Speedway Meadow Dual on Sept. 15 and helping the team finish second overall — but this path didn't seem so evident a handful of years ago.
Before arriving at Sac State in the fall of 2014, Albano attended Nipomo High School and competed in volleyball, soccer and track; meanwhile cross country was an afterthought.
"I didn't do cross country my freshman year of high school. In middle school I ran shorter events like the 800 and the 4×400," Albano said in regards to her early years growing up in Nipomo, California. "I didn't really know what kind of athlete I was back then."
Albano's coaches had no trouble figuring out this problem as she ran a 5:30 mile during her freshman track season, which broke the previous school record. This feat prompted coaches to suggest a change in sports from volleyball to cross country, which Albano described as "difficult" to move on from in her sophomore year.
However, the sport of cross country came naturally to Albano, who played multiple seasons of soccer beginning at the age of seven. Soccer, which is estimated to include over seven miles of running during a game, didn't just increase Albano's endurance — it also introduced the sprinter to one of the most influential coaches of her athletic career, James Lang.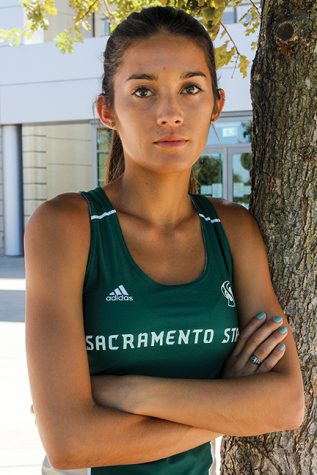 "He was the one who taught me to not only work hard but to 'play like a boy,'" Albano said. "I remember he would sit us down after a grueling workout and tell us, 'This is how the world is, it's not nice…if you want to be good at something you are going to have to work extremely hard.'"
Albano's decision to become a Hornet was just as unexpected as her transition to cross country, as Sac State was the last college she applied to after hearing from a family friend who mentioned the school's outstanding physical therapy program. The scenery didn't hurt either.
"When I came for my visit, what blew me away was the how beautiful the track is," Albano, who majors in Kinesiology and is working towards a Master's degree in Physical Therapy, said. "The trees of Sacramento are so gorgeous and seeing the colors change with the season is so nice."
Albano describes her first two seasons as a Hornet as a "rocky ride," but is upbeat about her junior year and the changes on the way with the recent hiring of cross country coach David Monk.
"It's been rough with the transition of the coaching changes the past couple of years," Albano said. "I really think our current coach [Monk] is going to make a big impact. He has really high expectations and goals for our team because he believes in our ability…I see only success in the future for us."
In Monk's short time with the program, he has already witnessed the value of a competitor such as Albano, who has finished in the top seven of both the Aggie Open and the Speedway Dual to start the season.
"I want to establish a championship culture that is similar to the track and field program here at Sac State," Monk said. "In order to do that you have to have athletes step up and Gracie has emerged into the role as one of the team leaders."
This sense of leadership was established early in Albano's sophomore season as she took freshmen, such as current sophomore Amy Quinones, under her guidance.
"I remember heading into preseason camp my freshman year and I was scared and a little nervous at the time," Quinones said. "She is really funny and goofy and knows how to make people get out of their comfort zone."
Qualities such as humor are important to have in a sport as brutal on the body as cross country, which asks athletes to sprint races in open-air elements filled with dirt, rain, and hills.
"You have to be a special kind of crazy to run cross country, but I love it," Albano said. "I love Sacramento. Sac State was a great choice for me."