Increases in administrative pay at Sacramento State have outpaced growth among other employee groups, according to information obtained from the California State Auditor's office in the wake of its report criticizing the California State University system for its hiring and compensation practices.
The data shows that management personnel had a 20.9 percent increase in total compensation from 2007-2008 to 2015-2016, compared with an 11.5 percent increase for non-faculty support staff and a decline of 2.3 percent for faculty.
Total and average executive pay at Sac State both rose at a rate of 27.5 percent as the campus president is the only CSU executive who works at the school.
In terms of average compensation, management personnel saw an increase of 9.8 percent, faculty of 7.9 percent and non-faculty support staff of 6.9 percent.
When asked how many employees were in each group in 2015-2016 compared to 2007-2008 and the amount of total and average pay increases year-by-year, Sac State spokesperson Elisa Smith said that The State Hornet would have to file a California Public Records Act request, which it has subsequently done.
Sac State has not responded to a request for comment on its practices as of press time. (Story continues below)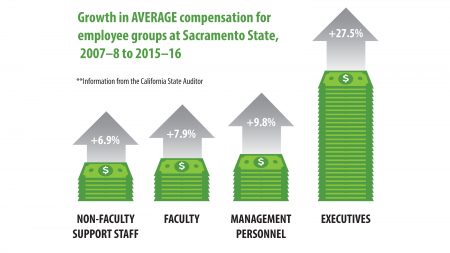 The CSU was criticized in a report released by the Auditor's Office last month which found that increases in financial compensation of management personnel "significantly outpaced" those for other groups of employees — even as the system raises tuition.
The report also found that the campuses visited by the auditors — which did not include Sacramento State — could not explain their practices.
"We also found that the six campuses we visited frequently could not justify the growth in the number of new management personnel," California State Auditor Elaine Howle said in the report. "One campus (Cal Poly San Luis Obispo) granted raises to management personnel that were not supported by current written performance appraisals, as required by CSU policy."
The report goes on to say that "many campuses cannot demonstrate that they are adequately monitoring their budgets" and that some CSU leaders were compensated with "relatively large amounts" for job-related moving expenses and home sales.
The report includes several recommendations aimed at reining in what it claims are the CSU's excesses — including requiring that the system submit an annual report to the legislature to explain how it specifically is helping students succeed, prohibit the use of private campus foundation funds to pay campus presidents, cap relocation money given to moving administrators and enforce evaluation plans for administrators before giving them raises.
CSU Chancellor Timothy White defended the system in a written response, saying that some groups of employees did increase more than administrators over the past decade, such as student employees.