Opera Theatre company presents Tartuffe to University Theatre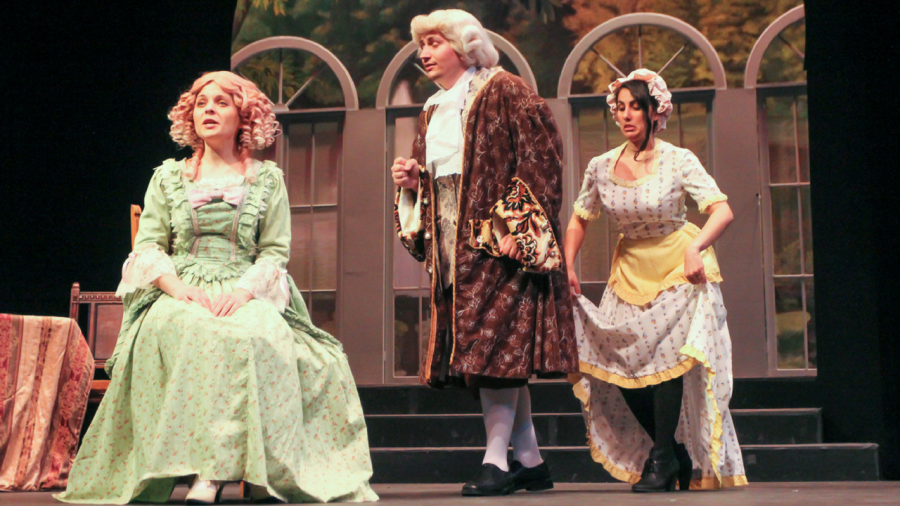 Members of the Sacramento State Opera Theatre company will be performing the theatrical production "Tartuffe" on the University Theatre's main stage starting Friday.
Based on Moliere's comedy that was written in France in 1664, the production is a modern comic opera about the title character, a pious fraud who has made himself an unwelcome guest in a family's household. The English adaptation of the text was produced by Kirke Mechem.
The nine-member opera will be directed by Sacramento State opera director Omari Tau, who said the three-act comedic opera will be treated like a staged concert.
Tau said the students will perform in costume with wigs and makeup but will also have sheet music in their hands while performing.
Students have been working on the opera since the end of last semester so they could start working on the music, as Tau said this opera is particularly difficult, calling it the "Olympics of opera."
"It requires a lot of work," Tau said. "Not only do we work during class time but we work on weekends and evenings to go over the music."
Senior Walter Aldrich, who will play the lead role of Tartuffe, said that preparing for the upcoming performance is very exciting but also nerve-racking.
"We're rehearsing every night for several hours a day," Aldrich said. "But opera productions are very fun — we get to sing a lot of music (with) a lot of fantastic voices. We get to play on the stage acting out these different characters, so it is very exciting."
Aldrich also said that playing the main character in the opera has been interesting and that he has enjoyed exploring the different characters.
"(Tartuffe) is the villain in this play," Aldrich said. "He's infiltrated this man's home pretending to be a saint who hoping to lead the entire the family to God, but instead he's trying to swindle a man of his home and steal his wife. He's this really shadowy, multi-layered character, which is very different from myself."
Orgon, the wealthy Parisian whose home Tartuffe has infiltrated, will be played by sophomore Justin Ramm-Damron. He said that taking on the role of Orgon has been challenging, but very beneficial for his development as an actor.
"It's definitely different from what I am used to because I am a very quiet-spoken person," Ramm-Damron said. "Orgon is very passionate — he goes through moments of love and emotion for Tartuffe but he also goes through random fits of rage where he is screaming and chasing people across stage. It is definitely something that is out of the norm for me."
With the performance drawing near, Tau said that it is getting exciting yet very stressful. From adding the costumes, lighting, hair and makeup, the process of getting ready for the performance becomes very busy.
"The pressure is really on when you're getting ready for a performance," Tau said. "Also, since this is a collegiate course, this is work (is) like the final exam for the students. They have been working the entire semester for their final and they'll have to do it in front of hundreds of people."
Ramm-Damron says that while he feels pressure, he doesn't feel uncomfortable.
"I really want to be able to prove myself, so there is a lot of pressure on me, but in a way that's what makes it so exciting," Ramm-Damron said.
Tartuffe will be performed on May 5 and 6 at 8 p.m. and May 7 at 2 p.m. on the University Theatre's Main Stage in Shasta Hall.