Fifth-year senior forward leads women's basketball team with experience
If you were to take a look at the career of Sacramento State senior forward Margaret Huntington, you could make a case that her career would make a great movie.
Huntington, a film major, is revered among her coaches and teammates for her demeanor on the court, and her overall personality off of it. And as the lone player who was around before current head coach Bunky Harkleroad was hired, she is the elder statesman of the team, something she doesn't take for granted.
"It's pretty cool. I've been around a lot of different girls on a lot of different teams," Huntington said. "Being here for five years, I think we've got something pretty special."
Huntington came to Sac State in 2012 from Bishop O'Dowd High School in Oakland, where she won the California Interscholastic Federation Division III championship as a senior. Though she was on the basketball team her freshman year, she was a redshirt, so she didn't see any playing time under previous head coach Jamie Craighead.
That would not be the case in 2013-14, after Craighead left for San Jose State — a month before the season. With the addition of Harkleroad as the head coach, Huntington saw her career take off. As a redshirt freshman, Huntington led the team in rebounding, averaging 7.5 points a game. That total put her in fourth place in the Big Sky Conference, though she did lead the conference in offensive rebounding, averaging 3.2 points a game.
Over the course of her playing career, Huntington has been a three-time Big Sky All-Academic team honoree, and has led the team in rebounding in two of the three years she has played. Harkleroad has shown an affinity for Huntington's style of play, and is thankful that he has had the opportunity to be her coach.
"Margaret's very strong, she plays hard and she's a warrior," Harkleroad said. "She's really fun to watch and I'm proud of her."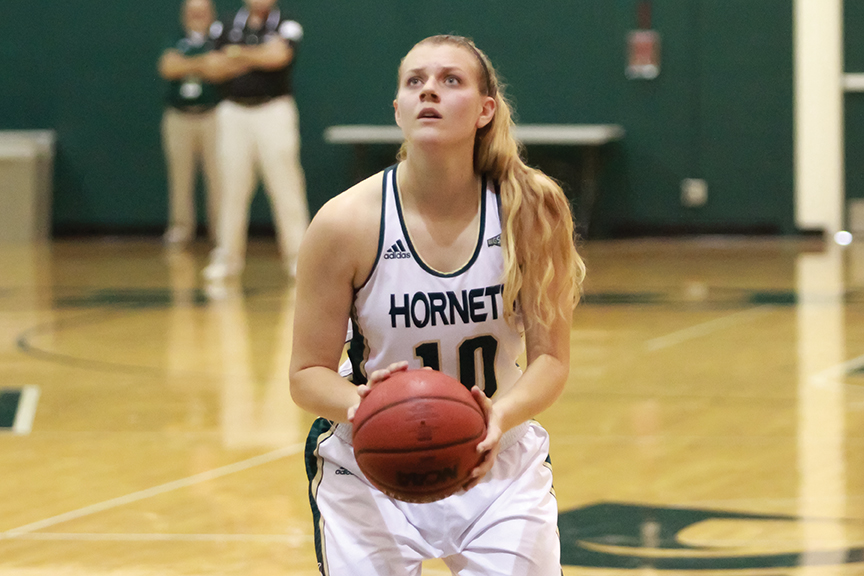 This season, Huntington has proven her coach right, as she has been a monster on the glass. Huntington leads her team and the Big Sky in total rebounds (73) and rebounds per game (10.4) throughout seven games. Currently, she ranks 15th in NCAA Division I in total rebounds as of Dec. 2.   
Huntington credits the production to her overall experience, which has paid dividends not just for her, but the team as well. In her sophomore year (2014-15), Sac State made it to the third round of the WNIT.
"I think experience has helped a lot," Huntington said. "It's given me a lot of confidence, and I try to be the best leader I can be, so yeah, it has definitely helped."
When Huntington is not on the court, she spends part of her time studying film production; something that she has gained an appreciation for due to her athletic career.
"I think my sport is the reason I'm interested in production," Huntington said. "I've actually done two documentaries on one of my former teammates. I just like any type of production, whether it be sport-type documentaries or whatever. The two definitely intertwine."
Huntington has not only been a leader on the court, but has also served as a positive influence off of it as well. Redshirt senior guard Emily Easom, who is also Huntington's roommate, has credited her with helping her acclimate to Sac State after transferring from Portland State last year.
"Being with her off the court, she's probably the funniest person I've come across in my life," Easom said. "When it comes to (being) on the court, Margaret is someone I definitely look up to. She works hard every single play, which makes everyone else work hard. I've never seen anyone jump out of the gym like she can, so we just want to work hard for her."