The Sacramento State women's volleyball team not only has a player ranked fifth in the nation in assists, but a junior the team can count on to take the lead.
Sac State junior setter Kennedy Kurtz leads the Big Sky Conference in assists (1167) as of Nov. 9 and at one point was ranked second in the NCAA in that same statistic, which has helped teammates such as junior outside hitter Shannon Boyle lead the team in kills.
"Ken, well obviously she is a captain, but she is a leader on and off the court, and that helps a lot as a setter," Boyle said. "From your setter, you need for them to control plays, control every part on the court (and) if it wasn't for her, I wouldn't be able to kill that ball (so) it's all her that gives me the opportunity to get that kill."
Kurtz began playing volleyball in the seventh grade, where she competed in both middle school and club volleyball. The 5-foot-10 setter has a natural athletic ability that can be attributed to her parents Noel Kurtz, who ran track at the University of Arizona, and Craig Kurtz, who played college basketball at East Central Oklahoma.
Though Kurtz can thank her parents for passing down the athletic gene, her main mentors were her two club coaches AJ Malice, the current assistant volleyball coach at Big Sky rival Eastern Washington, and Matt Dyke.
"I had a club coach back in my freshman year in high school who told me I would never play in college, and I was never going to be good enough," Kurtz said. "So I (went) to a different club — Matt and AJ just always believed in me, always knew my potential as a player. So those two really kept me going in volleyball and made me who I am."
However, volleyball was not the only sport Kurtz excelled at, as she won a national championship in competitive jump roping and then went on to follow her mother's footsteps in track and field. Kurtz broke her high school's records in 100m hurdles, 300m hurdles, 4x100m relay and brought her 4x400m relay team a state championship in 2012.
A standout athlete at Ironwood Ridge High School in Oro Valley, Arizona, Kurtz also led the varsity volleyball team to three straight Division II Section V titles from 2011-13. Kurtz was named the Southern Arizona Player of the Year and first team all-section, first team all-Southern Arizona, and the team MVP.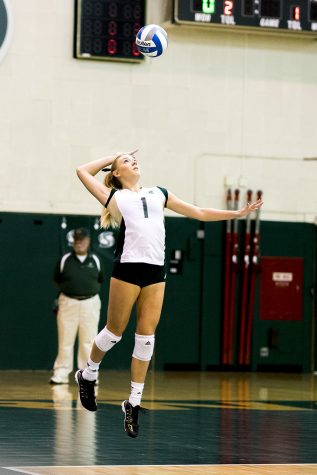 Leaving friends and family behind in Arizona, Kurtz decided to play volleyball at Sac State. Soon after, Kurtz became roommates and close friends with Boyle and junior defensive specialist Brigette Murdoch.
"[Kurtz] is such a good leader, we all look up to her as a best friend, we're like family," Murdoch said. "She is the leader on the court, then when we come home, she is our best friend. So I look up to her as a person in every way."
One vivid memory that all three girls can always share a laugh to was a time during two straight weeks of preseason volleyball, and Kurtz got all too excited about some fruit snacks.
"So one time we're shopping, and [Kurtz] went to say, 'hey guys look at these fruit snacks,' but instead she said, 'Fruit of the Loom, look at the Fruit of the Loom,' which is like an underwear brand," Boyle said while trying to hold back a laugh.
The girls' bond is so close, Kurtz says she is going to make a blooper reel at the end of the season because the trio accidentally collide with each other at least once a game.
Despite these run-ins, Sac State head coach Ruben Volta admires the attitude and leadership Kurtz brings to the court as well as her personality off of it.
"On the court, (I most admire) probably experience, just knowing situations better in terms of who to set, when to set them based on what the defense is doing," Volta said. "So I would say experience stands out on the court."
Kurtz also hopes that her experience as a future intern with the Sac State athletics office will provide her with an opportunity to be involved in sports after her time as a Hornet is over.
"I do all the announcing for the basketball games and then I'll be hopefully doing baseball and tennis next year when they do media packages," Kurtz said. "But I really want to get into sideline reporting. Honestly, I would be fine for any pro sport or college football."
But before Kurtz can make the jump into the media side of things, she and her teammates must continue to prepare for the Big Sky Tournament on Nov. 17 by taking on Idaho State on Thursday and Weber State on Saturday at the Hornets Nest.