Sac State battles wind in 5-2 win over Dragons
Despite heavy winds, the Sacramento State men's tennis team topped the Drexel Dragons 5-2 Thursday afternoon to snap the Hornets' four-game losing streak at the Rio Del Oro Racquet Club.
The day began with the No. 2 doubles pairing of junior Christopher Clayton and freshman Lois Chabut against Drexel's Youssef Lahlou and Hamza Laalejwhom, which the Hornets won 6-3. The No. 1 Sac State doubles tandem of sophomore Mikus Losbergs and junior Kasparas Zemaitelis overcame service and return errors throughout their match against Kashyap Ashok and Sinan Orhon to win 7-5 and clinch the doubles point.
"We were up, but then (Zemaitelis) had a pretty bad service game," Losbergs said. "They came back but then at five all, we broke them again. We wanted to finish the game 6-2 or 6-3 but it was 7-5 — a win's a win."
Sac State (8-10, 5-2 Big Sky Conference) freshman Hermont Legaspi and sophomore Dom Miller — who teamed up for the first time — left their match against Balaji Lakshmanan and Alex Zenonos unfinished at 5-4 due to wins from the No. 1 and No. 2 duos against Drexel (10-6).
With a 1-0 team lead over the Dragons, Miller began singles play with straight set victories (6-0, 6-2) over Lakshmanan at No. 2. The Hornets then took a 3-0 team lead after Zemaitelis blitzed Orhon (6-1, 6-3) at the No. 3 spot."
"I knew that I needed to push him," Zemaitelis said after improving his singles record to 9-9. "I was very fired up after every point."
Sac State then clinched the team victory over Drexel after Losbergs swept Laalej in two straight sets (6-2, 6-2) to take a 4-0 team lead.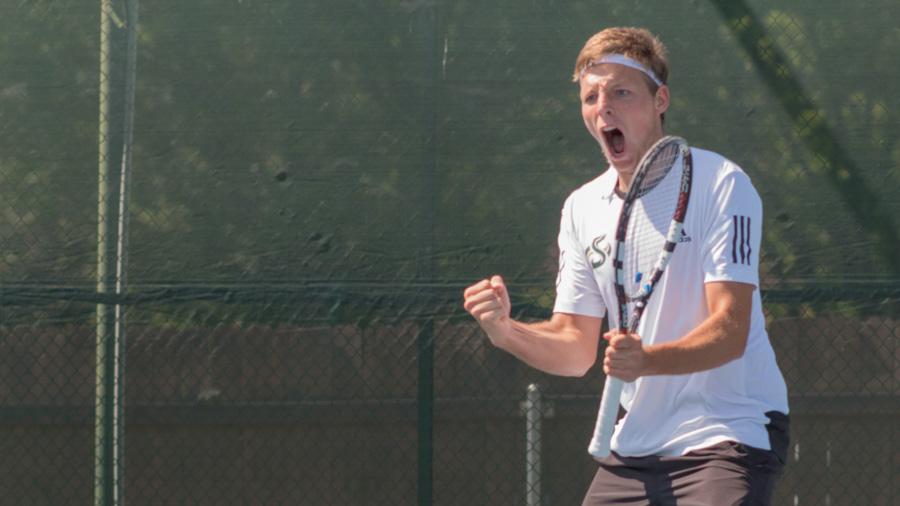 The final three singles matches all proceeded to three sets with Legaspi losing to Daniil Ginzburg (6-4, 4-6, 10-8) at the No. 6 spot and Chabut besting Zenonos (4-6, 6-3, 10-6) at No. 4. Clayton ended the day for Sac State with a loss (3-6, 6-3, 10-7) at No. 5 against Lahlou, but the Hornets finished with a 5-2 victory overall.

"This was a good game for everyone to get some confidence," Miller said. "And also to practice in the wind."
Winds were gusting around 24 miles per hour during Thursday's matches, according to the National Weather Service. However, the weather was windy earlier in the week during practice, which gave the Hornets an opportunity to become familiar with the playing conditions.
"It was pretty hard conditions today," Losbergs said after improving his singles record to 11-7. "It's not only from one side, but from everywhere so you just have to move better — your footwork has to be better — you have to stay lower."
Sac State will hope for better weather conditions against the No. 1 team in the Big Sky Conference, Northern Arizona, at 11 a.m. Sunday at the Rio Del Oro Racquet Club. The Hornets will also be looking for a different result than last year's 6-1 loss at the hands of NAU.
"They haven't lost a match this year in conference, so it's going to be pretty tough," Losbergs said. "We play at home so hopefully we can take that advantage and we'll see how it goes."