OPINION: Causeway Cup rivalry cause for Hornets' 'March sadness'
When college rivalries come to mind, one typically pictures both universities close to each other geographically and competitively — but that hasn't been the case for Sacramento State and UC Davis this year.
On March 12, the UC Davis men's basketball team won the Big West Conference and punched a ticket to the NCAA Tournament for its first time in program history — after only being an eligible Division I team for 10 years.
On the other side of the causeway, Sac State has yet to make the NCAA Tournament in its 20-year Division I program history, which has fans and alumni in a state of "March sadness" with their crosstown rival reaching the tournament in half the time.
The Hornets finished 9-9 in the Big Sky Conference with wins against third-place Weber State at home and first-place North Dakota on the road. They eventually fell to second-place Eastern Washington in the semifinals of the Big Sky Tournament in Reno, Nevada.
On the women's side of the court, UC Davis reached its fourth Women's National Invitational Tournament in its fifth appearance in an NCAA postseason tournament in nine years of Division I basketball. Sac State's women's basketball team has only one WNIT appearance (2015) in its 20-year Division I program history.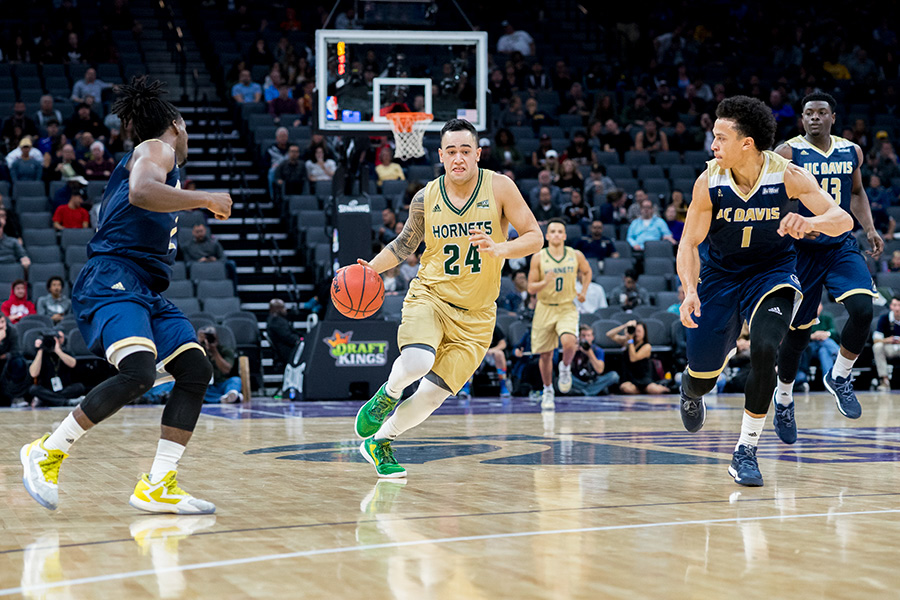 Basketball is not the only sport where the Aggies have one-upped the Hornets in 2017, as the only Sac State team to defeat UC Davis in this academic year is the men's soccer team on Oct. 22 (2-1).
Since 2004-05, both schools have competed in an annual Causeway Cup, where the winner of the head-to-head matchups are awarded five points per win (two and a half points in the sports that play each other twice such as soccer) and the school with more points is awarded a trophy.
So far this year, UC Davis leads Sac State 55-5 with only six remaining head-to-head matchups left in baseball (two), men's golf, gymnastics and both men's and women's track and field.
Even if the Hornets were to sweep the remaining matchups this year, they would still fall well short of winning the Causeway Cup by a final score of 55 to 27.5.
This many losses to a rival can only take away from students' pride in their campus sports teams, because where is the fun in college sports when you only rarely defeat your crosstown foe?
For those who are wondering, it is not just sports that our crosstown rival is kicking our butts in.
On Oct. 30, UC Davis basketball arena, the Pavilion, hosted Chance The Rapper during his Magnificent Coloring World Tour.
Yes, that three-time Grammy award-winner (best new artist, best rap album and best rap performance), Chance the Rapper.
Chances are if you are feeling a little down this month, you are not alone as many Sac State students will be in a state of "March sadness" for the time being.
RELATED: For this week's edition of #SacStateSays, we asked students what they think about the state of this rivalry.