College GOP and Democrats face off in debate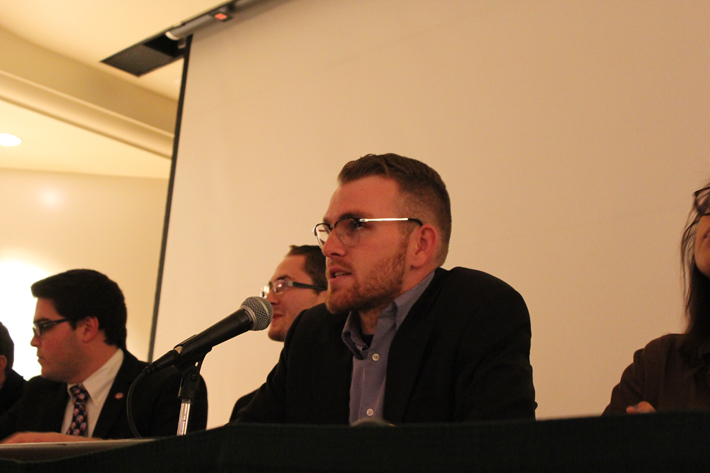 Members of the Sacramento State College Republicans and College Democrats faced off in the Hinde Auditorium on Wednesday night, advocating for their party's policies less than two weeks before the general election.
Topics covered at the debate included the rising cost of education, voting for third parties and the new law barring Californians under the age of 21 from purchasing tobacco products.
There was broad agreement on bringing down the cost of earning a college degree, with the Democrats suggesting making federal pell grants available during the summer session.
"We're looking at the possibility of tuition raises next year and the best way to keep future costs down is advocacy at the state capitol," said Tim Sullivan, the president of the College Democrats.
Kyle Shallcross, representing the College Republicans, said that he agreed but added that schools needed to cut spending on administration and bureaucracy.
"I personally agree this is an issue that has been more or less swept under the rug," he said. "Too much money is going to overfunded, bloated bureaucracies and administrators. We need to allocate that money in a more effective way."
The conversation was less amiable when the debate focused on whether voters should consider third party options such as Libertarian nominee Gary Johnson and Green Party nominee Jill Stein, considering the unpopularity of the two major candidates for president — Democratic nominee Hillary Clinton and Republican nominee Donald Trump.
Sullivan said that he voted for Bernie Sanders in the Democratic primary and that although he considered voting third party, he said that Democrats should get behind the ticket.
"If you feel the need to consider a third party vote, you should consider that," he said. "If we were living in a swing state, I would urge you to vote Democrat. Though both choices are distasteful, they are not of an equal level of distaste."
Sullivan urged Republicans in the room to reject Trump's candidacy by voting for Johnson.
"You have a choice," Sullivan said. "You don't have to vote for a xenophobe; you don't have to vote for a misogynist; you don't have to vote for a racist. You can vote for a conservative who has actually governed." (Story continues below)
The College Republicans took umbrage to those remarks, pointing out that the club has never endorsed Trump's candidacy and encouraging people to vote their consciences.
"You are smart, intellectual, intelligent people. If you want to vote third party, vote third party," Shallcross said. "This mud-slinging garbage they're bringing up does nothing for the United States. If anything, this breaks us on the rock of hyper-polarity that has corrupted and decimated and destroyed the political system in America."
Several of the Republicans distanced themselves from Trump's positions. Mason Daniels, the president of the College Republicans, said that Trump would not harm the NATO military alliance after the Democratic debaters brought up his statements disparaging it.
"The U.S. is never going to pull out of NATO whether Trump gets in or not," he said. "We actually agree on this issue."
Sac State student Jared Paulin, who sat in the audience wearing a hat bearing Trump's campaign slogan — 'Make America Great Again' — said that he understood the club's position.
"I respect their right to have their own opinion. On both sides, they're the most unpopular candidates we've had," he said. "Donald Trump is the Republican nominee but not everyone will vote for him."
The two sides also sparred on whether more states should follow California in raising the legal age for buying cigarettes from 18 to 21.
"I think we can all agree that at 18 you can drive, you can vote, you can die for your country," said Dean Talley, representing the College Republicans. "Should California be the leader? I don't think California should be a leader in taking away your rights."
Karen Dominguez of the College Democrats said that the new law will save lives.
"Our youth are more vulnerable to nicotine and tobacco addiction," Dominguez said. "If we were to increase the age to 21 (nationally), we'd lower the nationwide rate of smoking by 12 percent. We'd be preserving 4.2 million years of life."
Talley said that the state should focus on educating young people on the dangers of cigarettes rather than banning them outright for people under the age of 21.
"You're saying they're 'vulnerable' so they don't have the right to make a conscious, adult decision to buy a pack of cigarettes," Talley said. "Why not make the age of buying a motorcycle 30 because everyone under 30 is an idiot?"
The event was put on with help from the Associated Students (ASI).
Margot Rinaldo, the director of social sciences and interdisciplinary studies for ASI, said that this is the second such debate that has happened on campus and that she hopes to put one on for both primary and general elections.
"The first one was last year. Since then we've thought it's something we should do every year," Rinaldo said. "It's just as important to vote in local and state elections as national."