Native American Culture Week ends with activities, performances
Native American Culture Week at Sacramento State came to a close on Friday with its final event, "Go Native," an immersive celebration of Native American culture showcased through song, dance, art and history.
"Go Native" featured different sections in which students were free to engage in various activities. Native American Culture Week was put together by Ensuring Native Indian Traditions, a non-profit organization at Sac State that looks to preserve and spread Native American culture.
Daniel Fonseca, director of the cultural resource department at Shingle Springs Rancheria, was there to share the history and language of the tribe with students.
Students were shown the past and present location of the Miwok tribe, which is now in Sacramento. Fonseca said that while many tribes in the area speak the same language, each has its own distinctive dialect.
"This is downtown," Fonseca said. "This is actually where my Indian bloodline comes from."
One booth showed attendees how to make bracelets based on basket designs created by the Yokut, a tribe native to central California. ENIT member Brooke Ford said these were given as gifts for marriage or childbirth.
"All of these designs were created by a specific person with a specific message, a meaning and a prayer," Ford said. She said that each participant could either follow the designs she displayed or create their own based on their individual personalities and prayers.
Karuk, a dance group from Yreka, California demonstrated traditional dances. The male members of Karuk wore athletic shorts and beaded headpieces, while the female members wore black dresses or yellow skirts paired with black tops. Each member wore long, beaded necklaces.
The dances all began with the group members standing side-by-side. They bent their knees together in unison and moved to the beat of their own chants.
Nancy McCully, club treasurer of ENIT, said that the dances were shown to give the audience an example of the dances they practice. Some other traditional dances were not shown, as they were meant to be private and seen only by members of the tribe.
"(The dance today) is really more of a demonstration that shows unity between women and men, and young girls and boys that come together, work together and show leadership through dance," McCully said.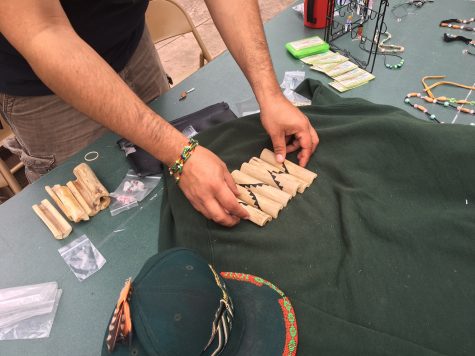 Attendees formed a circle around a table hosted by ENIT member Michael Ramirez to play a game of chance. Each participant was given six rods of elderberry wood and took turns throwing them on the table.
One side of the rod was left blank, while the other side was marked with a design. If a person threw down all six rods with the same side facing up, he or she would win the set. Ramirez said that the rods were often used for gambling, similar to dice.
Ramirez said he carved his own personal set of elderberry rods from trees by the American River, a practice that he has maintained for 13 years. He goes out of his way to make sure the trees are in good health in order to produce the best results for him to work with.
"I go out and tend (the elderberry tree)," Ramirez said. "So you (can) get nice, straight pieces."
According to Ramirez, this practice was used to demonstrate which members were the best hunters in the tribe. The older a person became and the more they practiced, the better they would become at hunting for resources.
Native American Culture Week was designed to share the culture of many Native American tribes with students. Ramirez said that he would like to encourage the attendees to become engrossed in the activities they learned at "Go Native."

"California Indians do exist — we are still here, and we're mighty lucky for many reasons," Ramirez said. "We've lived this long and persisted, so let's have some fun."
RELATED: Our coverage of other Native American Culture Week events: