'It is nice to have somebody who actually cares': Andrew Stoner wins 'Best Zoom Professor'
Engaging with students via Zoom has been challenging for some professors at Sacramento State as they struggle to keep their students' attention while competing with the distractions students have at home. 
Andrew Stoner, a communications and public relations associate professor at Sac State, has navigated these obstacles well enough to be voted the first ever "Best Zoom Professor" in The State Hornet's fourth annual Best of Sac State poll. 
RELATED: 'It's important to be flexible during this time': Sac State professors on moving to online-only instruction
Stoner has taught at Sac State since the fall of 2015. He currently teaches two sections of Communications 123, a writing for public relations class, and two sections of Communications 187, a senior seminar for public relations issue management and case studies. 
Stoner usually allows for discussions to be held in class about important topics pertaining to students, such as virtual gradation. 
"It's particularly important for this group (COMS 187) because they have been together and now they're not and a lot of them are really missing the social aspect," Stoner said.
Stoner said he wants students to express their feelings as the dynamic has changed from an in-person class to online.
Some students have discussed how the situation has made them depressed, or how upset they are at not getting the commencement they were counting on, Stoner said.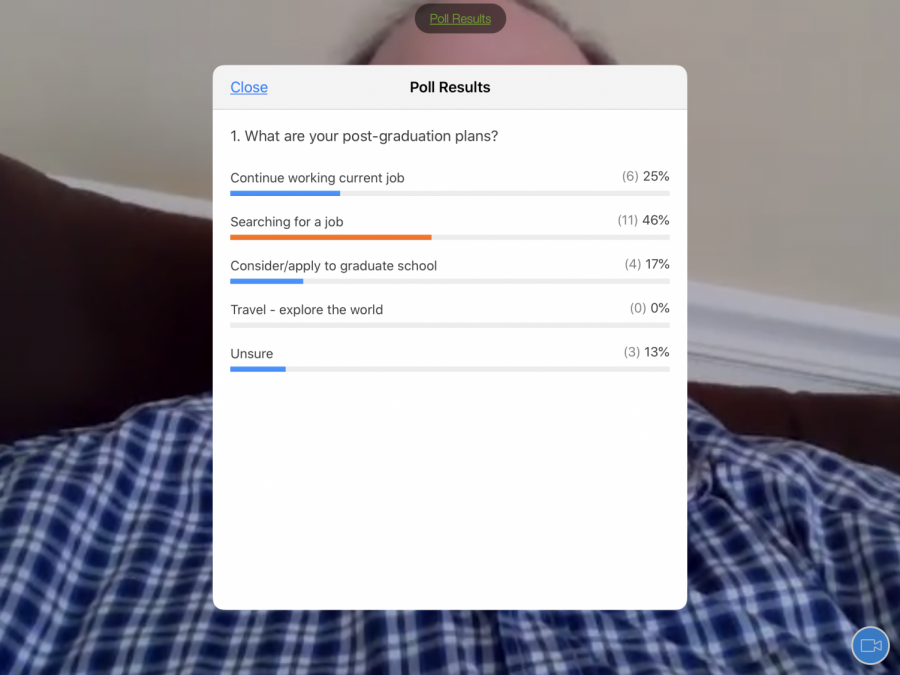 The polling feature in Zoom is utilized often in Stoner's classes to encourage student participation. Some of these polls relate to the class lecture, and some are just for fun. 
"We were casting the movie version of my life, who should play the lead and they had to pick between like Ryan Reynolds, George Clooney and Kevin Hart. If you could see what I look like, I don't look like any of those guys; it's just to have a laugh," Stoner said. 
RELATED: VIDEO: Sac State professors speak on struggles with online courses
Stoner's ability to engage in conversations with his students allows them to be comfortable talking via Zoom, said Anthony Galvan, a journalism major and one of Stoner's students.
"From the moment that I first talked to him on the first day of class, I really felt like we both knew each other the way he was so comfortable talking to me," Galvan said. "That was something that kind of really blew me away and I knew it was going to be a good semester." 
Quinn Sheppard, a communications major with a focus in public relations and a student in one of Stoner's classes,  said he appreciates Stoner's ability to somehow connect everyone in his class. 
"Our class, we all just mesh. He has opened the lines of communication for our class and just made everybody feel comfortable," Sheppard said. "It doesn't matter how long somebody's story goes, he is there to genuinely listen."
Gloria Gibbs, a journalism major, was drawn to Stoner's class due to his background as an author. 
Stoner has written a dozen books, including "Cobra Killer: Gay Porn, Murder and the Manhunt to Bring the Killers to Justice," which he co-authored with Peter Conway in 2012. The book went on to become the film "King Cobra," released in 2016. 
RELATED: Pornography. Murder. James Franco.
"Out of all the classes, his class is the one I look forward to the most because he cracks jokes and he's really understanding," Gibbs said. "I think that of all my professors he kind of goes the extra mile to make everyone feel comfortable." 
Gibbs said that Stoner checks in on each of his students even if their camera feature is not on and tries to include them.
"He doesn't let that bother him," said Gibbs. "He knows that even though the camera isn't on, that doesn't mean we are not engaged."
Stoner does not seem to be bothered by students having fun in his classes, said Galvan.
During this class, Galvan dressed up in a cap and gown and danced around to The Weeknd's "I Feel it Coming" when Stoner took attendance. 
The performance was unexpected to Stoner and to Galvan's classmates, most of whom are set to graduate this semester. 
"He always said he wanted to see us graduate, so he was really bummed out that that might not be the case for some students because not all students are going to want to come back a year later," Galvan said. 
Galvan said he wanted to put a smile on Stoner's face, as Stoner has done so many times for him and have his classmates see him in a cap and gown. 
"It was really kind of fun to watch," Stoner said. "He's got a really happy spirit and I'm so glad that he did that because everybody was really laughing and having a good time."
Stoner said there is more flexibility this semester in his classes because courses are different than what they were originally advertised, and students are going through obstacles that are out of their hands. 
"The university has been asking us to consider the situations that each student is in and some (students) have told me they have ill family members," Stoner said. 
Amid the confusion of the pandemic, Stoner allowed for Israel Flores, Sac State's Associated Students, Inc. vice president of academic affairs to answer fellow classmates' questions in his COMS 187 class. 
Flores has had three classes with Stoner, and said that Stoner is "just a great guy over all."
"He interacts with students and asks them personal questions or just checks up on them to make sure they are okay or if we understand the lecture or questions on homework," Flores said.
"I just think we have to be stewards of our time but also have a good time if we can, especially amidst the current environment and I hope I'm finding that right balance," Stoner said.
Donate to The State Hornet