Hornets sweep Northern Colorado, move up to 4th place in Big Sky
In its final home series of the year, the Sacramento State softball team executed a three-game sweep over Northern Colorado this weekend at Shea Stadium.
The Hornets (18-25-1, 8-9 Big Sky Conference) outscored the Bears (19-33, 7-11 Big Sky Conference) 12-4 this weekend and capped the series off with a 6-2 Sunday win on senior day.
"We did a great job rebounding after two tough series before this," Sac State coach Lori Perez said. "Going in, we needed to take two out of three this series and the sweep puts us in better position to one — make the tournament and more importantly, we are starting to play our best ball at this time of year."
In game one Friday afternoon, the Hornets trailed most of the contest, but a Bears error sparked a three-run fifth inning for Sac State. Following the error, the Hornets scored three runs from a sacrifice bunt, a double, another Bears error and two singles.
In the top of the seventh inning, Northern Colorado shortstop Erica Dick reached third base on an error by right fielder Marissa Maligad, but two batters later, a throw from center fielder Shelby Johnston to home plate on a sacrifice fly attempt got Dick out and preserved the 3-2 win.
Senior pitcher Taylor Tessier (5-12, 3.10 ERA) started game one for Sac State and pitched a complete game after giving up five hits, two runs (one earned), four walks, striking out 10 batters and stranding nine runners on base.
In game two, the Hornets jumped out to a 1-0 lead in the first inning after freshman designated player Traci Shaw singled home freshman third baseman Mo Spieth.
The Hornets proceeded to score one run in both the fourth and sixth innings which was more than enough for junior pitcher Celina Matthias as she cruised to a 3-0 victory. Matthias (8-7, 3.57 ERA) pitched a complete game shutout after allowing six base runners — five hits, one hit batter — and striking out nine batters.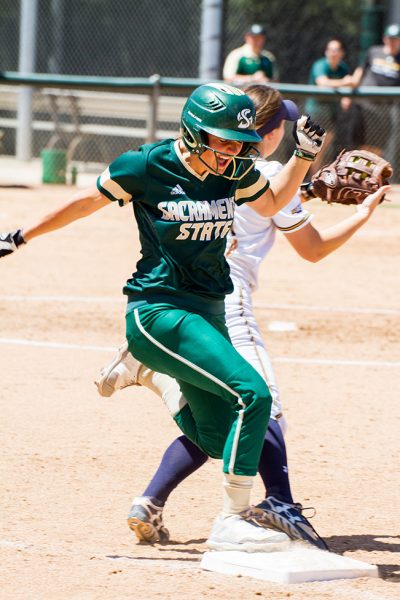 The Bears threatened and brought the tying run to the plate in the top of the seventh inning with two runners in scoring position, but Matthias struck out senior catcher Adeline Coldiron to end the game.
"Our pitchers really answered the call this weekend," Perez said. "We really challenged all our pitchers this week at practices and they came through in big situations when we needed them to."
Game three of the series was senior day for the Hornets and prior to the game, Sac State had a ceremony for its four seniors — Tessier, Johnston, catcher Nikki Gialketsis and first baseman Jessica Ravetti.
"There was moments where I looked out at the field and said to myself, 'Wow this is it.' " Ravetti said describing her emotions in her final game. "This is what we've worked (toward) for the past four years and now it's almost done."
Sac State took a 2-0 lead thanks to Spieth's solo home run in the second inning and Her groundout that scored junior second baseman Zamari Hinton in the third inning.
Tessier got the start again in game three and did not allow an earned run through five innings of work. But thanks to two errors by the Hornets defense in the fifth inning, the Bears scored two unearned runs on a pinch-hit single by Kelli Kleis to tie the game up and end Tessier's outing.
The Hornets rallied in the bottom of the sixth inning by scoring four runs. Sac State used three singles, a walk, a fielder's choice and a Northern Colorado error in the inning to extend its lead 6-2.
Matthias came in relief of Tessier to begin the sixth inning and recorded the final six outs in order to preserve the 6-2 victory.
In the series, the Hornets pitching staff pitched a combined 28 innings, allowing 11 hits, four runs — only 1 of which was earned — and struck out 28 batters over the series.
"For the seniors, it meant a lot to end this home season with a win," Matthias said. "The pitching staff put in extra hours this week at practice so coming into this series we knew what the game plan was and we really honed into our pitches all three games."
Prior to the series, the Hornets were in a three-way tie for fifth place in the Big Sky standings. Following the three-game sweep, Sac State now has sole possession of fourth place and is one game behind third-place Southern Utah.
The Hornets have one final series remaining at Portland State next weekend before the Big Sky Tournament May 11-14.
"We've been struggling all season so it felt like we were due for this," Ravetti said. "We are coming off a lot of hype after this series sweep so all of us are really excited about finishing the season strong."