Men's tennis team shuts out Northern Colorado in 7-0 win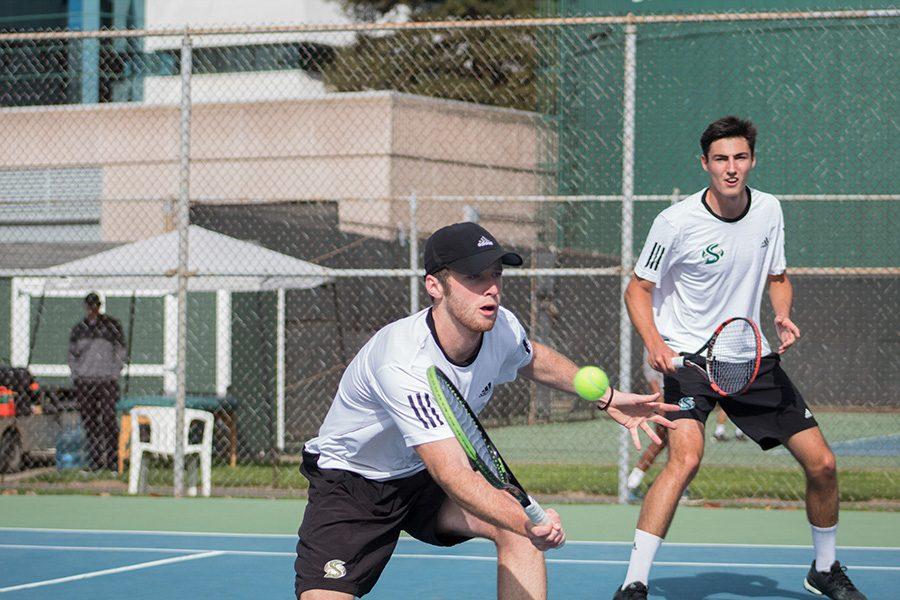 The Sacramento State men's tennis team began the first day of the Golden State Invite with a 7-0 victory Friday over Northern Colorado at the Sac State tennis courts.
This Big Sky Conference matchup was the first time the Hornets have played at Sac State this season, as the team usually plays at the Rio Del Oro Racquet Club — only a few minutes away from campus. The change in courts meant the team had to practice on campus all week to get used to the playing surface.
"I love it because the bounce is very high (and) it's kind of cool to play here (rather) than Rio, I think," Sac State freshman Louis Chabut said.
The acclimation appeared to work as the Hornets (7-6, 5-2 Big Sky Conference) No. 1 doubles team of sophomore Mikus Losbergs and junior Kasparas Zemaitelis began the day with a 6-1 win over Northern Colorado's (6-7, 3-4 Big Sky Conference) tandem of Hayden Cramer and Alex Vakouftsis.
The No. 3 duo of sophomores Dom Miller and Donald Hall defeated Augstin Lombardi and Cassell King (6-3), which secured the doubles point for Sac State. Miller is no stranger to victories over Northern Colorado as he had a breakout performance last season against UNC, assistant coach Kevin Kurtz said.
"Dom Miller won the third set 7-0 to win the match 4-3, and that was the beginning of (him) starting to play amazing tennis last year," Kurtz said. "So it's good to see that — more maturity, more toughness."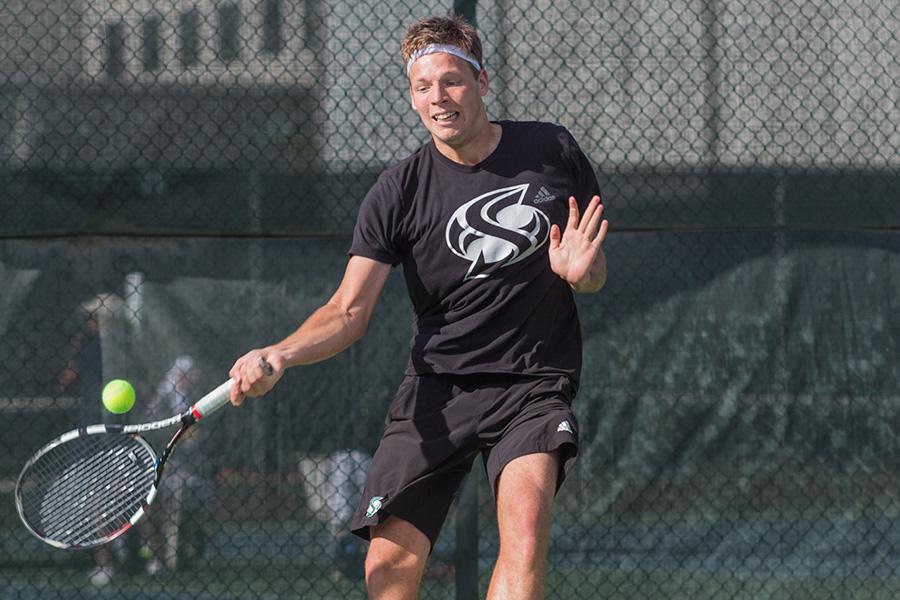 Losbergs began singles competition at the No. 1 spot with a two-set win (6-4, 6-1) against UNC's Connor Finerty.
"In the first set I was struggling a little bit, I was just a little off a few games and then in the second set I got up and I was serving very good," Losbergs said. "I was returning a lot better and everything just went my way."
However, UNC pushed Miller, Zemaitelis and senior Christopher Clayton into three-set matches.
Miller grabbed some points off of smashes at the net and finished off Kyle Pease in the final set of No. 2 singles action, 10-5. Zemaitelis fell behind in the first set with a 6-4 loss in the No. 3 spot, but came back in the next two sets to eventually win the final set point 10-6 over Vakouftsis.
Clayton's match against Lombardi featured plenty of back-and-forth volleys, but Clayton pulled away with a 6-0 shutout in the final set of No. 5 competition.
The Hornets will play Grand Canyon Saturday at 2 p.m. in day two of the Golden State Invite at the Sac State tennis courts.
"They need to approach this match like a pro match — this team is really good," Kurtz said. "It's gonna be a dogfight so we gotta be ready to dig in and fight."