Men's tennis team remains undefeated in conference with doubleheader wins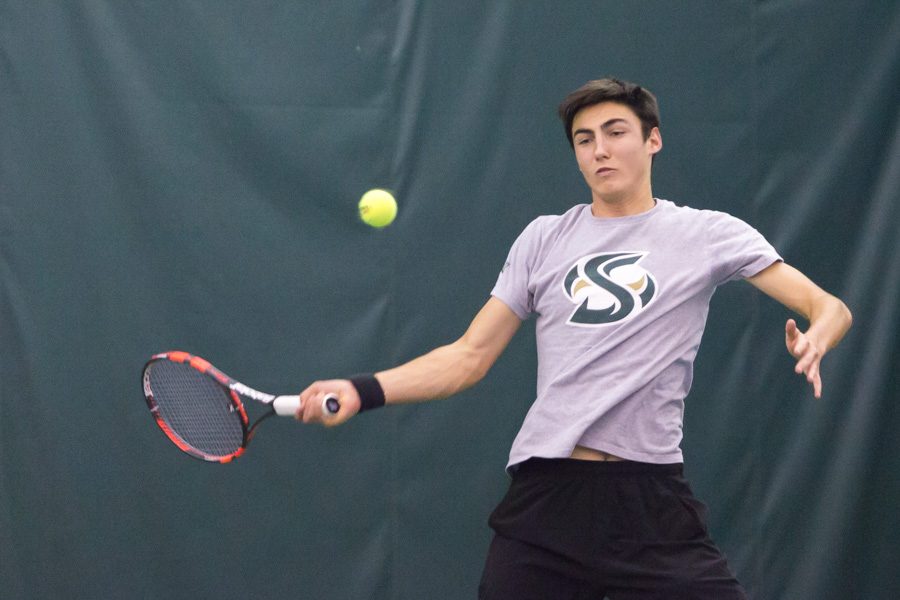 The Sacramento State's men's tennis team earned two wins Friday after beating Southern Utah 7-0 and North Dakota 6-1 to remain undefeated in the Big Sky Conference.
Though the Hornets had to play the doubleheader indoors due to weather, the team seemed prepared for whatever came its way.
"We had a great week, and I think we were ready," sophomore Mikus Losbergs said. "Obviously with a doubleheader it's not easy, but I think physically and mentally we were ready."
This week's competitors are the easiest that Sac State has seen so far this season, and after coming off a tough loss against the University of Portland (7-0) on Jan. 28, this week allowed the team to regain some confidence.
Sac State (4-1, 3-0 Big Sky Conference) started off with a clean sweep of Southern Utah in doubles play with two games finishing 6-3 and a complete 6-0 shutout from the No. 1 seeded doubles team of Losbergs and sophomore Dom Miller.
"We were strong in doubles — (we) didn't drop that many games," Miller said. "In singles most of us finished fairly quickly."
The Hornets won all six of its singles matches with not one of the matches going over two sets.
"I was feeling confident because we had played Southern Utah in the past and they had always been one of the weakest in the conference," Miller said.
Although Sac State has seen victory over the Thunderbirds before, this season was different as Southern Utah is in the same situation the Hornets were in last season with a team made mostly of freshmen.
Sac State championed its first match of the day with a 7-0 win over Southern Utah and used the momentum in the team's next matchup against North Dakota at 3:30 p.m.
North Dakota came into the matchup with an 0-4 record, and lost two matches, 7-0 and 6-1.
The start of this match looked to be the sequel of Sac State's first match of the day as the Losbergs-Miller combo defeated North Dakota's No. 1 seeded doubles team 6-1. The only loss in doubles came from the Hornets' No. 2 seeded freshman Louis Chabut and sophomore Donald Hall against North Dakota's Ty Misialek and Simon Danyluk.
North Dakota was also able to force one more Sac State loss in singles play by way of a three-set game between Chabut and North Dakota's Travis Lau. However, Sac State was still able to get the 6-1 team victory and move the team's overall record to 4-1.
Sac State assistant coach Kevin Kurtz said he is excited with the start of this season and the level of talent that the team is showing compared to last year, when the Hornets began the season 0-10.
"We had a good start in Fresno and a tough matchup in Portland and Portland State," Kurtz said. "This team is better than last year so it was good to get another win."