Men's golf team meets midseason point, looks toward February
The Sacramento State men's golf team wrapped up its first half of the season with a 17th-place finish in the Ka'anapali Classic Collegiate Invitational in Lahaina, Hawaii, on Nov. 6.
The Hornets competed in five golf tournaments this fall — placing in the top-five as a team a total of three times — and will not continue its season until Feb. 13.
"It is a good time for self-reflection on the fall season," senior golfer Connor Day said. "You can work on getting better at certain things and that will help you shave points in a tournament."
Sac State's first tournament of the fall season was the Itani Quality Homes Collegiate tournament, hosted by Washington State in Pullman, Washington. The Hornets finished third overall as a team led by Connor Day, who finished sixth overall individually with a 54-hole total of 73-71-69-213.
Second-year Sac State head coach Kamden Brakel credits a lot of the team's success and maturity to Day and his three other senior teammates — Aaron Beverly, Robert Parden and Cody Bates.
"They set the tone for practices and set good examples for the younger guys," Brakel said. "The drive our seniors have really helps the young guys mature and compete at a higher level."
This blend of experienced players has mixed well with Brakel, who is in his first job as a collegiate golf coach, and has translated to a men's golf team that has high expectations of winning the Big Sky Conference, advancing to regionals and advancing to the NCAA Tournament. Last season, Brakel and the Hornets came up just short in the Big Sky Conference Tournament after finishing in second place behind Idaho.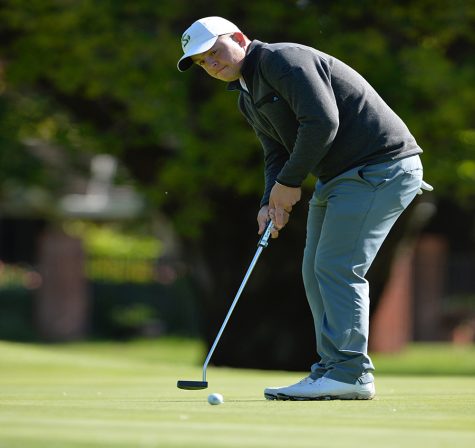 "He brings a fresh new way to go about practices," Beverly said. "He's eager to help us get better, but has found a good balance mixing in having fun as well."
Beverly, who's been golfing for 17 years, has led the way on the green for the Hornets this fall after winning Big Sky Male Golfer of the Week honors on three occasions already. Beverly had top-five finishes at the Ram Masters International at Fort Collins, Colorado, and at the Visit Stockton Pacific Invitational where he recorded a career-best 54-hole score of 206.
"As a team I think we started off well, but struggled in the final tournament in Hawaii because of the different style [of] golf course," Beverly said. "If I had to grade our fall performance, overall I'd give us a B-."
Before Hawaii, the Hornets finished fifth at the Rams Masters Invitational, sixth at the Nick Watney Invitational in Fresno, second at the Visit Stockton Pacific Invitational and then 17th at the aforementioned Ka'anapali Classic Collegiate Invitational.
"Going forward I think we need to play more consistent[ly]," Brakel said. "We start[ed] off good in the first round or two but have struggled to keep the same level in the third rounds. I just believe we need to practice a few specifics."
Before working to improve these elements of its game, the men's golf team will have the next two months off until January, when practices start up again. Sac State will then compete in its first tournament of 2017 in The Farms Collegiate Invitational in Rancho Santa Fe on Feb. 13.
"I don't want to leave anything on the table this last semester," Day said. "I want to see us put 100 percent concentration on the upcoming tournaments and win the conference championship."