Men's soccer team makes program history, looks to continue success
The 2016 Sacramento State men's soccer team made history after making an appearance in the Big West Tournament semifinals and having seven players earn all-conference honors — a program record.
After a dramatic run in the final leg of the 2016 season, the Hornets' campaign came to an end in the aforementioned semifinals on Nov. 9 after the team lost by way of penalty kicks (6-5) to Cal State Northridge. Despite struggling early on, Sac State finished the year with a 9-9-3 (4-5-1 Big West) record and hosted a Big West Tournament game at Hornet Field for the first time in program history.
"Our goal was not just to make the Big West Tournament," Sac State head coach Michael Linenberger said after his team clinched the No. 2 seed in the Big West North division. "Our goal was to finish in the top two and host a tournament game."
The team was led largely in part by senior forwards Nate Nugen and Alex Bettencourt, who both went on to earn all-Big West second-team honors at the end of the season, along with junior goalkeeper James Del Curto and junior midfielder Paul Geyer. Senior defender John Quintanilla was an all-Big West honorable mention, while defender Mac Harrington and forward Christian Webb were named to the Big West all-freshman team.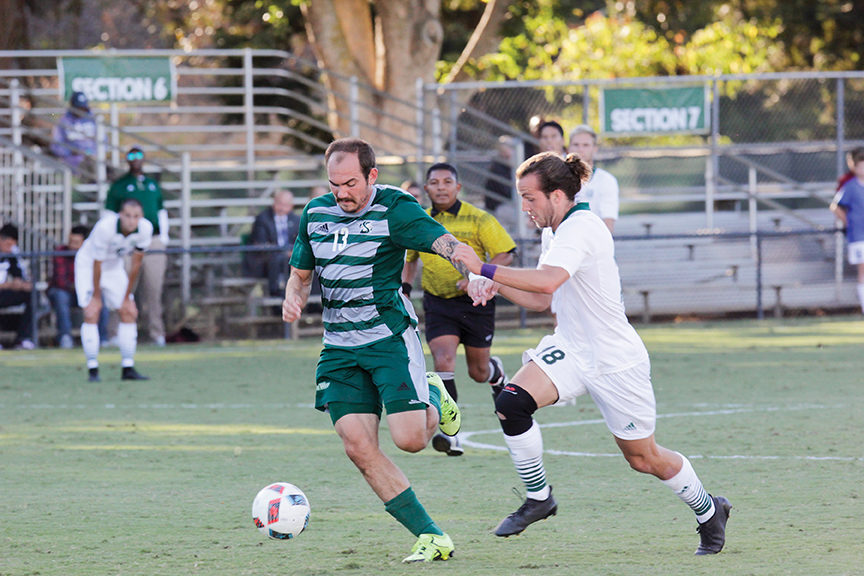 Before the season began, the Hornets were shutout in both scrimmages by Stanford University on Aug. 13 and then by Santa Clara University Aug. 20. Sac State continued to struggle to find offense in its first two regular season games as the team lost 3-1 to Cal State Bakersfield and 3-0 to the University of the Pacific.
The following game, the Hornets picked up its first win of the season, defeating Loyola Marymount 1-0 but then fell to the University of San Diego 3-0 the following game. Sacramento State was outscored by its opponents 9-2 in its first four matches and finished with a 1-3 record.
"We definitely had a slow start to the season," Nugen said. "This season had a lots of ups and downs, but I am glad we were able to bounce back."
Sac State eventually picked up its level of play by winning five of its next seven games — including a Copa de Causeway Tournament victory — to enter the Big West portion of its schedule with momentum. The Hornets competed in many close games in the conference as 10 of its matches were decided by one goal or less, and the largest differential in a game was two goals, which only occurred twice.
"I think the Big West is a tough and competitive conference," Linenberger said. "I think all the teams are very close to the same so these games were intense and physical."
A big reason for these close contests can be credited to Del Curto, who was named Big West Defensive Player of the Week three times, due to his 79 total saves and three shutouts. The back line of defenders also played a role; Linenberger offered nothing but praise to his defenders at the end of the season.
"You got to look at John Quintanilla, who was marvelous at center back the final two-thirds of the season," Linenberger said. "Also, Arnie (Argenis) Ramos came in this year and locked down the left back spot."
On Oct. 26, the Hornets accomplished its season goal and clinched a No. 2 seed in the Big West North division after conference rival UC Davis lost to Cal Poly. Sac State hosted UC Riverside and captured its first Big West Tournament victory (2-1) since joining the conference in 2012, thanks to a late penalty-kick goal by senior forward Ivan Ramirez.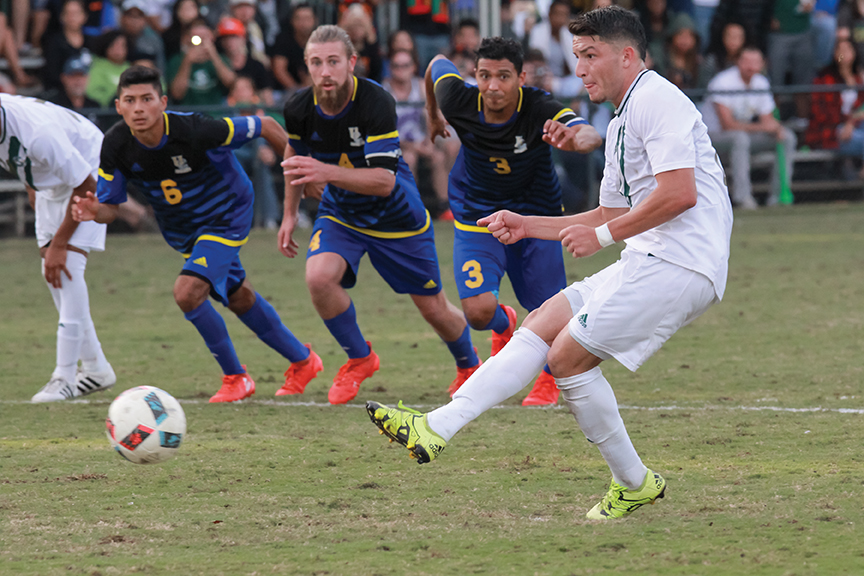 "This was the best season we've ever had in the Big West," Ramirez said. "This was by far my most memorable season of all my four years. We changed the culture and the mindset to a winning program."
Ramirez wasn't the only senior who had an impact, as the Hornets had eight of its 10 seniors in the starting lineup. The three leading goal scorers for Sac State were seniors Bettencourt (7), Nugen (5) and Ramirez (5).
Despite the loss of nearly half of its roster to graduation, the Hornets will return plenty of impactful contributors to the 2017 roster such as Geyer, Del Curto, junior midfielder Trevor Jackson (five assists) and junior forward Cylus Sandoval. Sophomore forward Brad Bumgarner (three assists), Harrington and Webb will also be expected to fill major roles next season.
"I hope they continue the level of hard work we set this year," Ramirez said. "I hope they take this pain from our semifinal loss and use that as motivation to get to the championship next year."