Hornets clinch Copa De Causeway in 1-1 draw against Gaels
Sacramento State men's soccer team won the Copa De Causeway tournament after its second match of the two-day event ended in a 1-1 draw against Saint Mary's on Saturday at Hornet Field.
The Hornets (4-3-1) opened up the scoring in the 10th minute as junior forward Cylus Sandoval was fouled in the box, allowing a penalty kick for senior midfielder Ivan Ramirez who was able to fire in the score against goalkeeper Remi Prieur.
Momentum shifted in St. Mary's (2-5-3) favor shortly after the Hornet goal as the Gaels controlled the possession battle through the final few minutes of the second half. Saint Mary's midfielder Alex Pidoux scored the team's lone goal in the 74th minute by after receiving a pass in the cross from midfielder Dakota Armour.
"I thought we started the game well again in the first 10-15 minutes and created some chances and obviously got the early goal again," Hornet head coach Michael Linenberger said. "I thought we kind of lost our way…the first 30 minutes of the second half they were all over us, but I thought we reacted well after they scored and found the game again."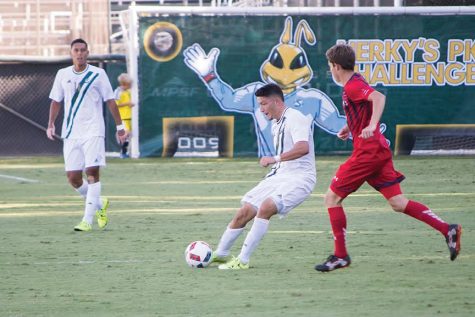 The Gaels outshot the Hornets 20-13 (9-7 in the first half) through 110 minutes of play while the Hornets suffered a 30-minute span without recording a shot from midway in the first half until the final 15 minutes of the second half.
"I thought after they tied the game up, we found the game again and were able to connect passes and create opportunities," Linenberger said.
Sac State looked as if it would walk off with a win early in the first overtime period, but Prieur made two back-to-back diving saves to keep the Hornets off the scoreboard, resulting a tie game.
The physical match saw both Sac State and Saint Mary's tally up a combined total of 38 penalties and five yellow cards.
"St. Mary's played very scrappy and to be fair they did well to keep themselves in the game," Hornet senior defender John Quintanilla said after receiving one of Sac State's yellow cards.
With the 3-2 win over Utah Valley on Thursday and the Saturday draw, the Hornets garnered the most team points to win the tournament. Sac State seniors Ramirez, Argenis Ramos, Alex Bettencourt and junior Paul Geyer also were named to the Copa De Causeway All-Tournament team.
"I think we are light years ahead of where we were the first couple weeks of the season, but we have to get better to qualify for the Big West Tournament," Linenberger said.
Sac State will begin Big West Conference competition on the road against the UC Irvine Anteaters at Microsemi Field in Irvine on Thursday.