Clayton combines curriculum, competition as captain
Throughout the year, student-athletes are expected and required to balance school responsibilities with their respective sports.
Junior Christopher Clayton, 21, of the Sacramento State men's tennis team, recognizes this. It is his commitment to both books and athletics that earned him scholar-athlete honors from the Intercollegiate Tennis Association.
"Especially for a student-athlete, it's hard to find time for all the school work … I put in a lot of work on and off the court so I am happy to have received it," Clayton said. The ITA honors bestowed upon Clayton requires the student-athlete to obtain as well as maintain a 3.50 grade point average, be a letter winner for an athletic program, and be enrolled at least two semesters prior.
Clayton, a native of Bristol, England, also enjoyed success on the courts as he finished his 2016 sophomore campaign with a 5-2 Big Sky conference singles record (9-7 overall) and 10-8 doubles record. Eight of his nine singles wins also came in consecutive sets and he enjoyed a six-game winning streak before an injury plagued him at the end of the season, according to Hornet Athletics.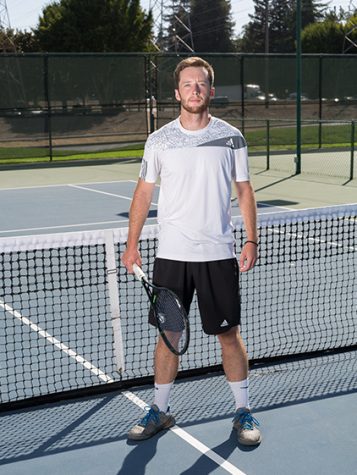 "You want to be on the court as much as possible to get better, but sometimes if you physically cannot, it does give you a bit more time to study, but of course I hate it," Clayton said after earning his second consecutive Big Sky All-Academic selection. "I get pretty frustrated if I can't play—being with the guys playing is what I love."
Teammates and coaches, such as head coach Vyacheslav "Slava" Konikov, took notice of Clayton's professionalism, which has made him a team favorite in the locker room.   
"He is a good and nice guy and has really improved a lot this year, he tries really hard," Konikov said.
A former Big Sky Player of the Week, Clayton also earned the honor of being named team captain after being nominated by teammates such as fellow junior and roommate Kasparas Zemaitelis.
"Mentally, he is one of the strongest teammates on the team … it doesn't matter if we are winning or losing, he still pumps the team up," Zemaitelis said.
This mental toughness could be attributed to the difficulty Clayton faced early on when preparing to make the journey from England to the United States. Clayton struggled to prepare the necessary documents to change countries, while also having to transition from his studies in Emersons Green, England, to the California State University school system. As a result of the issues, Clayton had to start school at Sac State later in the spring 2014 semester.
"It was a big wake-up call with tennis, which was more than I was doing before and then more studying on top of that; it was quite overwhelming to begin with," Clayton said.
After redshirting his first year, Clayton enjoyed a freshman season in which he finished with a 8-4 singles record and a 9-7 record in doubles matches. During his first postseason as a Hornet, Clayton finished the Big Sky Tournament with a perfect 2-0 record and was also a Big Sky All-Academic selection.
Clayton now looks to build off these accomplishments from his freshman and sophomore campaigns in an effort to help Sac State win its 12th Big Sky conference championship, and its first since 2013.