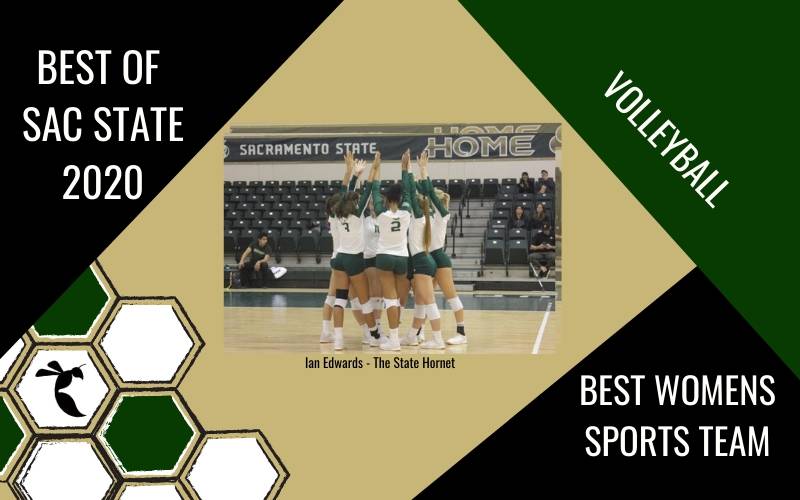 Sac State volleyball team voted 2020 'Best Women's Sports Team'
Hornets win 2nd year in a row
The Sacramento State volleyball team was voted "Best Women's Sports Team" of 2020 in The State Hornet's fourth annual Best of Sac State poll. 
This was the team's second straight win for this category.
The team finished 14-18 overall and started off their season with two wins in a row while playing at home during the Sacramento State Invitational against Canisius College and California State University, Bakersfield. 
The Hornets went 9-9 in conference play, and made it to the Big Sky Conference Tournament quarterfinals. The team lost against Montana State University which was the first time the Hornets were defeated at home by the Bobcats since 1997. 
Related: Sac State volleyball team ends season in upset loss to Montana State
"I know that there were times when we probably could've done better, but I'm really proud of the way our team performed this last season," said senior outside hitter Sarah Davis.
In regards to winning the poll, Davis spoke about how happy she is to go to a school where she and her team continually feel supported by everybody on campus. 
Ruben Volta, the head coach of the women's volleyball team for the past 13 years, said how exciting it was to hear that students voted for the women's volleyball team as the best women's sports team, and how honored he was that students were able to acknowledge the team for their season.
Junior setter Ashtin Olin was also excited to find out her team won the poll.
"It's exciting to know that people actually know about us," Olin said. 
Olin said her favorite part about playing volleyball is the moment right before a win where she begins to feel an unspoken connection forming between her and each one of her teammates. Olin ended her season with 1,205 assists, the 36th best mark in the nation.  
Related: 'This is where I'm meant to be': Sac State volleyball player sets team up for success
The Hornets ended their season with a total of 1,619 kills, 177 aces and 2,035 digs in 32 matches. The team also won on their senior night with a 3-0 sweep over Idaho State University.
When asked how she felt her team did this past season, junior middle blocker Cianna Andrews said she felt that it took her and her team a while to find a working routine, but that when they did they were able to have a pretty good season. 
"We had a lot of new people stepping in to take starting roles, so I think we did really good on adapting to that," Andrews said.