Jackson: verified on Twitter and on the basketball court
Sacramento State's lone verified student-athlete Trevis Jackson may be identifiable on Twitter, but wasn't easily recognizable on the basketball court until his senior year.
Jackson formerly co-starred in a YouTube reality show titled "Summer Break" — which earned him verification on Twitter in 2013.
A former walk-on turned scholarship guard, Jackson has battled his way to the top of Sac State coach Brian Katz's bench rotation and has provided huge minutes for the men's basketball program this season.
"The grind knows who's actually grinding," Jackson said during his ascension to the sixth-man role. "I've always told myself, 'You can't truly learn about yourself unless you put yourself through the hardest things.'"
Jackson arrived at Sac State following a state championship run his senior year at Santa Monica High School and earning California Interscholastic Federation MVP honors after his performance in the Southern Section Division 1A playoffs.
But as a freshman walk-on, Jackson had to make the transition from having the ball in his hands all the time to only having a few reps during practices.
"When he came here, I told him that he'd never get a scholarship and he would see very little reps if any at all," Katz said. "That's just standard protocol with walk-ons — you have to be honest with them and make sure they understand."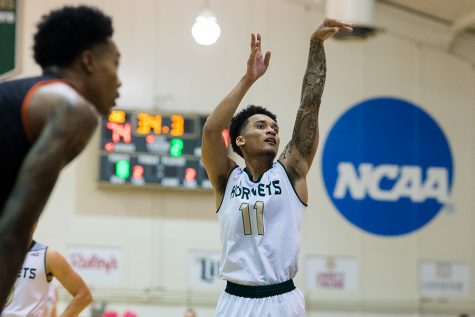 After playing basketball in Southern California, Jackson said he felt from the get-go that he could compete and play at the collegiate level, and was not deterred by his initial lack of playing time.
"I told myself in high school that I was going to play Division I basketball," Jackson said. "I knew I couldn't give up because I knew I'd be giving up on myself."
Former Sac State standout guards Mikh McKinney (currently a member of the Delaware 87ers in the NBA D-League) and Dylan Garrity were big role models for Jackson in his first two seasons and he credits them both for motivating him to pursue a bigger role on the team.
Through his first three seasons at Sac State, Jackson tallied up a total of 25 points, 23 assists, and 16 rebounds in 228 minutes. However, in 23 games this season he has doubled his career points and rebound totals and is averaging career highs in points (2.6), minutes (16.2) and assists (1.5).
"He's made the most of his opportunity out of anybody we've ever had here," Katz said. "Now he's our third guard in the rotation and I've played him over 30 minutes three times this season."
Jackson's presence does not go unnoticed by his coaches or his teammates. Senior Eric Stuteville (center) arrived at Sac State the same time as Jackson, and praises his work ethic and demeanor.
"People who sit on the bench typically quit and give up," Stuteville said. "It's really easy to quit but the strong-willed will keep that fire, keep that passion, keep that chip on their shoulder — and that's what he did."
Senior forward Nick Hornsby has also developed an unbreakable bond on and off the court with Jackson.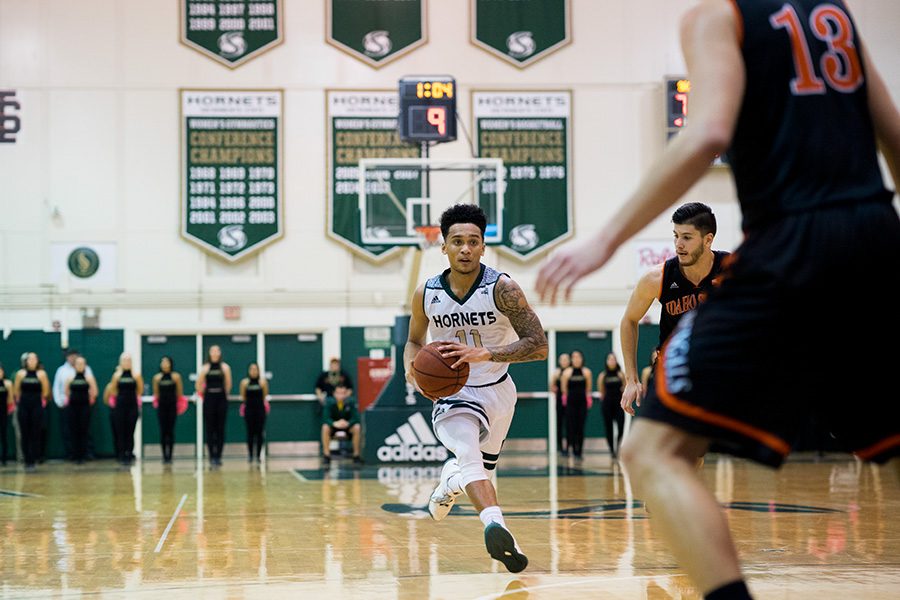 "I admire how much he competes and is willing to do whatever to help the team," Hornsby said. "He's my roommate, he's my brother, I honestly love every day with that dude."
Jackson has provided huge moments in crunch time in multiple Sac State victories this season.
In Sac State's victory over first-place Weber State, Jackson hit a go-ahead 3-pointer with less than a minute to go to secure a victory over the Wildcats on Feb. 9.
In the double-overtime thriller against Abilene Christian on Dec. 17, Jackson provided the assist to junior forward Justin Strings' game-tying 3-pointer that forced the first overtime period and helped the Hornets battle to victory.
"I would never bet against Trevis," Katz said. "You don't want to bet against him because it's not going to end up very good for you."