Basketball alumni honored in Hornet Hall of Fame, Coaches' Circle
Sacramento State will induct four alumni into the school's Men's Basketball Hall of Fame and Coaches' Circle on Oct. 25.
Forward Mitch Third, guard Loren Leath, coach Terry Ray and the late coach Ted Goodykoontz will join the elite group of Hornets who have proven their dedication to the sport of basketball. The ninth annual ceremony, which will take place at the Alumni Center, will include a banquet with an introduction to the 2016-17 men's basketball team, led by current head coach Brian Katz, and a preview of the upcoming season.
The players being inducted into the hall of fame, Third and Loren, represent two different eras of Sac State basketball ranging from 1969 to 2009.
Third played on the Hornet squad for the 1969-70 season after originally playing for Kansas State and Delta College. Spending his senior season with the Hornets, Third racked up numerous accolades including honorable mention All-American and Most Outstanding Basketball Athlete in Sacramento.
Third averaged 16.7 points and 9.9 rebounds while leading Sac State to the 1970 NCAA Division II Tournament, which was one of only four appearances in school history, according to Hornet Athletics.
"Everybody was into it," Third said. "The student body got behind us, the city got behind us when we were winning (and) the community would turn up to watch our games; the gym was always packed."
Third will be inducted for his individual efforts on the court but to him, basketball will always be a team sport.
"We never really thought about the award part, we were a team," Third said. "I would joke about giving the entire team my awards because it was really a team effort and there were so many good players."
After playing for the Hornets, Third went on to play in the Philippines from 1971-73 and was even asked to try out for the Portland Trail Blazers, an offer he did not take due to a desire to coach.
Whereas Third was a Hornet for only his senior season, Leath took to the court as a freshman and competed from 2005 to 2009. During his time, Leath accumulated 1,489 points, ranking him as the third highest scorer in program history and first in the program's Division I era from 1991 to the present, according to Hornet Athletics.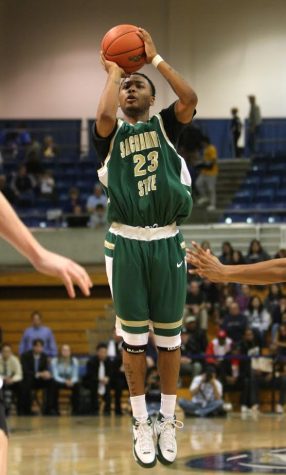 Leath now jokingly challenges players to beat his record saying, "Records are meant to be broken."
During a game at Northern Colorado in 2008, Leath scored 41 points, which remains the program's Division I record for most points scored in a game by a player.
Leath also placed third-best in field goals with 526 and fourth in 3-pointers with 240 while only missing four games during his four seasons at Sac State, according to Hornet Athletics.
After college, Leath played for teams in France and Spain, and made his way to a rookie camp for NBA D-League team Maine Redclaws, an affiliate of the Boston Celtics.
Leath currently coaches the Oakland Soldiers, a basketball club that inspires young men to be academically driven students who aim for college by playing basketball. Notable alumni from this program include Cleveland Cavaliers' small forward LeBron James and former Detroit Pistons' guard Chauncey Billups.
This season will be Leath's last with the basketball club as he plans to move up in the coaching ranks, following fellow alumni Ray and Goodykoontz, who will be inducted into the Hornet Coaches' Circle this year.
Ray played with future Sac State Hall of Famer Third during the 1969-70 season and finished his tenure with the Hornets after the 1970-71 season. During Ray's season with Third, he accumulated an estimated 7.5 points a game, making him the fourth highest scorer that season.
"We were teammates together when our 1970 team went to the NCAA regionals Division II tournament," Ray said. "He was our leader and one of the hardest workers on the team … I'm proud to share this moment with him."
After his time at Sac State, Ray spent a couple years as head coach of Jesuit High School before moving to Rio Linda High School, where he coached for over 40 years before retiring in 2014.
"It's quite an honor to be inducted," Ray said. "I know many of the coaches that are already in it."
Goodykoontz, who passed away in 2006 at the age of 48, graduated from Sac State and pursued his Masters in Sports Science at the United States Sports Academy, according to his obituary.
Since 1980, Goodykoontz has coached at local high schools such as Jesuit, Sacramento, Christian Brothers, Hiram Johnson, Woodland and Rosemont. He also was an assistant coach at Stanislaus State from 1993-94 and College of the Siskiyous from 1994-95.
Sac State will hold an in memoriam for Goodykoontz during the induction ceremony.
These four Hornets encapsulate the hard work and dedication it takes to succeed and on Oct. 25, they will officially be engraved in Sac State basketball history.