'She Kills Monsters' voted 'Best Campus Performance'
2019 drama production explores the world of Dungeons and Dragons
Themes of acceptance and queer visibility are shown through "She Kills Monsters," a drama production based on the game Dungeons and Dragons that ran from Oct. 23 to Nov. 3, 2019 at Sacramento State's University Theatre.
The play was voted "Best Campus Performance" in The State Hornet's annual Best of Sac State poll. 
The main character Agnes, loses her family in a car accident, but is able to talk to her sister Tilly again by playing her Dungeons and Dragons campaign.
"It's a high octane dramatic comedy full of homicidal themes and '90s pop culture," said  Michelle Felten, director of the play.
Felten described the show as something modern that spoke to a lot of people and said she was glad that the show went together smoothly. She said that the cast was very excited to put on the play and the audience was drawn to it.
Story continues below Instagram video.
View this post on Instagram
"I believe that this show really brought out all of those, myself included, who have a love of geeky things," said Brenna Dunivan, the assistant stage manager for the show, via Instagram direct message. "In addition, the special (effects) through tech, our costumes, our puppets and the actors' amazing performances truly made it something to remember." 
Dunivan said that because the play was centered around Dungeons and Dragons, it was relatable for students involved in role playing games, and gave a glimpse into the game for students who knew little about it. 
Inside the game in the play, all the characters are a part of the gay community, except for Agnes who discovers a new world for the first time and learning that her sister was gay. 
"The show always showed me that we can't prevent bad things from happening to us, but that as long as we accept them and respond to them in a healthy way, we're gonna be alright," said Katie Halstead, who was the narrator of the play.
Assistant Director Liam Worrell-Olson said that the play was about the nerd and LGBTQ+ communities coming together. 
"What truly made this play so magical was just how much love and creativity the entire team brought to the table," Worrell-Olson said over Instagram direct message.
Worrell-Olson recognized members of the creative team including Audrey Walker, who did the costumes, and Stephanie Conrad, who made the puppets and worked on the set. 
Worrell-Olson added that this performance had some of the best choreographed fight scenes in a Sac State play, choreographed by senior Chris Kamas, and a dance battle choreographed by dance instructor Nhan Ho.
Story continues below photo.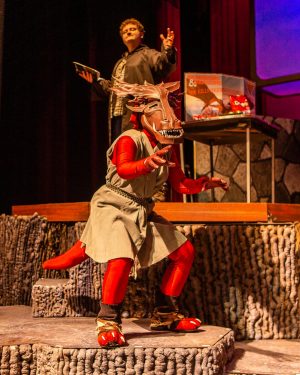 The Department of Theatre and Dance is already planning for next year's productions with optimism. Felten said that the department is full of creative minds that can think of ways to perform around any situation. 
Donate to The State Hornet