April 23, 2015
Sacramento State Hornets' sophomore Alina Soltanici prepares to double backhand the ball during her singles match against the Weber State University Wildcat's junior Agata Bachanek during their tennis match on Tuesday, April 14, 2015, at the Rio Del Oro Racquet Club in Sacramento, Calif. Soltanici won both of her matches on Tuesday; 7-5, 6-2 in singles and 6-0 in doubles.
April 17, 2015
In their regular-season finale, the Sacramento State women's tennis team provided the closest competition during doubles against No. 4 UC Berkeley this afternoon at the Golden Bears' home courts in Berkeley, California, but fell 7-0 to drop their record to 16-10.The women's record against nationally ranked t...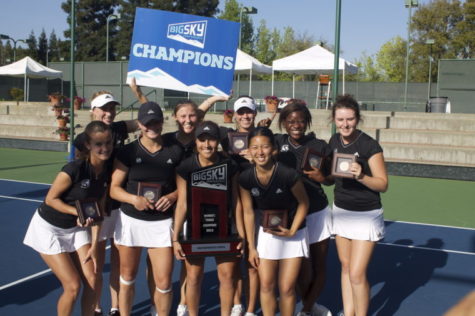 April 29, 2013
The No. 1 seed Sacramento State's women's tennis team battled late into the afternoon Sunday to win its 12th consecutive Big Sky Conference tournament title over the No. 2 seed University of Montana at the Gold River Racquet Club.  With the 4-1 victory, the Hornets showed why they are among the best...