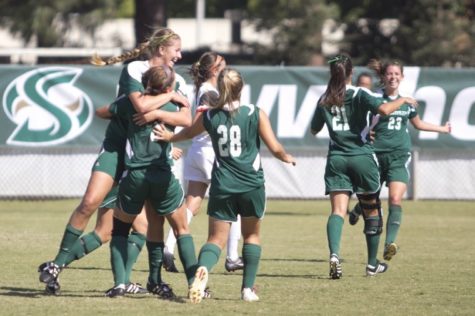 State Hornet Staff

October 17, 2012
The Sacramento State women's soccer team started out the 2012 season in a slump, and even with more production during Big Sky Conference play, the team's fate will come down to the end.  The Hornets (5-7-4, 3-3-2 Big Sky) opened the season with a win against Nevada on Aug. 19, but followed it with a t...
October 8, 2012
Despite the two overtime periods after regulation, Sacramento State women's soccer ended the game against Northern Arizona in a draw 0-0 Sunday afternoon. It was a combination of good defense and a lack of converting on offense on both teams. Sac State outshot the Lumberjacks of Northern Arizona 21-13. Te...
September 21, 2012
Winds made it a tough win today for Sacramento State women's soccer team in its game against North Dakota, ending 1-0. Sac State head coach Randy Dedini said his team played against the wind the entire first half, which gave North Dakota nine chances to capitalize on corner kicks, but never finish...
State Hornet Staff

September 16, 2012
Sacramento State women's soccer tied the University of Pennsylvania with seconds left on the board to bring today's game into overtime, but fell 3-2.There was a noticeable difference in shot attempts with Penn taking 25, 13 of which were on goal, and Sac State sitting at 16 with 7 on goal.Sac St...