Against all odds Sac State football player bounces back from injury and shines early
After transfering from Montana State, cornerback Munchie Filer III continues his pursuit to play in the NFL
It was a sunny day at Montana State in 2019, cornerback Gregory "Munchie" Filer III had just intercepted a pass on the goal line during a scrimmage, and on the first play of the next drive  he went for a tackle but it led to an injury he would never forget. 
Filer said the running back almost shook him and as he hit the ground he immediately knew something was wrong. He soon discovered he couldn't use his arm to get up. 
Filer suffered three different injuries: A completely dislocated elbow, a compression fracture on the inside of his elbow and a break on the outside of the elbow. 
His efforts to make a play resulted in him being limited to only three games in 2019. 
"Honestly, that was the darkest time in my life," Filer said. "It was deeper than football at that point, but I knew I had more ahead of me, and I just never gave up the faith." 
Filer was in a dark place mentally and physically, he knew that he did not want to jeopardize the status of his senior year and decided it would be best to sit out after the first three games to keep his eligibility. 
The following year the coach that recruited Filer to Montana State, Jeff Choate, moved on to be a defensive coordinator at the University of Texas, and Filer was forced to make a tough decision to enter the transfer portal while also trying to recover from an injury. 
Filer's path to Sacramento State was not ideal, but neither was his entire football career. 
RELATED: 'See you next fall': No college football for Hornets this season
In 2004, Filer started his journey as the quarterback for the Compton Titans, a flag football team in Southern California. Filer was 7-years-old when he first fell in love with the game of football, even after being hospitalized due to asthma complications it never deterred his dreams or love for the game. 
On top of his passion for football, Filer has seen first hand from his brother John Ross III, that his dreams of NFL stardom are not unrealistic. 
Ross, who is known for his record setting 40-yard dash in the NFL Combine, was drafted in 2017 and has been in the league since. Ross currently plays for the New York Giants after serving his first three years as a wide receiver for the Cincinnati Bengals. 
There's only a two-year age gap between Filer and Ross, and between them "it was always competitive," according to Ross. 
"Everything had to be a competition no matter what we did," Ross said. "We always created something or competed against each other. Whether it was in sports, video games or whatever the case may be, we always made everything competitive." 
Despite the competitive atmosphere, Ross said the two always enjoyed playing together and never failed to tell each other when they were proud of each other. 
It wasn't until 2012 that Filer and Ross had the chance to channel their competitive energy against each other into an offensive connection that neither one would forget. 
Filer attended three different schools in high school, but the one that is reminisced about most by Filer and Ross was the year that they got to play with each other at Jordan High School in Long Beach, California because they were scoring touchdowns together. Filer played quarterback and Ross was a wide receiver.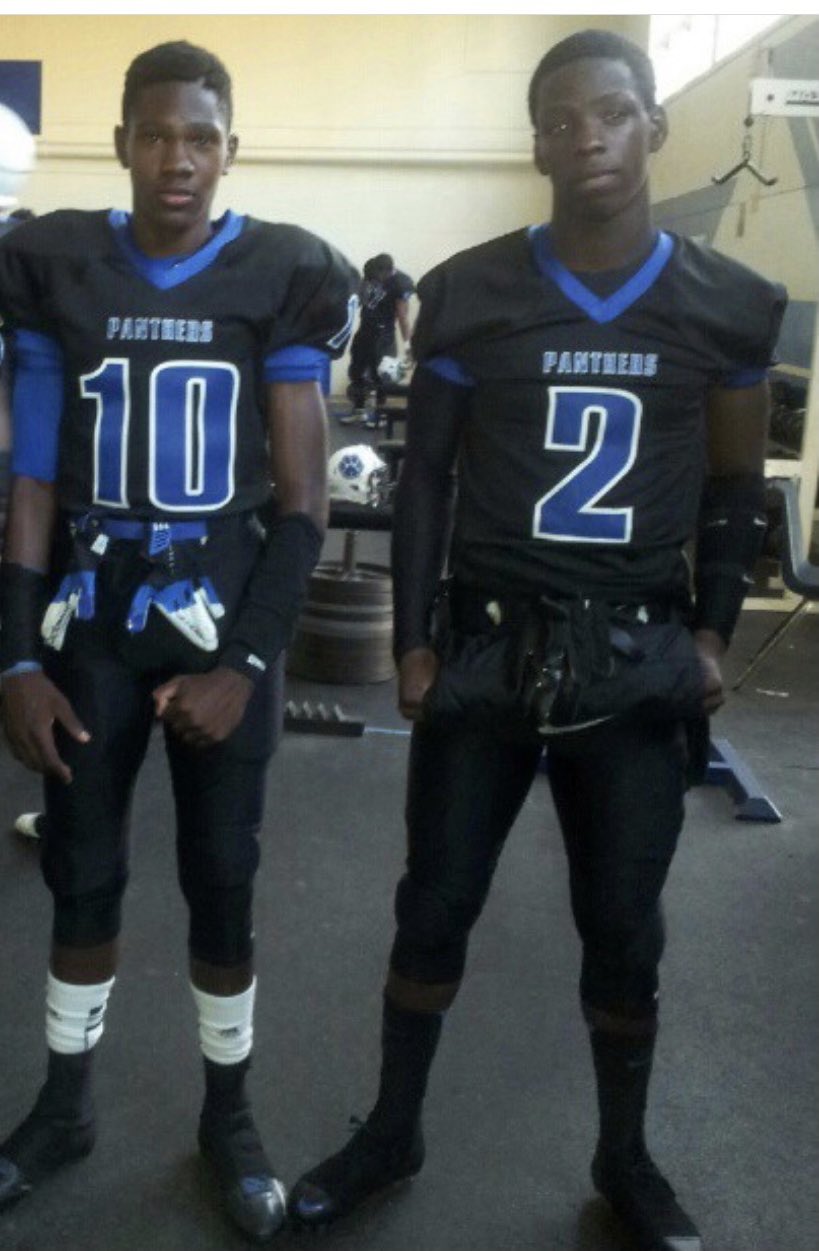 To this day Ross and Filer still dream about playing with each other again, but they hope that this time around they will both be in the NFL. 
"We still talk to each other to this day about us one day playing in the league together," Ross said. "I was scoring touchdowns thrown by my brother, not a lot of people can say that. Just that feeling alone, it's still crazy to me." 
Filer played offense all the way up until he got to junior college. He played quarterback and wide receiver before he realized that he could take control of his own destiny if he just switched to defense. 
"I don't want to sound selfish when I say this, but you don't need anybody on defense," Filer said. "It's all on you."
Filer enjoyed the accountability that defensive players hold themselves to each game, and he fell in love with running around and making plays. From that point on, he started training as a corner and hasn't looked back. 
Once Filer figured out that corner was the position that he wanted to pursue, he decided to take a chance and bet on himself by attending Compton College, a community college in Compton, California. In his sophomore year alone, he trained with his cousin and personal trainer Reco Robinson and hit the ground rolling, training for 300 out of 365 days according to Robinson. 
"He's very detail oriented," Robinson said. "The smallest step and he'll be like man we got to do that over. The fact that he wants to keep getting after it, that's what really separates him from everyone else." 
After suffering his injury at Montana State, Filer said that he wanted to challenge himself. Given the depth that Sac State already had at the cornerback position, he said that this would be his most challenging situation. 
"I just know I had seniors ahead of me, and I didn't want to go to the other schools that I had and become CB1 right away," Filer said. "I knew if I came here,  I'll have to wake up everyday with a chip on my shoulder because I am trying to get to the next level. I challenge myself daily, and I feel like this opportunity was the most challenging one." 
Filer said that Sac State "has truthfully felt like home."
His comfortability off the field has transitioned onto the field, and as he leads Sac State with two interceptions and continues to try and help his team win, he continues to challenge himself daily with the dream in mind that he will play alongside or against his brother again in the NFL.