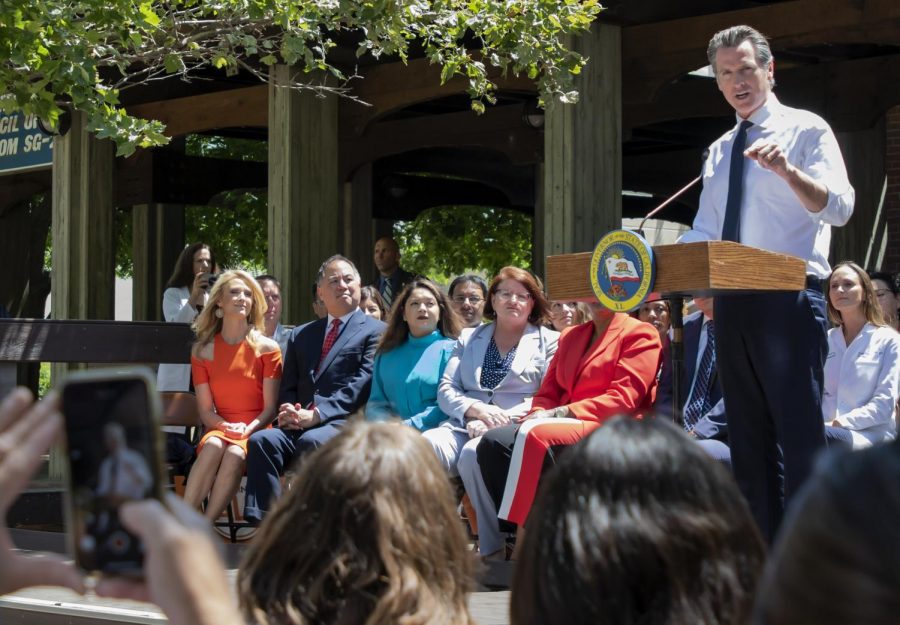 Sara Nevis
Gov. Gavin Newsom announced a regional stay at home order issued by the California Department of Public Health to go into effect for California regions that have less than 15% intensive care unit (ICU) availability at a press conference Thursday. 
The order will enforce restrictions such as mandating 100% mask usage and physical distancing, prohibiting gatherings and closing certain sector operations except for critical infrastructure and retail where capacity will be limited to 20%. 
The State Hornet put together a FAQ to help answer questions regarding the regional stay-at-home order also known as a "lockdown."
Question: What is a stay-at-home order?
Answer: The California ALL website defines a "stay home order" as an executive and public health order that directs all Californians to stay home unless going to work at an essential job or shopping for necessities. 
Q: What are the five California regions that are mandated to follow the stay-at-home order?
A: As of Friday, these California regions all have more than 15% ICU capacity, however Newsom said four of the state's five regions are likely to fall under the 15% threshold within a day or two. To prevent these regions from overwhelming hospitals they are mandated to follow the regional stay at home order once the 15% threshold is reached. Here are those regions according to the California ALL website:
Northern California (18.60% ICU capacity remaining): Del Norte, Glenn, Humboldt, Lake, Lassen, Mendocino, Modoc, Shasta, Siskiyou, Tehama, Trinity
Bay Area (25.30% ICU capacity remaining): Alameda, Contra Costa, Marin, Monterey, Napa, San Francisco, San Mateo, Santa Clara, Santa Cruz, Solano, Sonoma
Greater Sacramento (22.20% capacity remaining): Alpine, Amador, Butte, Colusa, El Dorado, Nevada, Placer, Plumas, Sacramento, Sierra, Sutter, Yolo, Yuba
San Joaquin Valley (19.70% capacity remaining): Calaveras, Fresno, Kern, Kings, Madera, Mariposa, Merced, San Benito, San Joaquin, Stanislaus, Tulare, Tuolumne
Southern California (20.60% capacity remaining): Imperial, Inyo, Los Angeles, Mono, Orange, Riverside, San Bernardino, San Diego, San Luis Obispo, Santa Barbara, Ventura 
Q: How long will the stay-at-home order be for?
A: The order goes into effect 24 hours after regions reach a remaining ICU capacity of 15% or less. The order will then stay in effect for three weeks and, after that period, will be lifted when a region's ICU capacity meets or exceeds 15% remaining, according to the California ALL website. At a COVID-19 and public health forum Dec. 4, Sacramento County Director of Health Services Dr. Peter Beilenson said everyone should prepare for the order to last for about six weeks in Sacramento County.
RELATED: Prepare for a 6-week stay-at-home order, Sacramento County Health officials say
Q: Did the Greater Sacramento region capacity reach ICU capacity?
A: The State Department of Public Health announced that the Greater Sacramento region met the threshold Dec. 9. The stay-at-home order will begin at midnight Thursday, Dec. 10. 
Q: Why did the CDPH issue the regional stay-at-home order?
A: In order to help with the overwhelming rise of COVID-19 cases and the decrease in ICU capacity, Newsom has implemented new stay-at-home restrictions. Despite a limited stay-at-home order being implemented Nov. 19, the number of positive COVID-19 cases increased by 112% from 8,743 and 18,588 according to the California Department of Public Health. Hospital admissions are expected to continue increasing as case identifications and hospitalizations catch up.
If this rate continues without interference, ICUs are projected to be at full capacity in mid-December according to the CDPH.  
Q: How will Sacramento be affected?
A: Sacramento Mayor Darrel Steinberg said that Sacramento "barely" dodged more restrictions on business operations and public gatherings in a Twitter post. Newsom said during the press conference that four out of five regions, including the Greater Sacramento region, are on track to overwhelm hospital capacities.
Story continues below tweet.
pic.twitter.com/yJJiWnQPyQ
— @mayor_Steinberg (@Mayor_Steinberg) December 3, 2020
Steinberg said he hopes this reprieve will act as a strong warning and incentive to avoid more hospitalizations, infections and restrictions. Steinberg stated the state's decision was necessary as cases are rising dramatically. 
The Sacramento Bee reported Nov. 24 that the county's Health Officer Dr. Olivia Kasirye raised alarms as the county nearly reached 1,000 new daily coronavirus cases. As of Thursday, the Greater Sacramento region's ICU capacity stands at 22.20% remaining. Sacramento county currently has 40,305 active COVID cases and 603 recorded deaths and has a remaining ICU capacity of 16%.
Q: How will the stay-at-home order affect those on campus at Sacramento State?
A: President Robert Nelsen said via SacSend email the stay-at-home "will have minimal effect" on the campus as the campus depopulated on Nov. 23 due to the rising amount of COVID-19 cases. Nelsen acknowledged the regional stay-at-home order arrived a day after the California State University system announced their plan to return to on-campus instruction in fall 2021. 
RELATED: CSU plans for in-person classes in fall 2021
Q: Can in-person classes and research still proceed? 
A: Classes and labs scheduled to meet Thursday, Dec. 10 and Friday, Dec. 11 that meet face-to-face will proceed at the same location and scheduled time, according to Nelsen's email. On-campus research involving zero contact with students may continue if previously approved, involved student research may also continue if previously approved and deemed necessary for graduation by the Provost.
Q: Will there be changes to finals?
A: Finals will not be affected.
Q: How will dorms students be affected?
A: Students who live on campus will still have access to residence halls.
Q: Will sports be affected?
A: Athletics will continue to follow NCAA resocialization protocols. Nelsen's email said they're also in conversation with the Sacramento County Health Department regarding sports schedules and activities. 
Q: Can I still return borrowed textbooks after finals under this new order?
A: The Hornet Bookstore's website has information about limited hours for pickup and return of course materials for the end of the semester. The office of Environmental Health & Safety (EHS) is available for prompt review of protocols established by each department for equipment return. 
RELATED: INFOGRAPHIC: How to return Hornet Bookstore rentals amid COVID-19
Q: What centers on campus will remain open?
A: The ASI Children's Center and the student health and counseling services center. Their websites contain more information about future updates and holiday closures. The WELLell and Aquatic Center will also have limited outdoor activities available by appointment on itstheir website. 
RELATED: ASI announces COVID-19 surveillance testing for staff of Children's Center
Q: Can employees return to campus?
A: Employees teleworking can continue to do so. Employees with approved return-to-work plans will need to have managers reassess business needs to determine which employees are essential to continue University operations. 
After the campus depopulated on Nov. 23, employees had to receive affirmative clearance to report to campus — employees must receive new clearance for Dec. 13 – Jan. 4, possibly longer via email from their appropriate administrator. According to the email, employees need to have completed the COVID-19 safety training along and obtained face masks and hand sanitizer as face coverings are mandatory on campus.
Q: What is considered an essential sector?
A: Critical infrastructure and retail, schools, non-urgent medical and dental care and child care can continue to remain open as long as they follow public health guidelines and procedures of social distancing and cleanliness, according to the CDPH.
Q: Which sectors will have to close?
A: The California ALL website said the following sectors would need to close in a region that reaches below 15% ICU bed capacity: indoor/outdoor playgrounds, bars, wineries, amusement parks, movie theaters, hair salons and barbershops, museums, zoos, aquariums, indoor recreational facilities and family entertainment centers. 
Q: Can I still go out for a walk and exercise?
A: According to the California ALL website, people are still expected to take care of their mental and physical health. Outdoor recreational activities and exercising are allowed as long as you can maintain 6 feet of distance from others and interact only with members of your household.
This story was published Dec.4, 2020 and updated Dec.10, 2020 based on new information.