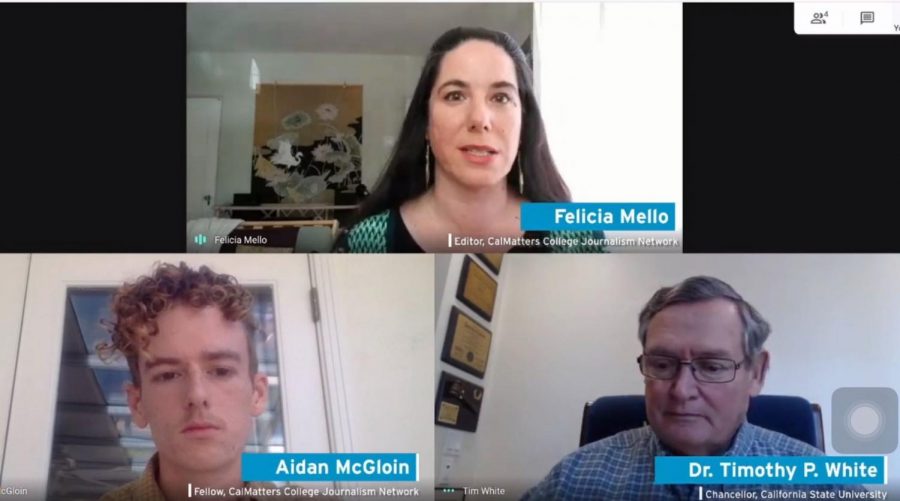 Screenshot via YouTube
In a livestream interview with nonprofit news organization CalMatters on Thursday, California State University Chancellor Timothy White addressed how CSU campuses are transitioning to online learning amid the COVID-19 pandemic. 
Felicia Mello, editor of the CalMatters College Journalism Network, and Aidan McGloin, student journalist at Cal Poly San Luis Obispo's Mustang News, conducted the interview with questions from CSU student-run news organizations, faculty and students.
Here's a breakdown of what White said during the interview.
'Whether they use it or not,' students will pay for on-campus services
Some fees that are a part of on-campus services such as parking, meals plans and residence halls will be refunded to CSU students.
"All campuses are required to have refund policies for those areas and have provided refunds," White said. 
Mandatory fees for on-campus recreation and healthcare centers like The WELL at Sacramento State will not be refunded, according to White.
"We either have a sort of a mortgage payment that everybody agreed to when we built the recreation center," White said. "And students, whether they use it or not, were all part of helping to fund that."
Story continues below tweet. 
"Financial aid offices are open virtually any time there is a change in parents or students incomes, financial packages will be reconsidered,"said White, @TheStateHornet
— Mercy Sosa (@MercyGSosa) April 2, 2020
White said that the facilities are still open, but in different formats.
"Things like the health center are open, they are just open in a different way," White said. "We are trying to make certain that the fees that support the delivery of instruction and the academic support and health support of our students, those fees will remain."
RELATED: The WELL offers partial refunds to Sac State faculty, staff, alumni
Other CSU residence hall residents spread out, despite Sac State consolidation
White said that reduced occupancy in residence halls allowed CSU campuses to spread residents out. Mustang News reported that Cal Poly San Luis Obispo spread their residents out.
"For many of our students, staying in the resident halls is probably the safest place for them to be," White said. "There are a couple hundred students left. Let's say the resident halls can hold up to a thousand students. We now spread those students out so we have physical distancing."
Sacramento State consolidated residents into two dorm buildings, but said the new room assignments follow the Centers for Disease Control's social distancing guidelines.
RELATED: Sac State to consolidate dorm residents amid COVID-19 outbreak
On-campus student employees to be paid through Sunday
Students that work at a university or its auxiliaries will continue to be paid through Sunday, White said. He said the CSU system also implemented an administrative leave policy for student employees that allows them to earn 126 hours of pay, even if they cannot do their jobs.
"With respect to our student workers we right away guaranteed that they would continue to be paid through April 5 with whatever they were working 10 hours or 15 or 20 hours a week in any part of the university auxiliaries," White said. "We committed to continue their compensation even if they had to work remotely or if basically their job disappeared because something closed down."
Later in the interview, Mello asked White about students working for auxiliaries that have been laid off or had hours cut. White said students that work for auxiliaries will have to file for unemployment.  
"We cannot use state of California funds to pay the salary of a student who was employed by an auxiliary enterprise on a campus," White said. "Those that lose those jobs will be eligible for unemployment insurance through the state of California."
RELATED: The Store in the University Union lays off all Sac State student employees
CARES Act money to be spent on technology for low-income students
The Coronavirus Aid, Relief and Economic Security Act was passed by the U.S. Congress in an effort to support the economic crisis impacting communities amid the pandemic. 
"(The CARES Act) for the folks who don't know is a $2 trillion stimulus package that the federal government has passed that has some $14 billion dollars in it for colleges and universities nationwide," Mello said. "Some of that, as Chancellor White said, is anticipated to come to California colleges and universities."
Story continues below tweet. 
The financial teams @calstate have a liquidity and cash flow analysis to see what it looks like to lose a certain percent of students and money according to White.
— Mercy Sosa (@MercyGSosa) April 2, 2020
Despite the stimulus package provided by the CARES Act, White still foresees financial challenges in the next fiscal year. 
"A mitigated disaster is going to change all the assumptions and all of the timing for our budget for next year," White said. "I anticipate that we are going to, at the university, have a very serious financial challenge, certainly in the next fiscal year that begins July 1."
Story continues below tweet. 
"Unlike the recession in the past there are health concerns now so practice social distancing," said White. @TheStateHornet
— Mercy Sosa (@MercyGSosa) April 2, 2020
Many of the students who will deal with technological difficulties are low-income, people of color and first-generation students, White said. 
Campuses are seeking to provide students the means to have technological resources by loaning out iPads, Chromebooks, laptops and desktops for students and staff to take home.
The CSU will allocate money from the CARES Act to campuses depending on the size of the campus and how many low-income students they have, according to White.
The CARES act will give the smallest CSU campuses approximately $1.2 million and the largest campuses will be receiving approximately $40 million, according to White. 
"But if half of that money is going to low-income students that is going to be a tremulous boost for them to buy or sign into technology that they otherwise couldn't afford," White said.
College facilities could provide assistance for COVID-19 relief 
Facilities in CSU campuses such as recreation centers and residence halls have the ability to relieve hospitals from overwhelming numbers of patients, according to White. 
"We share a responsibility, in my judgment, to help solve this statewide, national, global pandemic," White said. 
He said CSU is doing its part as a member of the community by providing facilities to help flatten the curve by accepting non-critical care patients.
White said CSU campuses communicate with California Gov. Gavin Newsom's emergency operation center when beds at campuses are given away locally.
Students in residence halls will not be in the same building or floors as those suspected to be infected with COVID-19, according to White. 
"We are not going to put somebody who may be a carrier or who is known to be a carrier in a residence hall room next to one of our students," White said. 
He said CSU will not agree to provide beds if students and employees cannot be protected.
If schools have facilities that can help to flatten the curve they can be used to provide COVID-19 relief support such as drive-thru testing according to White. @TheStateHornet
— Mercy Sosa (@MercyGSosa) April 2, 2020