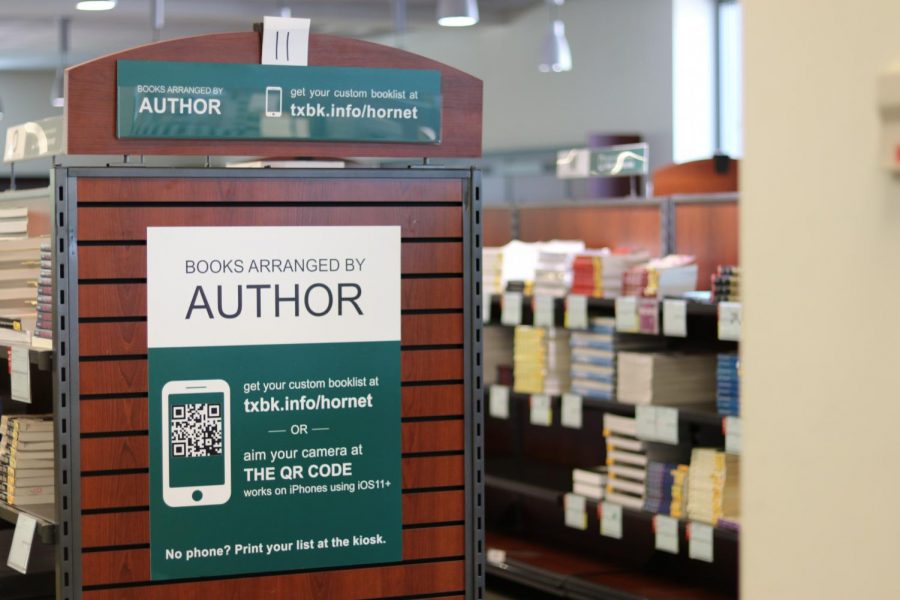 Kelly Kiernan
Sacramento State's Hornet Bookstore changed its layout over the summer and now has textbooks arranged alphabetically by author. 
Before the change, the Hornet Bookstore's textbooks were organized alphabetically by department.
The changes were made over the summer, according to Jaime Scobel, manager of the Hornet Bookstore.
"This seems radical but it's rather not. Other CSUs have adopted it; Northridge, East Bay and SF State just to name a few," Scobel said. "One of the things most students don't realize is that a lot of professors choose the same book." 
The shelf tags are labeled with the first two letters of the authors last name. According to Scobel, students can look up the book online or by scanning a barcode. Kiosks and signage for the barcodes are placed throughout the bookstore.
"Class might get out and a student might think their book is out or used copies might look out, but there are more around the corner," Scobel said. "When bookstores changed to this method they were seeing more students purchasing books which means they were finding their books." 
Since books are all in one place, according to Scobel, students will not be misguided when books are not in their section.
The kiosks are available to help students who wish to find a textbook. By swiping their student OneCard, they are able to pull up their full class list and a list of the books they need. 
Yet, some students were unhappy with the change.
"Last year when it was ordered by subject it was easier, I liked it better," said sophomore Jason Pettit. "I'm struggling to find my anthropology textbook because it's labeled with two last names."
Graduate student Lauren Winters said it's hard to adapt to the new style.
"I hate it, it's totally inconvenient," Winters said. "I'm older and it's always been by class so that's probably why I'm having such a strong emotional reaction to it."
For students like Winters, navigating through the new layout seemed more inconvenient than beneficial.
"My book said it was out of stock. It's definitely inconvenient that I have to come back to campus," said Winters, who has classes in Folsom hall.
Scobel refuted negative opinions, stating "most people don't like the change because they don't understand the benefit but once they realize that they can get the book that they want then they appreciate it.