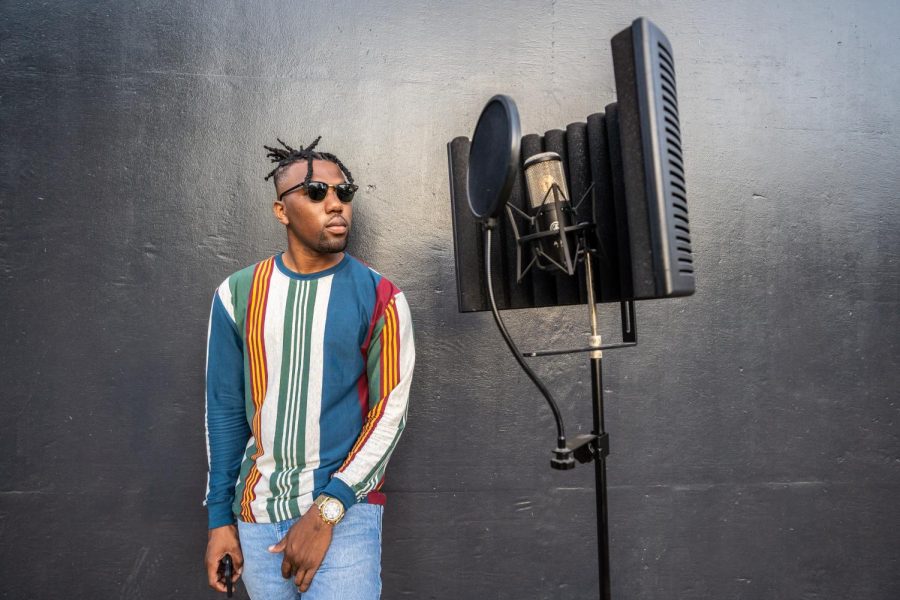 Eucario Calderon
Sacramento State alumnus Matthew Osivwemu, also known as Oke Junior, has soared in his rap career since graduating in 2017. 
Even with the struggles of being turned away by promoters and balancing life outside of rap, he continues to take his rap career to new heights.
Osivwemu said he has come a long way when it comes to his sound. Over the past few years, Osivwemu began testing out new melodies and playing with his vocals, which he said has helped develop the sound he has today. 
"I really focus on my wordplay, my lyrical content, and my production overall," said Osivwemu. "After graduating I had time to really focus on mixing my own sounds and figure out what sounds good and really works for me." 
Story continues below video.
Ryan Hartung, Osivwemu's producer, describes Junior as being "focused" on his music and predicts that for this reason, it will "stand the test of time."
"Oke's authenticity and work ethic is what sets him apart," Hartung said. "Nowadays you've got a lot of up-and-coming rappers who aren't making music from the heart. You can hear in Oke's lyrics how much he really loves rapping." 
Osivwemu's family has always played a huge part in his music career. His stage name Oke Junior is a tribute to his father who died in 2012. 
When Osivwemu graduated, he returned to his hometown of Oakland and realized that not a lot of people from his community were given the educational opportunities he had received, which he says inspired him to keep hustling to the top. 
Osivwemu said he believes he owes it to his family and his community to continue rapping. 
As an upcoming rapper in such a cutthroat industry, Osivwemu described many struggles, such as promoters refusing to let him perform at venues and one even going as far as to call him "worthless." 
He has also dealt with the struggles of life outside of rap, like losing his job and trying to find time to work and make music. Despite these hardships, Osivwemu continues to thrive. 
"Matthew is persistent, he has that type of drive, that hustle that no one can stop," said Anthony Osivwemu, Osivwemu's older brother. "Even when he was a kid he wouldn't take no for an answer. Matthew won't ever stop chasing his dream." 
Since graduating, Osivwemu has consistently released albums and singles. He said his latest album "Outside Looking In" was a project that he really took his time with, pouring a lot of built-up emotions into, with many songs from this album explaining his struggles, mental battles and drive. 
Story continues below gallery.
Hartung pointed out one track on the album that was specifically significant. 
"'Golden Child' is the first song where you could feel his motivation, his pain, and his vulnerability all in one song," Hartung said. "It's easy to listen to but its lyrics are deep and I think it just encompasses who Oke is as an artist." 
Osivwemu is currently mentored by rapper and record producer Too Short. He has also worked closely with artists such as Mistah F.A.B., Sage the Gemini, Nef the Pharaoh, Iamsu! and 2 Chainz. 
Osivwemu has also appeared on radio personality and journalist Sway Calloway's radio show "Sway's Universe." 
Story continues below video.
"Creatively, Oke is a beast," Hartung said. "His sound is always evolving, yet he keeps his trademark Oke feel. You can put him on a trap beat he'll go in. You put him on a boom bap '90s style beat and he'll tell a story so vivid that you feel like you're there."
Osivwemu is continuing to grow as an artist and doesn't plan on slowing down anytime soon. His plans for the future include building his clothing brand "Dare 2 Be Different," which he describes as " a brand to empower people." 
Osivwemu will also be releasing a six-track album titled "Self Worth" Friday.