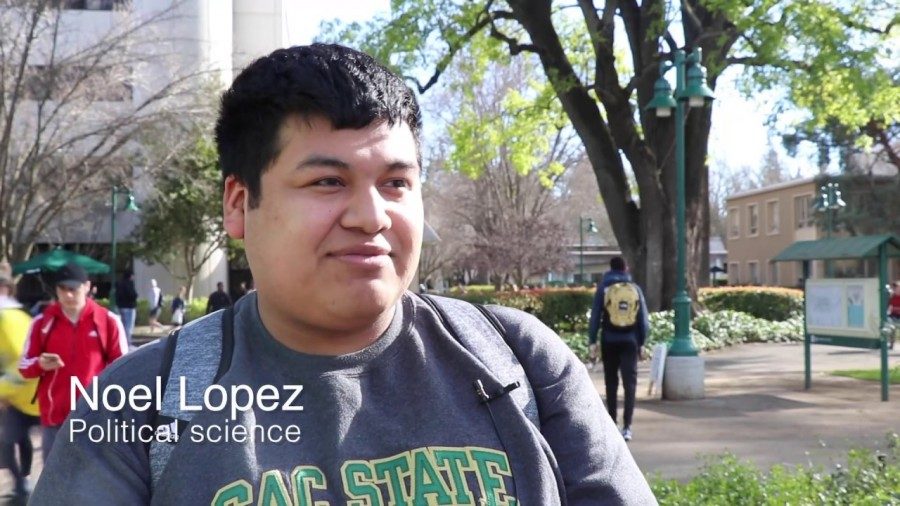 There are 2,982 Sacramento State professors listed on ratemyprofessors.com, a website where students can write reviews about professors and rate them in different categories.
Do you use https://t.co/IrO3Yg7kg6 when registering for classes at Sac State? @TheStateHornet @sacstate @ratemyprofessor
— Kelly Kiernan (@kkiernan98) February 12, 2019
Students weigh in on RateMyProfessors.com:
The Rate My Professors website is a tool widely used by Sac State students when enrolling in classes and planning course schedules.
"It has a huge impact. There are a lot of classes I didn't take because I read the rate my professors comments and I think I've dodged some bullets for sure because I use it before I register for classes," said Janae Stewart, an undeclared Sac State freshman. "I think I've saved myself a lot of time and heartache."
Noel Lopez, a sophomore political science major, said he uses the site's five-points-out-of-five rating system. The site ranks professors on the two categories "level of difficulty" and "overall quality" on a scale of one to five.
"I love it, I love it," Lopez said. "I just want to know how well they teach and if they're more interactive or if they just lecture."
Many students, including Lopez, said they rely heavily on the website when it comes to choosing their classes.
"I use it all the time before I sign up for classes," said Xavier Sanchez, a junior criminal justice major. "If the teacher doesn't have a 4.0 or higher I'm not taking them, period."
Lopez said that he has seen some comments on the website written out of anger toward professors, including negative feedback that he said he doesn't feel the professors deserve.
Samaria Sylvester, a sophomore English major, said that one of her honors professors saw a review that a student wrote and read it out loud to her class.
"It was pretty bad, and she actually put up the review at the beginning of class and it was horrifying," Sylvester said. "She had us talk about it and why we felt this way about the class and if we did feel that way we should talk to the department chair."
Sylvester said she recommends that even if a professor has a bad rating, students should just take the class if they need it.
"Most of the time (professors) get bad ratings because they grade hard," Sylvester added. "That's something that's good because it challenges the students."
Professors respond to student ratings
Some professors who are aware of the website said they avoid it at all costs, while others said they check their ratings infrequently to determine how to improve their teaching.
"It's accessible to anyone, anyone can post anything," said Scott Kirchner, a Sac State communications studies professor. "I stopped looking at it a couple years ago because it breaks my heart."
"Even though the bulk of the comments are positive, I think it's human nature for us to focus on the negative things," Kirchner said. "Criticism is easier to hear if it's couched in a constructive manner instead of something that's destructive."
In an email from a Rate My Professors administrator, the company said that all reviews are posted and go live immediately after being submitted.
"Every comment is still reviewed by our online moderation team and if they find a violation of our Site Guidelines, the comment is removed," Rate My Professors said in an email to The State Hornet. "We do not remove ratings just because someone may disagree with it."
The site guidelines indicate that Rate My Professors administrators have the right to review, monitor and edit all content posted. Users are not allowed to post content that can be deemed "libelous, defamatory, indecent, vulgar or obscene, pornographic, sexually explicit or sexually suggestive, racially, culturally, or ethnically offensive, harmful, harassing, intimidating, threatening, hateful, objectionable, discriminatory, or abusive, or which may or may appear to impersonate anyone else," the terms and conditions say.
Professors can be found by name and by using four categories: Most rated, highest rated, least difficult and alphabetical.
"I have gone on it a couple of times but I try actually not to because I feel like the people that go on the site either really love you or really hate you," said Amy Wagner, a Sac State geology professor.
According to the website, the top rated Sac State professors are Jessica Martinez of the child development department, Ellen Berg of the sociology department and Scott Farrand of the mathematics department. All three currently hold an overall rating of 5.0.
Martinez holds the most reviews out of any professor at Sac State, with 84 reviews and an overall rating of 5.0.
"I want to find ways to improve my teaching," Martinez said in response to her rating. "I don't need the ego boost, I need more of how can I constructively make this a better class."
The website once had another category for ratings — the hotness rating — that allowed students to rate professors based on their looks, with each level represented by a chili pepper. The more chillis, the better looking the professor. This feature was removed in June 2018, after the company said it was not appropriate.
Martinez said that a student brought up the chili pepper rating in one of her classes. The student told her that her rating was the reason they took the class.
"This was horrifying, so degrading and inappropriate," she said.
Berg said that she remembers discussing reviews with her colleagues from the SacRate website, a professor rating website specific to Sac State. She said to her knowledge, the website no longer exists.
RELATED: Students rate professors on graduate's site
"That site was not moderated and there were some just really awful things posted about professors (about their appearance, and just all kinds of things not relevant to learning in the course)," Berg said in an email to The State Hornet. "So that site created a real sense of vulnerability for faculty."
Sac State has their own professor evaluation system that is distributed to students at the end of each semester, either in physical paper form or in an online submission form.
Shelley Blanton-Stroud, a Sac State composition professor, said she feels like it is her obligation to read the school evaluations very carefully.
"They're rating me, then discussing a series of questions that are totally related to what I'm trying to do in my classes and whether or not I'm succeeding at those goals," Blanton-Stroud said.
"I'm not saying that it's not constructive, I'm saying that the information on ratemyprofessors.com may be completely relevant from the point of view of a student," she said. "I won't change how I teach based on those reviews on ratemyprofessors.com."