UNIQUE's 40th anniversary closes with concert featuring Kel Mitchell, YBN Cordae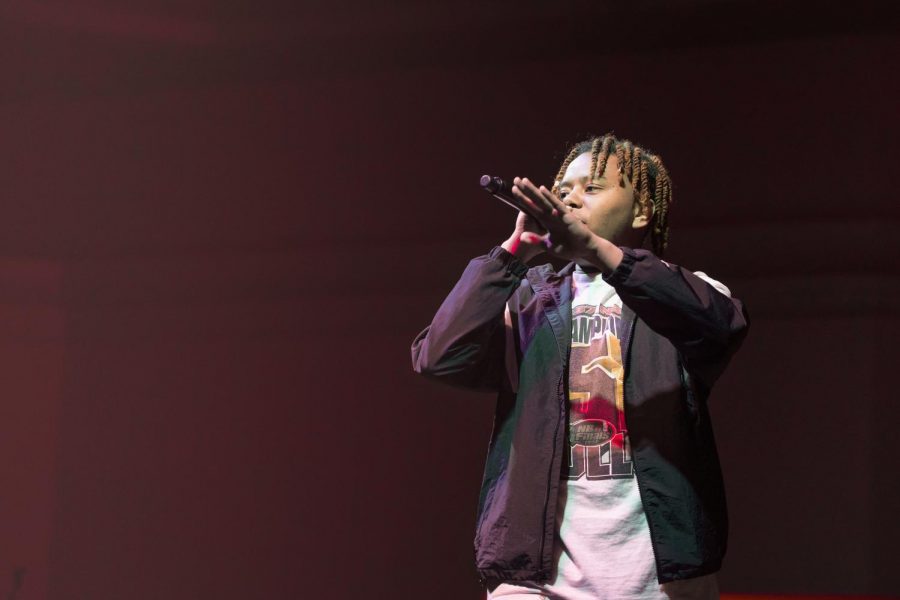 The DJ had been hyping up a restless Sacramento State audience for over 25 minutes. There was one thought on everyone's mind — where is YBN Cordae?
Loud music started to play. The song is "Scottie Pippen," by YBN Cordae, real name Cordae Dunston. As it began, waving hands and Dunston's red-tinged dreadlocks were all anyone could see from standing floor level of the University Union Ballroom.
The audience came to a low roar after the first song was over, followed by an explanation. Dunston said the reason for the delay was due to his tour bus being pulled over by the police en route to Sac State.
By the time Dunston performed his second song, "Old N*ggas," the audience had forgotten all about the rapper's delay and carefully listened to him during song intermissions for insight on his world.
Dunston opened up about his own college experience and divulged information on song origins like his new single "Have Mercy," which is about him still going to church the morning after a bad night of drinking. He assured the audience he will return to Sacramento by the end of November.
Thursday night marked the end of a week-long celebration for UNIQUE Program's 40th anniversary. The event provided a platform for local artist Basi Vibe, former "Nickelodeon" star and comedian Kel Mitchell and Dunston, an up-and-coming Maryland rapper, in the University Union Ballroom.
Story continues below photo gallery.

Communications major Myles Saunders attended the concert. Saunders expressed how pleasantly surprised he was about Dunston performing at Sac State, because at this point in his career, not a lot of people know of him.
Saunders said that Dunston's music is used as a bridge to the generational gap of old and new school rap/hip-hop music.
"People look down on this generation's hip-hop nowadays," said Saunders. "It's understandable because people like Tupac were talking about real things back in the day. Now, people just talk about drugs and guns. (They) also talked about it in the past, but they fucked us on that now in like every single song."  
Dunston wasn't the only performer to draw the attention of the crowd of Sac State students in attendance. Marnelle Mac Dula, a biology major, said she came out for especially for Mitchell.
RELATED: Nickelodeon star brings the '90s back
The second act started off with Mitchell inciting a dance contest among the audience members and crowd participation didn't end there.
Mitchell held an impromptu Q&A with the audience. The first question was about whether or not he still talks to comedian and SNL cast member Kenan Thompson.
Mitchell is widely known for his sketch comedy series on Nickelodeon, "All That," which aired from the '90s to the early 2000s. Mitchell recently confirmed via Twitter the revival of the show.
Mitchell not only confirmed that he and Thompson are still friends, but that at the end of May, shooting for the "All That" revival will start. Mitchell will co-star and executive produce.
Basi Vibe, the show's opener, is from Sacramento. The R&B and soul singer uses a piano to help encapsulate his sound in performances like his song "Palm Trees," which he played to start the show.
Basi Vibe told the story behind the song. It's about someone who didn't feel like they were fitting in here in Sacramento, so they moved to Los Angeles.
He explained that a palm tree is a symbol for inspiration, especially in a place like Los Angeles where a person can feel lifted up one day and then destroyed the next.
Basi Vibe described fellow performer Mitchell as a phenom, and had high praise for Dunston.
"He's a poet," said Basi Vibe about Dunston. "A lyricist, because his lyrics are so different from what you hear from that style of music. I appreciate that."