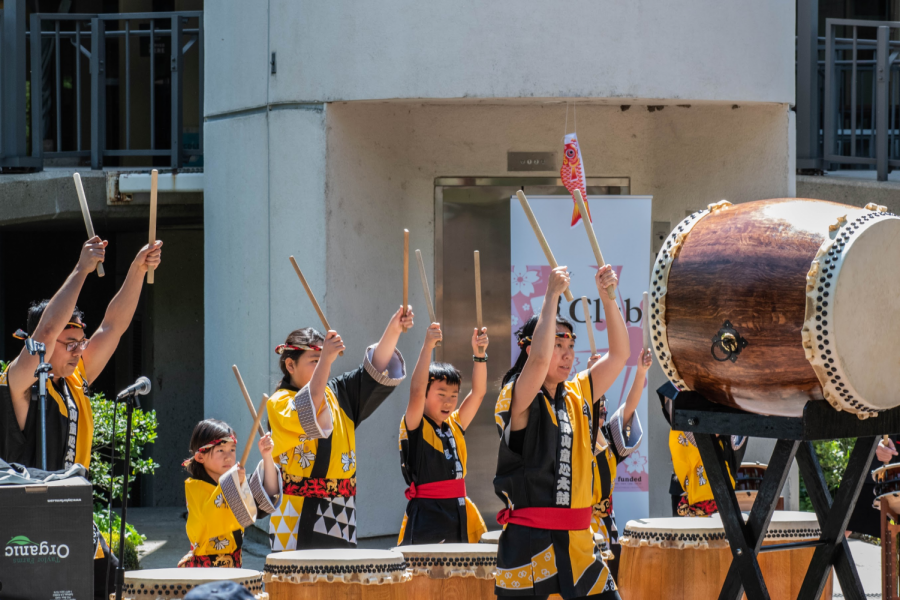 Nancy Chan - The State Hornet
Sacramento State's weeklong Festival of the Arts burst into cultural vibrancy on its final day for Sunday Funday, inviting students, alumni, families and the local community to learn about and celebrate the arts.
Sunday Funday, a free and open-to-public event organized by the College of Arts and Letters, featured family-friendly activities and multi-cultural performances at multiple locations on campus, largely as part of Japan Day, which took place in the library quad, and Music in Multimedia Day in Capistrano Hall.
Sac State's Full Circle Project hosted a film screening of "Halfway Home: Asian American Art in the Central Valley" in the Redwood Room of the University Union. Food trucks served tacos, ice cream sandwiches, cheeseburgers, fries and more.
The Japan Day cultural fair generated excitement among small children, college students and parents, with tables where visitors could play a Japanese chess game called Shogi, practice crafts like origami, explore anime and manga and learn about Japanese settler history in California.
Story continues below tweet.
Amy He, third-year social work student at Sac State, shares her experience learning a new way to do origami at Japan Day's origami station in the library quad. @TheStateHornet pic.twitter.com/z6Pstncvm9
— Camille Louise (@ChamomileLouise) April 7, 2019
Kristoffer Hidalgo, the vice president of Japan Club, said Japan Day has been in the works for two semesters.
"Really, I'm excited about just seeing it come to fruition, and everyone coming with their interest in Japanese culture and sharing it, as well as sharing the traditional dances we have prepared them," Hidalgo said. "So, it's just a really big day."
Performances and contests happened at the front of the quad, including a competition for who could yell a Japanese word or phrase the loudest, and a taiko drumming performance by Koyasan Spirit of Children Taiko.  
Japan Club's faculty advisor Kazue Masuyama said she has been involved with the club since its founding in 2004. She said the aim of Japan Day each year is to showcase the skills and talents of Sacramento's diverse community.
Masuyama said Japan Club is one of the most diverse clubs on campus because people are drawn to many different aspects of Japanese culture, including language, anime and manga, as well as traditional martial arts, fashion and calligraphy.
The booths in the quad tried to represent these interests by allowing attendees to learn about Japanese culture through hands-on experience.
Japan Club organizers at one point passed the microphone to Clovis Karam, a Sac State professor teaching humanities and Arabic.
Karam said Japan Club and the school's Arabic Club shared the stage to highlight shared values between cultures. He introduced guest performer Mina Gad, who presented the Tanoura Dance, which Karam said is a Sufi prayer about the colors of spring and diversity.
Japan Day's main sponsors were Japan Club, the Japanese Language Program, the College of Arts and Letters, Associated Students, Inc., and Japanese Language Teachers in the Greater Sacramento Area, according to the event brochure.
Melinda Wilson Ramey, an associate dean for the College of Arts and Letters, has attended this event with her 7-year-old daughter Eden for the past couple of years.
"I think she's been coming since she was able to walk, but she was very excited to come to the festival this morning," Ramey said.  
Eden said her favorite part was seeing the "The Three Little Pigs" and "Tommy's Space Adventure" puppet shows.
Meanwhile, the School of Music hosted three different events for Sunday Funday.
First, the department sent a tuba ensemble to perform for Japan Day.
Back at Capistrano Hall, the School of Music invited film and video game score composers like Gary Stockdale to give lectures for the Music in Multimedia Day event, one of the department's contributions to the Festival of the Arts, according to graduate student Arianna Guntvedt.
Story continues below tweet.
Emmy-nominated composer Gary Stockdale performs for an audience at Music in Multimedia Day, one of the School of Music's contributions to Sac State's Festival of the Arts on Sunday Funday. @TheStateHornet pic.twitter.com/3q5YHTDUfD
— Camille Louise (@ChamomileLouise) April 7, 2019
"They're talking to students and to anybody in the public about what it is to be in the industry and showing them different samples of their work and stuff. Giving out a bunch of gear for interested students," Guntvedt said.
The third Sunday Funday event provided by the School of Music was a culminating performance from the department's String Project, a program where Sac State students teach youth how to play stringed instruments, like the violin or cello, Guntvedt said.
Ramey said Sunday Funday is a special day for her family each year.
"We have the Japan Club, food trucks, all types of things, representations of the college to share what all we do and produce and love about being artists, about being scholars, and being Sac State Hornets," Ramey said.