Sac State Quidditch Club nearly doubles its members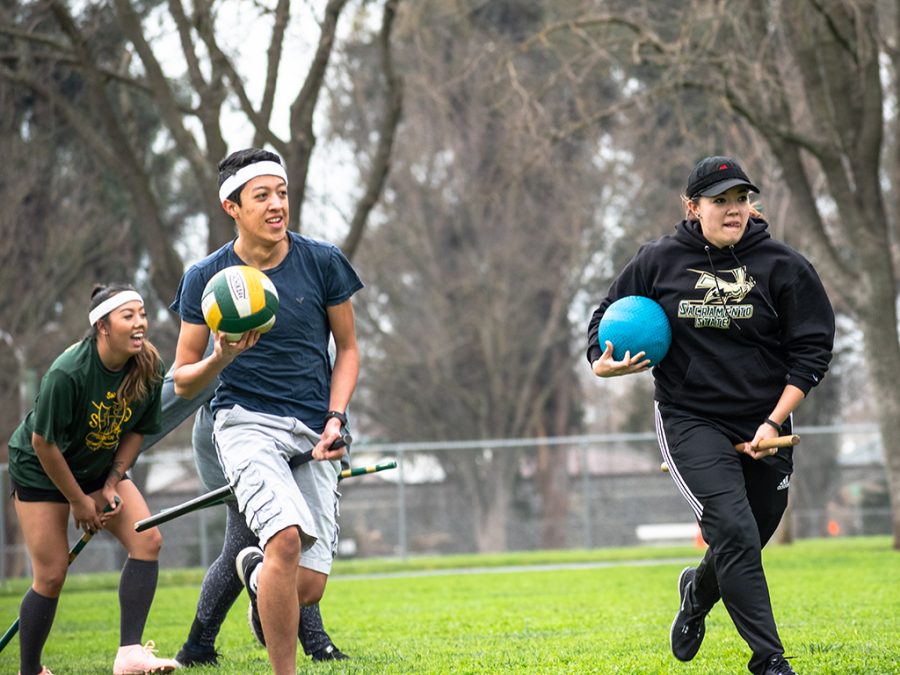 Quidditch, the fantastical sport from J.K. Rowling's "Harry Potter" series, can be experienced at Sacramento State with a little imagination and a lot of dedication.
The Sac State Quidditch Club is 25 members strong this semester, with 11 new additions since its first practice of 2019 on Feb. 1.  
As coach Tyler "Ty" Albert starts a countdown and readies a whistle to begin, players ready themselves by standing or maintaining a half-lunge with painted dowels between their legs. These dowels are makeshift brooms kept in place as much as possible during each match while players run across the field.
There are four balls in play at any given time — two volleyballs and two dodgeballs — called "quaffles" and "bludgers." One more ball, a tennis ball turned Golden Snitch attached to the snitch runner, is not included until 17 minutes into the game.
Teams earn 10 points when quaffles are kicked or thrown through hoops guarded by Keepers. Bludgers are aimed at dowels to knock players off their brooms and put them out of play temporarily.
"It's a combination between rugby, dodgeball and soccer," first-time Sac State quidditch player Michaela Dunnam said. "It was a little confusing at first, but after the rules were explained and I played three games, it made sense. Reading the [Harry Potter] books helped a lot too, with understanding which position does what."  
Dunnam is a longtime fan of Harry Potter, having been a follower of the series since she was 10. Discovering Sac State's Quidditch Club excited her.
"I like the idea that we're able to take something from a book into something that adds to campus life and our college experience. When I was in high school and before that, there were no Quidditch clubs," Dunnam said. "I think it has potential to be a serious competitive sport."
Like any mainstream competitive sport, Quidditch teams are split into offensive and defensive positions, consisting of chasers, beaters, seekers and keepers. The objective is to earn points while preventing the opposing team from earning points, with the snitch runner being the lone neutral position.
Dunnam tried playing beater and keeper. Keepers are like goalies, defending their team's hoops, while beaters used bludgers to take chasers out of play for periods of time.
"I enjoyed both positions for different reasons," Dunnam said. "Being a keeper, you have a lot of confrontation and you're defending whatever comes around. Being a beater has more control, but you get winded more often."
In addition to having a lot of physical activity, Quidditch is a full contact sport where players tackle and get tackled. There is risk for injury.
"We take an entire practice to teach people the proper way to fall and avoid injury," safety officer and captain Justice Brewer said. "After people are comfortable with tackling without brooms, then we include brooms."
Brewer said the most common Quidditch injuries are rolled or sprained ankles. In her six years of playing, she's observed two concussions.
"Both Coach Ty and I are trained in administering first aid or CPR," Brewer said. "Since we practice in front of The WELL, we can take someone over to a nurse if they need more aid. People's safety is our priority."
Equally important is striking the balance between raising the club's collective skill and having fun. Variety is embedded into Quidditch's very identity.
"One of my favorite things about coaching Quidditch is that I am usually coaching people from varying backgrounds and varying sports experience," Albert said. "For some people, this is the first sport they've ever played, and I get to help them get better. For others, they've played sports before and I get to help them understand the game of Quidditch in particular and all the different positions and rules."
Among the rules contained in the 12th edition of the official "US Quidditch Rulebook" is the gender maximum rule, which only allows a certain number of players of the same gender on the field at once.   
"One crowning thing about Quidditch is it's completely gender-inclusive," Brewer said. "We put anyone on the field — male, female, transgender, non-binary. It's unique about our sport and I absolutely adore it."
As a result, teams maintain representational diversity and the common goal of becoming the best team they can be, Albert said.
Dunnam's said her biggest goal for the semester is to get more experience and compete against other collegiate teams. Brewer has her eyes set even higher — playing for U.S. Quidditch, the sport's national championship.
"I, for one, have been of the mindset that as soon as we are ready, we will join U.S. Quidditch. Of course, there's a lot of requirements," Brewer said. "We just haven't been ready yet."
The Sac State Quidditch Club has notably participated in U.S. Quidditch's regional Best Coast Classic tournament for three years and placed fourth last year, under the name Swarm Quidditch.
At that time, Albert played for the team as a member. Now, Albert said they have the combined perspectives of a player and coach.  
"Tournaments are really fun for the team," Albert said. "Quidditch is a great way to find a sense of community on campus and make friendships with people from other colleges."
Albert said they hope to continue having the Sac State Quidditch Club as an inclusive and positive group, and help players grow their skills.
"We want to get better at our skills while keeping things lighthearted," Brewer said. "At the end of the day, we're running around with brooms between our legs."