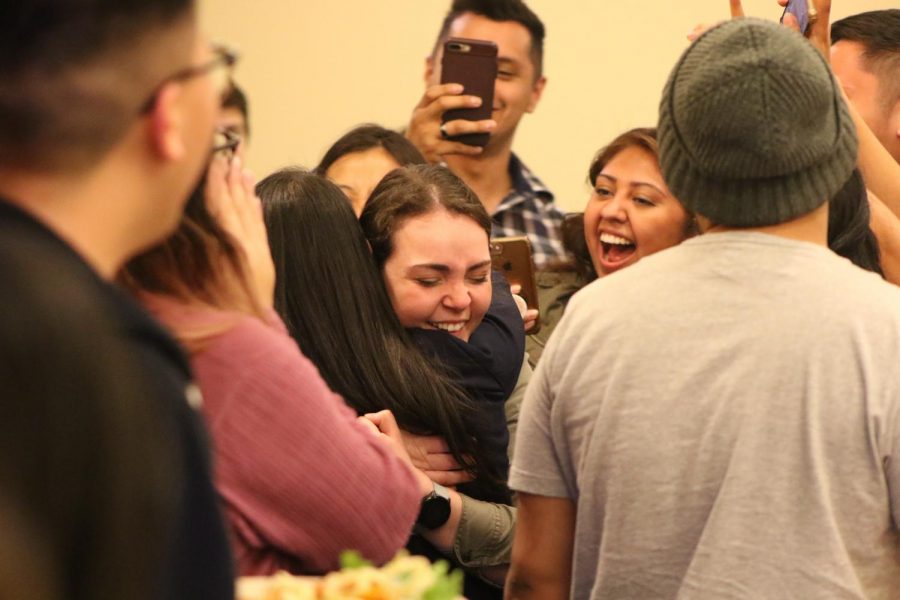 Eric Jaramishian - The State Hornet
Christian Miguel Landaverde and Jennifer Gross were elected President and Executive Vice President for the 2019-20 school year after Sacramento State's Associated Students, Inc. elections held on Tuesday and Wednesday.
As opposed to last year's ASI presidential election, where only one ticket ran, Landaverde and Gross were up against two other tickets, winning by only 52 votes above Virginia Diaz Lazaro & Migdalia Sazo.

Story continues below tweet. 
The ASI President & Executive Vice President Elects, Christian Miguel & Jen Gross. @TheStateHornet pic.twitter.com/eahY1dYeNy
— Ronaldo Gomez (@ronaldogomezss) April 11, 2019
The total percentage of students who voted in this election was 10.5%, higher than last year's 8.8%.
Landaverde and Gross will be moving into the positions currently held by Noel Mora and Rachael Del Porto.
"We want to make sure your voices keep being heard on this campus and we want to address your basic needs," Landaverde said. "We also want to make sure that this campus is a safe and inclusive campus for all of our students."
Gross said she was excited for the win.
"Right now we're just really excited," Gross said. "We just won. We're having a good time."
Landaverde said he was "speechless. Literally."
The presidential ticket was one of 11 positions voted on during this election.
The Elections Results Party 2019 was held on Wednesday night in the Terrace Room located in The WELL. Students, staff and candidates all gathered in anticipation of the results.
Story continues below tweet.
"I want my voice to be heard because they stand up for students. They're the voice for students and for once, we can be the voice for them."
Joanna Sanchez, Liberal Studies major, on why she's attending the Election Results Party. @TheStateHornet pic.twitter.com/Ojqa5s6s2T
— Ronaldo Gomez (@ronaldogomezss) April 11, 2019
Noor Sulaiman won the ticket for Director of Natural Sciences and Mathematics, and said she plans to use her platform to help students get access to mental health resources.
"I'm hoping to raise awareness for mental illness and health," Sulaiman said. "A lot of students in NSM are stressed out because of the amount of assignments that we have, I think if we try to remove that stigma, and help them, provide them with the help that would be great."
Not all positions were filled Wednesday, and the Director of Business Administration and Director of Education remain vacant.
Winners of Cash for Clubs, a system where voters pick their favorite clubs on campus to receive extra funding, included the Transfer Student Association in first place, Panhellenic Sorority Council in second place and the Honors Committee in third.
Prior to the results, party attendees mingled, played games and lined up to receive complimentary dinner.
President – Christian Miguel Landaverde
Executive Vice President – Jennifer Gross
Vice President of Finance – Denisse Garcia
Vice President of University Affairs – Noah Marty
Vice President of Academic Affairs – Israel Flores
Director of Arts & Letters – Gabriela Bermudez
Director of Engineering & Computer Science – Noah Venethongkham
Director of Health & Human Services – Colton Matics
Director of Natural Sciences & Mathematics – Noor Sulaiman
Director of Social Sciences & Interdisciplinary Studies – Samantha Elizalde
Eric Jaramishian also contributed to this report.
This story was updated on Friday, April 12, to reflect that student turnout for this year's election was 10.5% of the student body, and not 10.2%.