Multiple Sac State departments to change degree names for upcoming year
Political Science and Family and Consumer Sciences to make modifications
Multiple Sacramento State academic departments, including political science and family and consumer sciences, will be changing the names of their degrees beginning in the 2019-20 year.
The government degree has been changed to political science, government-IR to political science–IR, and government and journalism to political science and journalism.
"I have no issue with the change at all even though professors on campus seem to have a different idea on why it changed," said Mark Paul, junior government and journalism major.
The government department changed its name to political science last year and as of fall 2018, degree names have also been updated.
"We changed the name because political science is the more common name used in other CSUs and community colleges," said Political Science department chair James Cox. "We thought some students and employers were unaware that government and political science were the same major."
The Political Science department is also in the process of making international relations (IR) a separate degree.
Family and consumer sciences will also see multiple degree changes for their department. A Bachelor's of Science in family and consumer science with a concentration in nutrition and food will be changing to a Bachelor's of Science in nutrition and food. Fashion merchandising and design will be changing to fashion merchandising and management.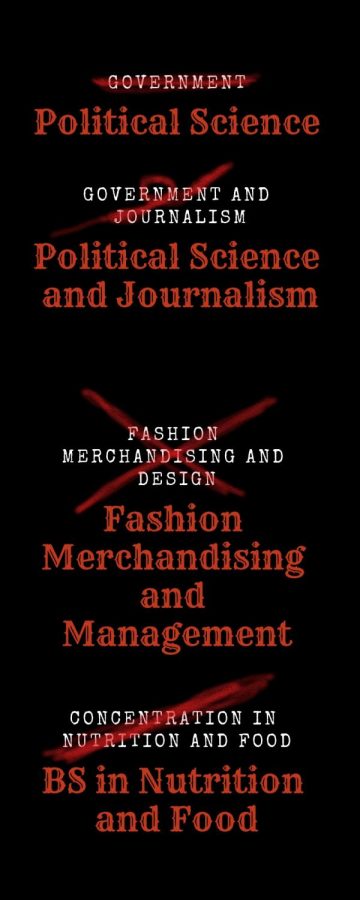 Family and consumer sciences department chair Lynn Hanna said she thinks that many students will embrace these alterations.
"Students are anticipating this change because it will better reflect what their studies actually were," said Hanna.
If a student was enrolled in one of these degree programs while the changes were made, they can choose what title goes on their degree, according to their catalog rights.
"Students are protected by their catalog rights," said Kaitlyn Ehrmantrout, University Catalog Editor. "If a student was admitted in Fall 2017 and is still a current student when changes occur to their major, they are held to the catalog at the time of their admissions and unless they voluntarily choose to follow the 'new' program changes, they cannot be forced to comply with them."
Hanna said departments that are undergoing degree changes have alerted current students that if they choose to change the name of their degree, no additional courses will be required.
Some students, like senior family and consumer sciences major Elisa Boone, said they see the new changes as positive because it carries a better description of their major.
"I would rather have it called fashion merchandising and management and I am glad they made the change," said Boone. "It's more beneficial for future students and it will look better on resumes."