Ella Mai wins 'Best Artist Performance on Campus' at Sac State
Tickets sold out in 35 hours for 'Boo'd Up' singer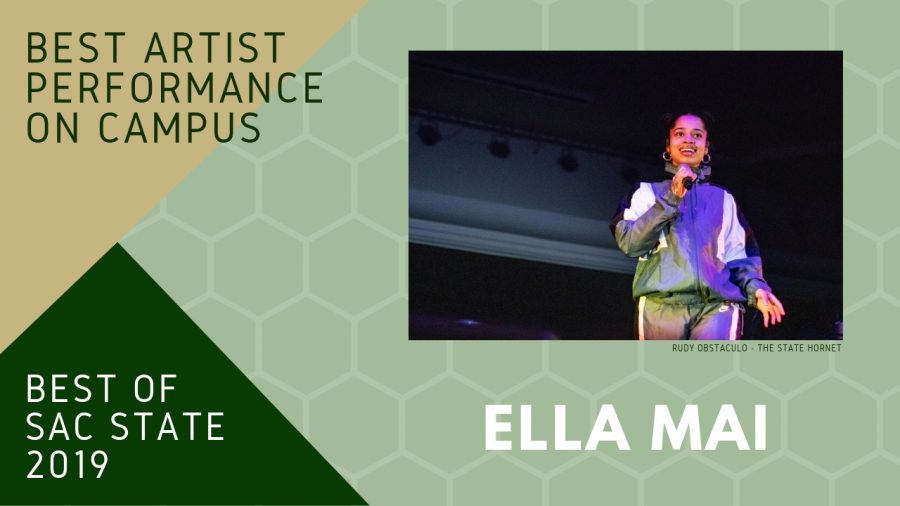 London-based R&B singer Ella Mai won Sacramento State students' vote in the "Best Artist Performance on Campus" category for The State Hornet's 2019 Best of Sac State poll.
Mai's performance last October in the Union Ballroom was highly anticipated, having sold out within 35 hours and serving as her first public performance after the release of her self-titled debut on Oct. 12 of last year.
As a solo artist, Mai has come a long way from song covers and original content shared on social media. She caught the attention of record producer DJ Mustard, who signed her to his 10 Summers record label on Jan. 16 of 2016.
Mai confirmed it herself on Twitter, and DJ Mustard promoted her as his signee on an episode of Drake's OVO Sound Radio show, as reported by urban culture magazine and media company Mass Appeal.  
RELATED: Ella Mai hints to upcoming tour during Sac State performance
"The win is well-deserved. She had a breakout year (in 2018)," Wes Bode, a Sac State undeclared major, said. "Her performance was electrifying, and everyone was super excited to see her perform. It was her first performance after her album dropped. When a crowd knows your songs, it adds to the energy."
Story continues below video.
Bode is a cofounder of Sac Vibes, a podcast that focuses on Sacramento music, art and culture. He watched Mai perform at Sac State as well as all the other Best of Sac State nominees.
"Mova V's incredible and her voice is unparalleled. She was Ella Mai's opening act," Bode said. "They're both awesome."
Other nominees include Jesse McCartney and other local talents such as Xochitl, Bryce Vine and The Ghost Town Rebellion.
If not for Mai, Bryce Vine would have been kinesiology major Joey Nunez's first pick for best artist that visited Sac State.
"I was disappointed when I saw my friends' Snapchats because I couldn't go," Nunez said. "She's most deserving of the win for sure since she was so hyped. I saw images all over Twitter and Snapchat, and she had one of the most packed concerts (at) Sac State. Everyone was talking about it for a while."
Nunez's friends referred him to Mai as "a pretty artist from the UK with a great voice." He considers her someone who matches R&B's current scene.
"R&B nowadays has trap or hip-hop beats to stay relevant. It's what newer generations are into," Nunez said in reference to new wave or alternative R&B. "Ella fits perfectly into that. She represents the changes an artist needs to grow through not just to be relevant, but to be the best."
Mai's career trajectory has gone even further up following her 2019 Grammy Award for Best R&B Song with "Boo'd Up." Other songs of hers have charted on Billboard, including her other No. 1 hit "Trip," "Shot Clock," "Whatchamacallit" and "Gut Feeling."
For a full list of 2019 Best of Sac State results, click here.