Women's beach volleyball team show consistency despite woes
Sac State has (1-6 overall) record after back-to-back double header.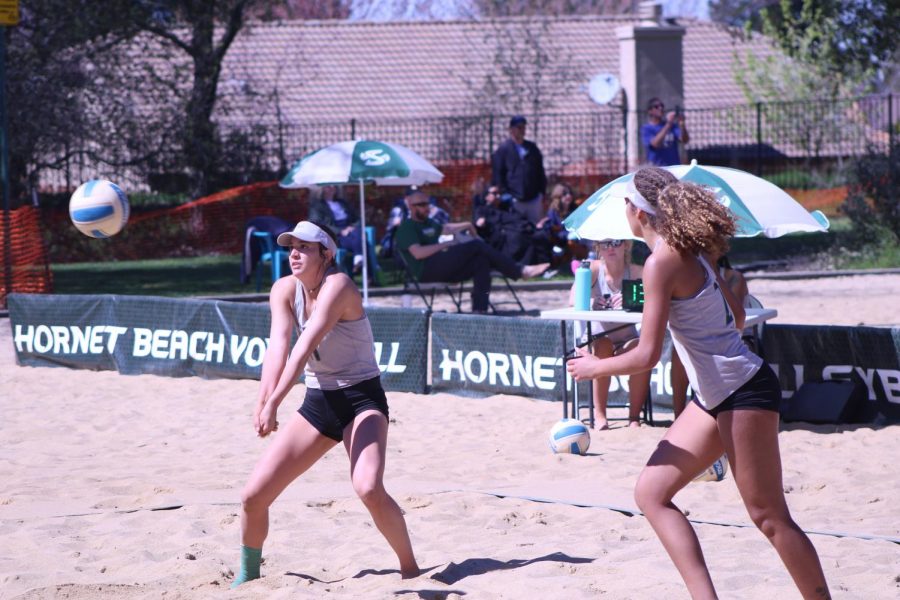 Sacramento State women's beach volleyball went 1-3 in its first two-day tournament this season at Livermore Park in Folsom, moving their record to 1-6 overall.
Their lone win this season came against the University of San Francisco in a close contest 3-2 on Friday to start the tournament.
Sac State hosted the two-day tournament against opponents San Francisco, San Jose State and Saint Mary's College. The Hornets finished the tournament by dropping three games after the win to San Francisco, losing twice to the San Jose Spartans and once to the Saint Mary's Gaels.
Sac State's No. 3 player junior Paige Swinney and sophomore Macey Hayden won both their sets against the Spartans in the loss. Swinney and Hayden were the only pair to take the Gaels to a third set, but fell short 15-6.
"This is Macey and I's first tournament together," Swinney said. "We were working out the kinks yesterday, but still coming out with a win today was good."
Sac State's No. 3 pair, Swinney and Hayden, started close in the first set against San Jose State with a 4-3 lead in favor of the Hornets. The Hornets began to separate from the Spartans with a 18-9 lead and won the set 21-10.
"The first set we had all the control and served tough," Swinney said. "We were able to convert on defense and let them make errors before we did."
RELATED: Sac State beach volleyball team prepares for 2019 season
Swinney and Hayden dropped the second set to the Spartans 21-16, despite getting off to a 4-0 lead at the start of the second set.
The Hornets scored the first five points of the third set. In spite of the Hornet's peak game lead of 12-5, three scores in a row from San Jose State caused the tide to turn.
"We got a little excited," Swinney said. "Once we settled down and simplified our game, we (were) able to execute."
Two straight kills by Hayden sealed the deal for a 15-9 win over the Spartans.
"I didn't want to get a kill on a short dinky little shot," Hayden said. "I wanted to go up and get a swing."
Hayden complimented Swinney on her ability to set up the game-winning point. Co-head coach Ed Jackson echoed that sentiment.
"She's pretty savvy," Jackson said. "Paige's experience and understanding the game better. (She) makes good shots and good choices."
Sac State will travel to Pismo Beach on March 29 to face University of California, Davis and Cal Poly.
RELATED: Sac State women's beach volleyball team swept at home opener