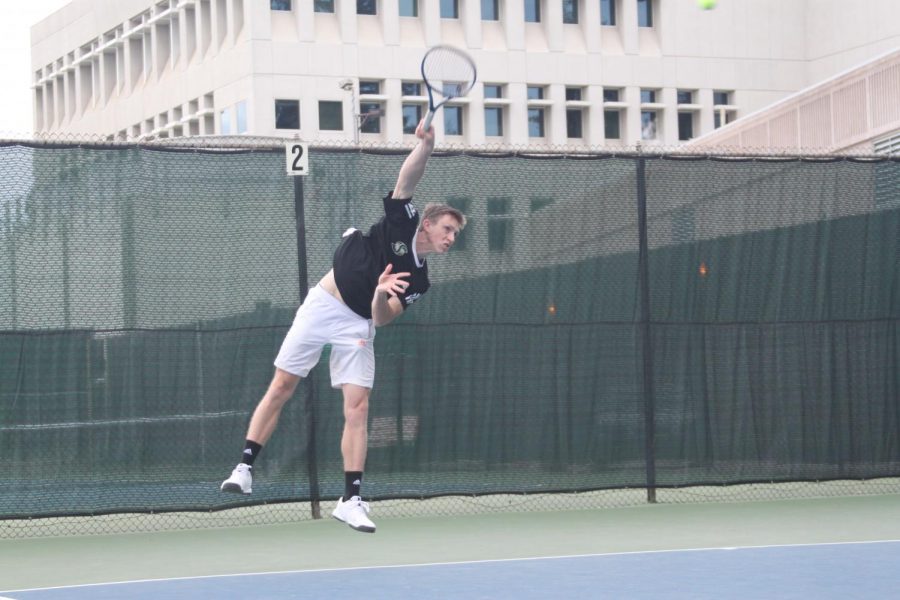 Will Coburn - The State Hornet
Sacramento State's men's tennis team is striving to finish in this season's top six of the Big Sky Conference, which would qualify the team to advance into the Big Sky Tournament.
Head coach Kevin Kurtz, along with two of the team's captains, Mikus Losbergs and Donald Hall, say they will try to keep up the momentum they had individually from last season and will look to lead the team's young cast.
Last year's men's tennis team did not perform to the standards that Kurtz, then a first-year head coach, had hoped for. He said the team's season was like a roller coaster, they struggled to maintain the consistency that is needed to be a strong team.
The team had some upsetting losses but would bounce back with some stellar performances. But at the end of the season, when the team really needed a win, the Hornets lost three out of their last four conference matches. This meant that the team missed out on the Big Sky Tournament with a 5-6 Big Sky Conference record and a 7-14 overall record.
The 2019 squad consists of nine total players: four seniors, two uniors and three freshmen. Kurtz praised his players for getting two road wins against tough teams.
RELATED: Sac State men's tennis falls 5-2 to Wolf Pack
"We're hoping to keep doing the same things: working hard at practice, working with the weights," Kurtz said, "We always have to work harder, we have to be more as a team, we have to have more energy, more toughness, we have to win the big matches on the road like we did last weekend and win as many Big Sky matches as possible."
This season the team has managed to win two road games in two outings compared to the two road wins they had in all of last season's nine outings.
Losbergs has garnered respect and support from his teammates. He has been selected to the Big Sky All-Academic team three straight years, was the recipient of the Intercollegiate Tennis Association Scholar-Athlete award and most recently he was named Big Sky Player of the Week on Feb. 6.
RELATED: Sac State tennis program placed on 3-year probation following NCAA violations
"All the guys have been working really hard," Losbergs said. "We're very fortunate that everyone is healthy, everyone is playing and it's really exciting to be in this position … It definitely gives us confidence."
Losbergs acknowledged that the season is going to be tough but knows that the expectations are for the team to finish in the top six of the conference.
"Personally, I'm just trying to win every match. I'm trying to help out the team, but we are a team. Obviously, it matters if I win or lose but the team's win is the most important thing," Losbergs said. "We work together, we win together, and we lose together. After our victory with Eastern Washington in Idaho, Kevin said that no one lost because we won as a team."
Hall is the player that has been in form and the most consistent this season. Hall won five straight matches between Feb. 2 and Feb. 16. The Chico native knows this season is his last season in tennis, and looks forward to playing his last home game.
"Maybe when it's all over, I'll be sentimental," Hall said.
RELATED: Men's tennis team fails to make postseason after crucial losses