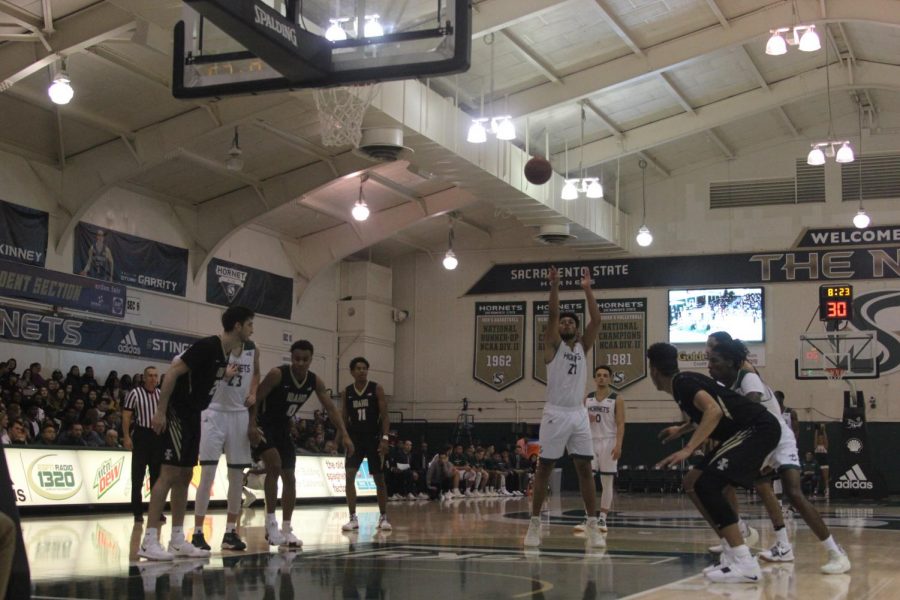 Andres Sanchez - The State Hornet
After losing 2 out of 3 games on a road trip, the Sacramento State men's basketball team is now 13-14 overall and 7-11 in the Big Sky Conference.
Sac State lost to Portland State and University of Idaho away from home, while defeating Eastern Washington.
Earlier in the season, the Hornets defeated Portland State at The Nest but couldn't duplicate that success the second time on Feb. 23, losing 65-57.
Portland State held Sac State to 35.8 percent shooting from the field and outrebounded the Hornets 40-33, with 13 offensive boards.
The Hornets' largest deficit of the game was 12 points.
Junior center Joshua Patton led Sac State with 12 points while senior guard Marcus Graves struggled from the field shooting 2-15 but finished with 11 points and 6 assists.
RELATED: Sac State men's basketball team defeats Weber State, 78-76
The Hornets defeated Eastern Washington 59-56 on Feb. 28 after losing to them earlier in the season.
Sac State's defense was the key to victory, holding Eastern Washington to 33.3 percent from the field and forcing 18 turnovers.
The top performers for the Hornets was Graves, who finished 1 assist short of his second career triple-double with 19 points, 10 rebounds and 9 assists. Graves' first triple-double was also the first in Sac State's history.
RELATED: Senior guard having career year after return from back surgery
Junior guard Izayah Mauriohooho-Le'afa also finished with 17 points and went 2-4 from 3.
Idaho had its second-highest scoring night of the season against Sac State on Saturday, beating the Hornets 94-90. It was Idaho's second win in conference play this season.
Sac State allowed Idaho to shoot 55.8 percent from the field and score 57 points in the second half alone.
Sac State also had trouble containing junior guard Trevon Allen, who averages 13 points per game but erupted with 29 points.
The top performer for the Hornets was senior guard Jordan Tolbert who scored 21 points and hit 7 3-point field goals in 10 minutes of play. Graves added 17 points and 8 assists.
"Feel (like) we let two slip away," Graves said. "But I love the progress we've made in preparing for this conference tourney in Boise."
Sac State has two more regular season games left on the season, both at home.
On Thursday, the Hornets play Montana State (14-14, 11-7), then on Saturday they play the University of Montana (22-7, 15-3), who is first in the Big Sky.
RELATED: Sac State men's basketball team defeated at home by Northern Arizona