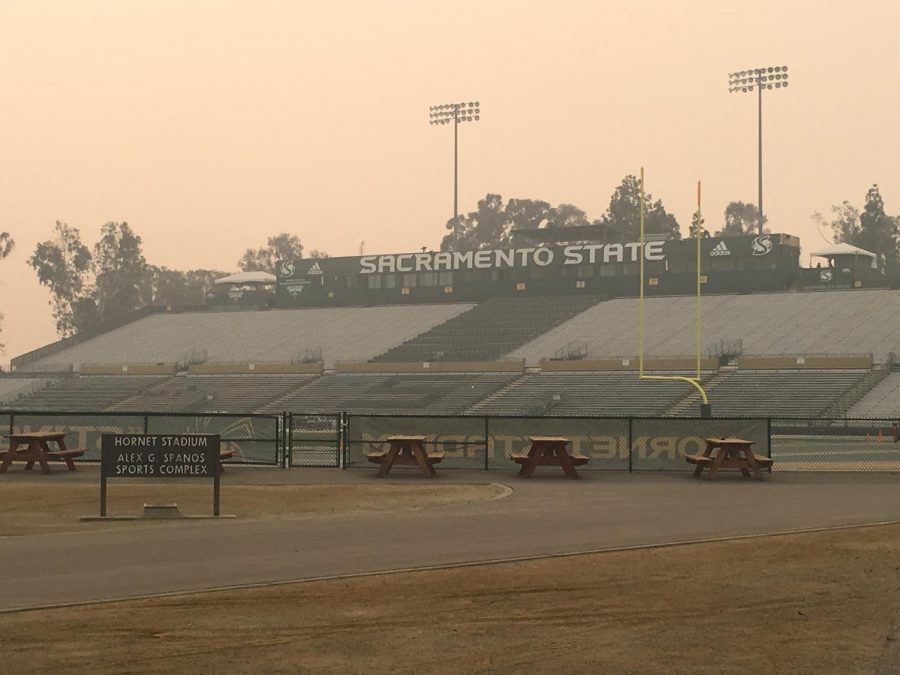 Thomas Frey - The State Hornet
Sacramento State has cancelled its football game against Northern Arizona Saturday night due to poor air quality, caused by smoke from the Camp Fire near Chico.
The air quality index was recorded at 218 Saturday evening. According to Associate Athletic Director Brian Berger, the university mandates that if the air quality index is above 200, any athletic event must be cancelled.
The game – which was supposed to begin at 6 p.m. – was cancelled around 3:53 p.m. after a meeting between Athletic Director Mark Orr and Sac State President Robert Nelsen, Berger said.
Berger said that the athletic department is currently looking at other venues and dates to hold the game.
An official from Northern Arizona said that there is "a very low chance" that the Hornets will fly to Arizona to play tomorrow.
High school and community college venues in the Sacramento area are also being considered, according to Berger.
The Camp Fire sparked Thursday morning in Butte County, and has reached 100,000 acres and 20 percent containment, according to Cal Fire's 9:30 a.m. incident report. Though the fire is burning roughly 90 miles north of Sacramento, smoke has blown through the state and forced high school football games to be postponed from San Francisco all the way to Santa Cruz Friday.
Wildfire activity is clearly evident across California this afternoon. Current visibilities less than a mile for some spots. #CAwx #CampFire pic.twitter.com/wpgOKxYxEA
— NWS Sacramento (@NWSSacramento) November 10, 2018
For more Camp Fire updates, follow us on Twitter @TheStateHornet. For more football updates, follow us on Twitter @SH_Sports.