Meet the mentors behind Sac State's First Year Experience
Freshmen students can receive help from assigned mentors and those available for walk-ins
The First Year Experience at Sacramento State welcomes first-year students with the help of two mentorship programs through meetings, classes and support at the FYE Space located in the University Library.
Peer mentors are assigned to a first-year seminar class and have meetings with students in that class, according to Molly Schuller, a go-to crew mentor. The go-to crew mentors serve students on a more walk-in basis, Schuller said.
Schuller joined the FYE program earlier this fall semester and said she notices that often times, first-year students struggle the most with finding classes.
"I think there's just so much stress around making sure you fit [in] all of your requirements," Schuller said. "Making sure you're not taking five area D [courses] when you only need two."
Schuller said that students struggle with the stress of figuring things out quickly, so she helps students calm down and take things one step at a time, and .
Schuller said that she's been able to connect with students from her own college experience, such as struggling to change majors.
"I think making a personal connection like that with the student and being in a similar situation opens it up for better [a] conversation," Schuller said.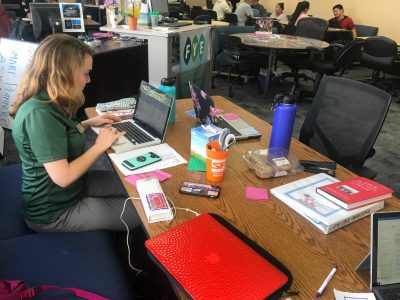 Jazmin Campos, a Sac State academic success coordinator, has a lot of experience in the FYE program, and was a part of both mentorships before taking on her current position.
Campos said she started as a peer mentor her junior year and then became a go-to crew mentor. She graduated with a degree in psychology and earned her master's at Sac State in Higher Education Leadership and later returned to coordinate the FYE Space.
When asked why she chose to return to Sac State after earning her degrees, Campos referred to her struggles as a first-year student.
"I think it was the desire to help students that were starting out [and] that were new to campus," Campos said. "I myself was a first-generation college student. It was really up to me to figure out on my own how it worked, what I wanted to do and how to make the college experience work for me."
Campos said she usually helps students with their degree planning and helps them find their way around campus, which may be difficult for first-year students to learn right away.
"We usually do a lot of Smart Planner help," Campos said. "A lot of students are very concerned about getting out in four years, so we try to make a plan that works for them here in the [FYE] Space.
"The other thing we usually help with is navigating campus. It's kind of a hard campus to navigate in general, so we do have a lot of maps and we circle a lot of locations."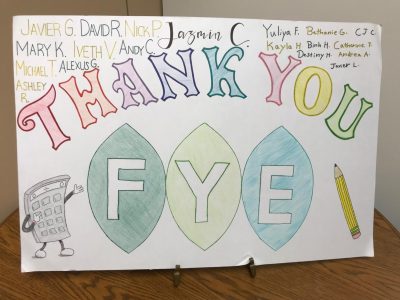 Sage Beamon, a peer mentor, said her peer mentor last fall had a big influence on her making the decision to join the peer mentorship program.
"He was dope, he's what got me assimilated on campus," Beamon said. "If I didn't have him, I wouldn't have gone to events, I wouldn't have joined a club, I wouldn't have done [a lot of] stuff I did, because he was there to tell me about it. When you're involved, that's when you feel like a Hornet."
Beamon said that her close relationship with her students allows for easy conversation between each other.
"I'm a peer mentor, [so] I'm their peer first, and I sort of mentor them," Beamon said. "We are friends like that, so I talk to them like, 'What's going on? What do you like to do? What are you interested in?' "
Beamon said it made her feel proud to see her mentees get assimilated into the Hornet community.
"There's a lot of work with this job, but knowing that a student, even if it's just one out of a whole class feels more assimilated, I'm like 'OK, this is cool,' they're in it," Beamon said. "They're doing what I did, so it's dope."
Anthony Galavan