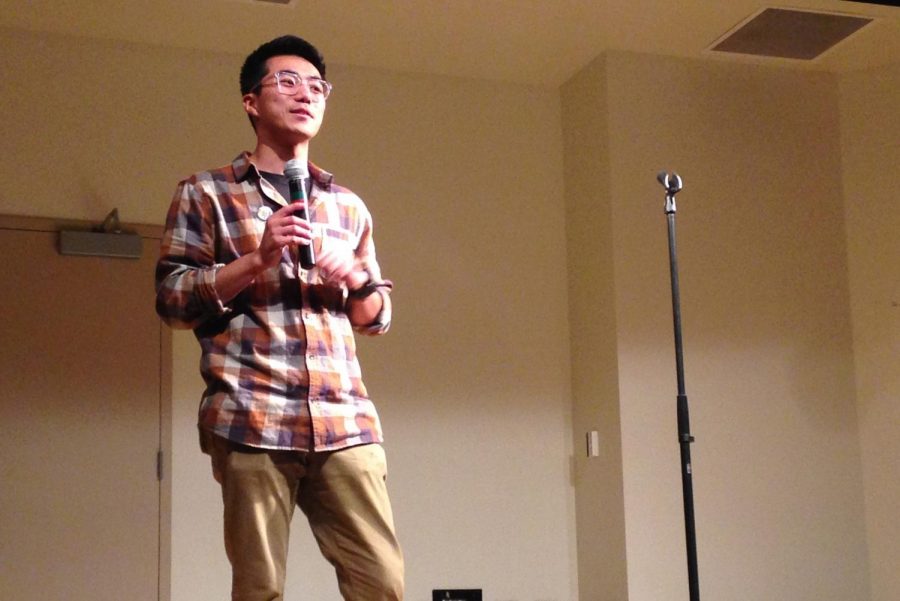 Camille Escovedo - The State Hornet
Sacramento State's Improv, Why Not? club hosted a stand-up and improvisation comedy benefit show Saturday night in the Hinde Auditorium to raise money and clothing donations for homelessness services.
JinBae Jung, president of Improv, Why Not?, said he wanted to introduce the club to an audience, provide entertaining self-care for stressed students and raise awareness about support services the university offers.
Some services include the ASI Food Pantry, the Student Emergency Fund and Student Emergency Housing, Jung said. Danielle Munoz works with with students experiencing homelessness and food insecurity as Sac State's case manager, according to the Division of Student Affairs website.
"I spoke with Danielle Munoz, and she was giving me this brief about how many people are experiencing homelessness, what we do there, and case management, but not many people know about it. Even people who are in need of financial aid, in need of those services, people don't know about it," Jung said.
Donations made at the event will go to Sac State's Student Emergency Fund and Student Advocates for Ending Homelessness, according to Jung.
The "Improv, Why Not? Comedy Show" featured performances by Blacktop Comedy, Sac State student Isa Guragain, Sac State alumna Shahera Hyatt and Kelley Nicole, and various members of Improv, Why Not?, the show's Eventbrite page said.
Guragain, a Sac State engineering major and new member of the club, joked that burglars took his half-eaten burrito instead of his valuables when his car windows were smashed in the Lot 10 break-ins on campus.
"This is my first time performing in front of this big of a crowd, and I've always wanted to do stand-up, but this is the first time that I was like, 'Oh, we're gonna do stand-up,' " Guragain said. "This isn't gonna be an open-mic in front of five, ten people, there's 50, 60 people there, so it was exhilarating."

Kelley Nicole was also a featured comic at one of the "Fierce Femme Show" shows put on by Kelly Appel, a comedian. According to Jung, Appel also happens to be a manager at the coffee shop he works at.
Jung said the inspiration for Saturday's benefit show came from the "Fierce Femme Show," that showcased female comedians to raise funds for WEAVE, a resource for survivors of domestic violence and sexual assault in Sacramento County.
Some segments required audience participation, and stand-up subject matter included party stories, President Trump, sexuality, sign language failures, flirting and more.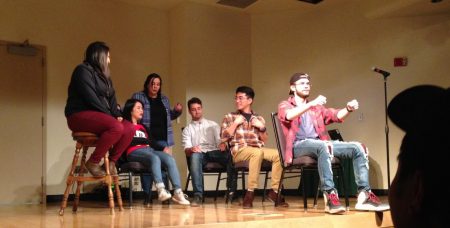 Isabella Bennett said she attended the show in support of her coworker, Jung, who she said had been persuading her to come see a performance for some time.
"I just came with a couple of our coworkers, and I'm glad I did, it was so fun," Bennett said. "He's funnier than he is at work, so I'm gonna need him to step it up while we're at work."
Jung said before the show that he hoped the event would provide self-care to the audience and build community through comedy.
"People who founded this club, including me, we're in counseling programs, so we really emphasize self-care," Jung said. "So, we want them to use this as their self-care, too, this is a great way to self-care, really helps out with mental health."
Improv, Why Not? takes inspiration from play therapy, according to Josef Kim, a member of the club and a graduate student in Sac State's counseling program.
RELATED: Play therapy: counseling for children through the means of play
"[Improv] allows people to relieve some stress and tension," Kim said. "It's just nice to be silly and just let go of a lot of the inhibitions that we feel in everyday life, and just be like, 'We can be funny! We can say things here.' "