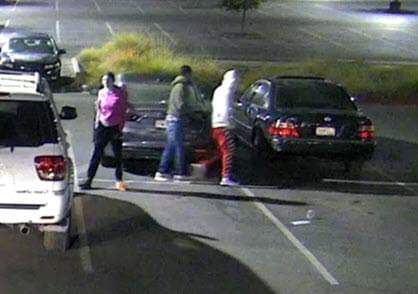 Courtesy of the Sacramento State Police Department.
Two cars were broken into in Parking Lot 10, leading to a pursuit ending on an unidentified freeway Thursday at 5:12 a.m., according to the Sacramento State Police Department.
The pursuit was called off by the watch sergeant due to its speed and safety concerns for motorists, according to a Facebook post by the Sac State PD.
The break-ins were spotted by an officer at the parking lot at the south side of campus when the officer ordered them to stop. The suspects fled the scene in a 1999 Honda Acura and the officer pursued, according to the Facebook post.
The suspects caught on surveillance camera were two males, one wearing a white hoodie and red pants, the other wearing a dark green hoodie and jeans with large holes, and a female with long dark hair, black sweatpants and a pink hoodie.
The Acura the trio escaped in was also caught on surveillance footage.
Mark Iwasa, Sac State Police Department chief, was unavailable for comment.
Anyone with information about these suspects or their vehicle is asked to contact the Sac State Police Department at (916) 278-6000.