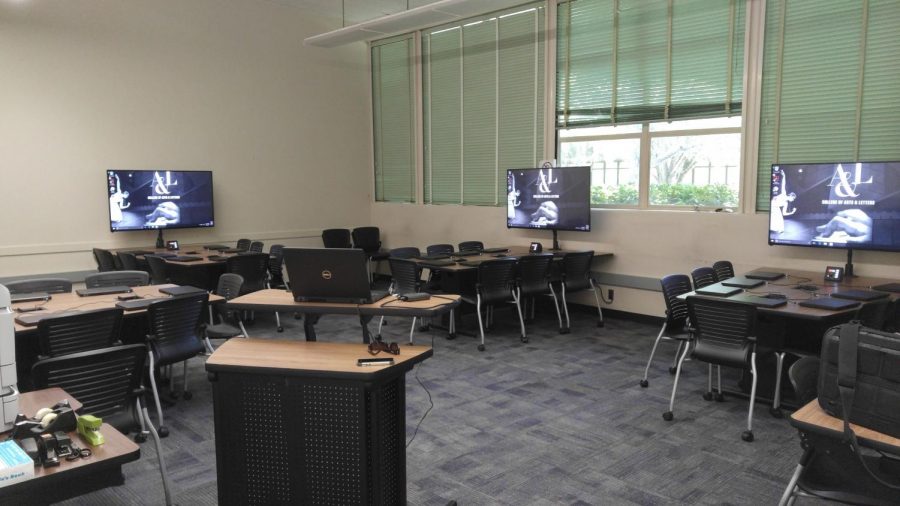 Courtesy of Christina Bellon
A suspect has been identified in the 2017 theft of 35 Dell Latitude laptops out of a Sacramento State classroom.
The suspect, Nicholas MacKenzie, 39, has not been apprehended and currently has three warrants out for his arrest according to Sac State Police Department Detective Jason Johnston.
Johnston said that MacKenzie's identity was discovered after police investigated an eBay listing of 35 Dell Latitude laptops that went up a week after the October theft. The post was brought to the attention of the department by a State Hornet staff member.
Prior to the fall 2017 semester, Christina Bellon, associate dean of the College of Arts & Letters, was able to help procure funding for Calaveras Hall 131 to have 36 new Dell Latitude laptops. Bellon said the computers cost an estimated $40,000 to $45,000.
Around 9 a.m. on Oct. 20, 2017, members of the English department who used the computer lab noticed that 35 of the 36 brand new laptops were missing.
A week later, the computers showed up on eBay. Each laptop, which had an estimated value of $1,099, was listed at a "Buy it Now" price of $350. It only took about 10 hours for the eBay seller who went by the username Professuh to sell all 35 of them on Oct. 27, 2017.
Johnston said he found MacKenzie's name when he asked eBay for the seller's information after he was able to confirm that those were the laptops.
"He currently has three warrants for his arrest," Johnston said. "One from our department, one from Folsom PD and one, I believe from Sacramento Police. As he has not yet been apprehended, it is likely that MacKenzie has fled the area."
The State Hornet will continue to update this story.