Hornet captain Eric Olsem leads team after coming from community college
Sacramento State junior golfer Eric Olsem stood over the ball, rehearsing his swing and looked down at his target, before executing the swing and hitting a piercing shot.
Olsem comes from an athletic family with three brothers, all of whom played various sports, but were mainly competitive in baseball, basketball and golf.
Golf was not Olsem's first choice of a sport to play. He originally wanted to play baseball, until his father persuaded him to pursue golf because it was a "lifetime sport."
"I picked it up my freshman year, started playing tournaments, fell in love with it and I was off from there," Olsem said.
Olsem played golf for El Camino High School where his instructors were golf coach Bob Cvitanov of El Camino High and professional instructor Hank Vereschzagin at Haggin Oaks Golf Complex.
"They both took me under their wing and guided me through how to play this game," Olsem said.
Despite starting golf late, Olsem was the first player from El Camino High to win sections, then advance to Masters and NorCal as an individual in 2014.
Olsem wanted to play for Sonoma State out of high school, but did not receive a scholarship offer.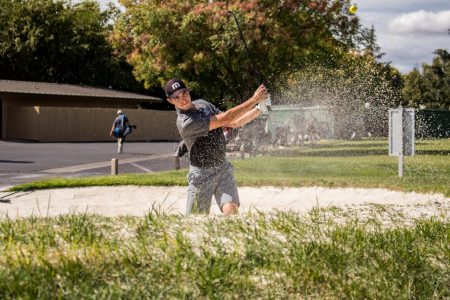 Instead, he played for Folsom Lake College while taking his classes at American River College.
"I was not happy to go to junior college, but I was happy to still be playing golf," Olsem said.
Olsem won multiple competitions playing for Folsom Lake, but he believes that those wins aren't worth anything, because the tournaments lasted one day and there was not that much competition.
After grinding through his first year in junior college, maintaining his grades and practicing on the golf course, Olsem's hard work paid off and he received a scholarship to play for Sac State.
RELATED: Women's golf has slow opening to season despite returning starters
"His short game and wedges are his best physical attributes," said Sac State head coach Kamden Brakel. "His work ethic is one of the best on the team and he is willing to put in the hard work on his own time which is what you have to do to become a great player."
When Olsem arrived at Sac State as a sophomore during the 2017-18 season, he finished in a tie for 30th out of 92 at the Nick Watney Invitational and finished in a tie for 42nd out of 112 inthe Visit Stockton Pacific Invitational. Later, at the Farms Invitational, he finished in a tie for 21st, his best finish of the season.
"I really, really like playing Division I, just because every time I go out there, I know it's going to be a good test," Olsem said. "Everyone there at D1 is there for a purpose. They're there to either play professionally, or be as good as they possibly can and shoot the best score."
Olsem, now a junior, is one of the team captains for the 2018-19 season.
In this season's Nick Watney Invitational held on Oct. 1-2, the team finished eighth place out of 12 teams. Olsem finished in a tie for 56th out of 69 competitors after shooting five over par in the final round.
RELATED: Team chemistry leads men's golf into season
"I actually didn't play as good as I would've liked," Olsem said. "It's just tough, because I'm normally a very good putter, it's probably one of my strongest suits of the game, and the putter went really cold the first two rounds. It's hard to get anything going when you're hitting it okay and nothing is falling."
Brakel placed an emphasis on the mental game and makes the players document the goals they want to achieve this season.
"Every single day, he wants us to journal our performance goals for the day, what we want to do that day, to stay in the presence," Olsem said. "He also wants us to write down long term goals, one of them is to win conference, that's our ultimate goal."
The next competition for the Hornets is the Visit Stockton Pacific Invitational at Stockton Country Club from Oct. 25-27.
"I think that we have the capability of winning, no matter what the other teams are doing," Olsem said. "I mean, we all can make birdies, we all can score, and it's just about constantly competing and growing as a team and going in and trying to win, not only as an individual but as a team."