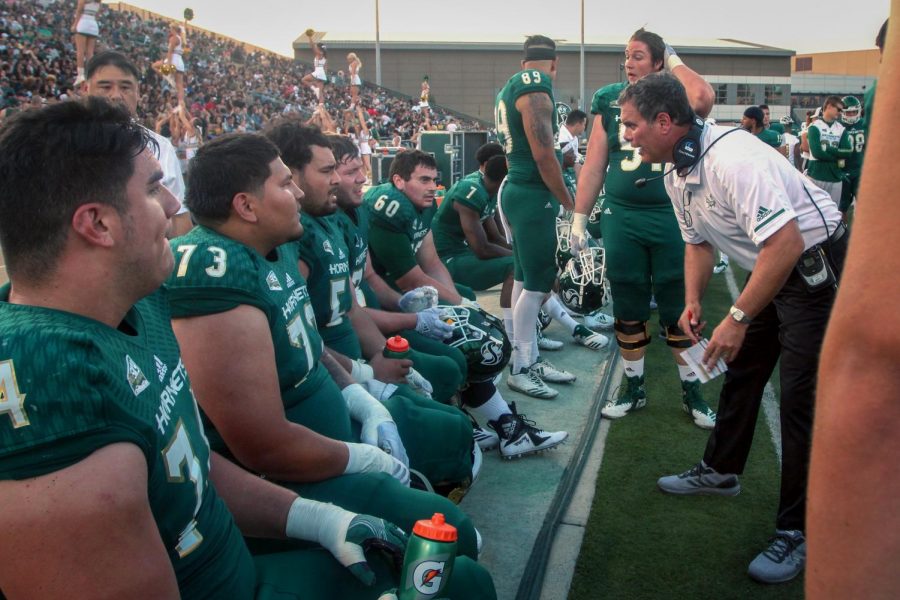 Emily Rabasto - The State Hornet
Despite leading 14-13 against San Diego State, Sacramento State allowed a touchdown with 4:05 to play and lost 28-14.
The Hornets (1-1) had a chance to put the game away when the Aztecs (1-1) went for a fourth-and-9 with 5:59 to play in the fourth quarter and converted.
Less than two minutes later, San Diego State was in the endzone. On the ensuing drive, senior quarterback Kevin Thomson was sacked twice, and the Hornets turned the ball over on downs. Two plays later, the Aztecs found the endzone again to go up 28-14 with 2:08 to play.
To start the game, San Diego State took a 10-0 lead before Sac State sophomore running back Bryant Perkinson scored a 1-yard touchdown with 6:07 to play in the second quarter to cut the Aztecs lead to 10-7.
San Diego State tacked on a field goal to take a 13-7 lead into the half.
With the Aztecs driving in the third quarter, Sac State senior defensive back Mister Harriel intercepted quarterback Ryan Agnew.
On the next play, Thomson threw a 64-yard touchdown to Perkinson to give the Hornets a 14-13 lead with 8:54 to play in the third.
In the fourth quarter, with the Aztecs driving, Harriel came up with his second interception of the game with 13:44 to play.
The Hornets couldn't take advantage of the turnover, and punted the ball back to the Aztecs, who converted a fourth down and eventually won the game 28-14.
Sacramento State will take on the University of Northern Colorado on the road Sept. 15.